Alisson Lauds Team's Performance in Crucial Derby Win
As Liverpool emerged victorious in the heated Merseyside showdown, the spotlight swivels not just towards their talismanic forward, Mohamed Salah, but also the collective spirit and tactical discipline the team exhibited. The Reds, under the strategic helm of Jürgen Klopp, secured a vital 2-0 triumph against a 10-man Everton side, underscoring their resilience and championship mentality.
Resilient Reds Navigate Tricky Merseyside Showdown
The match itself was a classic tale of patience and strategic prowess. Despite Everton's diminished manpower following Ashley Young's ejection before the interval, Liverpool didn't have it all their own way. The breakthrough involved a nerve-wracking wait until the 75th-minute mark, with Salah shouldering the responsibility from the penalty spot. His clinical finish, coupled with a last-gasp goal in the dying embers of the game, encapsulated the Egyptian's invaluable contribution to the team.
Reflecting on the high-octane clash, Liverpool's shot-stopper Alisson didn't mince words about the significance of these three points: "Every three points we can get is massive for us. Today was even more special for us as it was a derby. We know the importance for the supporters, for the city, for everybody and for us as well. We are going to keep fighting and let's see what we can reach."

Salah's Bravery Underlines Derby Dominance
Salah's brace didn't just add to his impressive tally but also echoed the sentiments of a team unwilling to settle for anything less than victory. "This guy is amazing," Alisson gushed in his post-match reflections. "I'm so glad to have him in our team. I hope he can break all the records that he has in front of him as long as he keeps the red shirt on him!"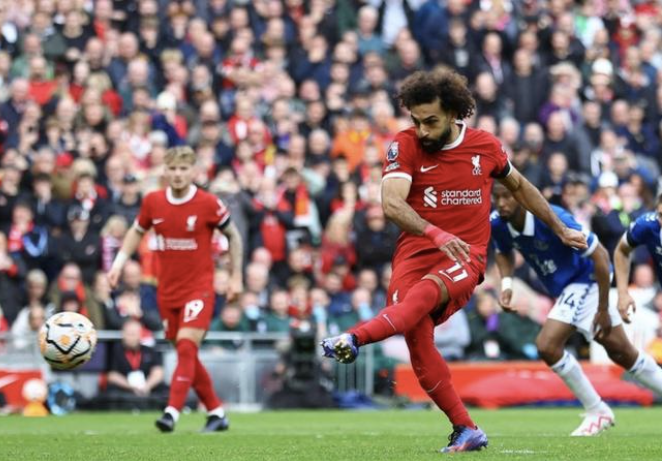 The transition from international commitments to club duties is often fraught with physical strain and logistical chaos. Alisson shed light on this challenging switch, highlighting the squad's fortitude: "It's always tough to come back from the national team and play a 12.30. We were travelling a lot, going to South America and playing hard games, but I'm glad we could get the three points. That was massive today."
Patience Pays: Liverpool's Strategic Masterclass Against Adversity
It wasn't merely about capitalising on their numerical advantage for Liverpool; it was a test of their ability to maintain compositional integrity, even under frustrating circumstances. Alisson, securing his second Premier League clean sheet of the campaign, applauded the team's composed approach: "During the matches, sometimes you have to deal with that feeling of frustration and I think we did really well today. We were patient enough and worked the ball well to create the chances."
The Brazilian specifically commended his teammates' collective efforts: "Lucho [Luis Diaz]'s one-v-ones were amazing [in] creating chances for us, and [then] suddenly the game opens up for us and we get the two goals. It's a massive one today in the derby."