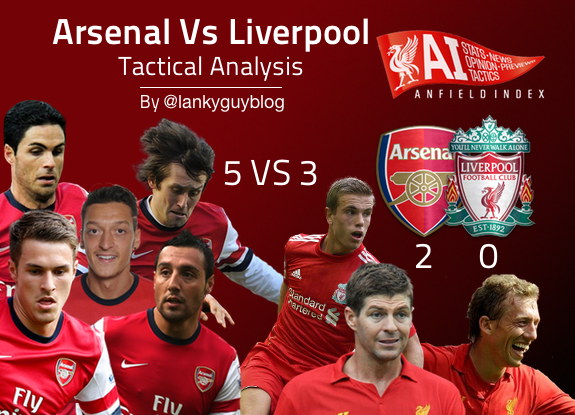 Arsenal 2 Liverpool 0: Outperformed rather than Outplayed | Tactical Analysis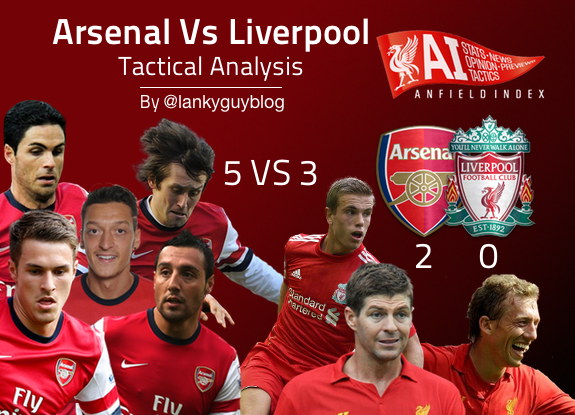 Arsenal for their part started in their usual 4-2-3-1 shape. Arteta and Ramsey started as the holding midfielders, although Ramsey didn't particularly play as a holding player, preferring to get forward and combine with Cazorla, Ozil, Rosicky and the lone striker Giroud. This was at risk of leaving Arteta isolated on transition defence.
Liverpool continued with their 3-5-2, keeping the same midfield shape as they did last week against West Brom with Lucas as the pivot just in front of the back three, with Gerrard and Henderson in front of him in a '1-2' triangle. Cissokho played left-wing back and Flanagan made a surprise start on the other side, coming in for Glen Johnson who had to go to hospital with a face infection. Suarez and Sturridge started up front as usual.
Shape and roles of the three centre backs
Before moving onto the game dynamics and the systems match up, it's important to look at the recent back line shape from Liverpool. Of course, playing with three centre backs and two wing backs requires different movements and coordination than a normal back four does. It requires different responses when the opponent has the ball, different responsibilities and roles within the defensive shape.
With the current set up of three CBs, there are two roles within it. One is that of the outside or lateral centre backs, Toure and Sakho. The other is that of the middle centre back, Skrtel. A quick look at the average positions from the game partly shows us this.
Liverpool's average positions are on the right. The change of shape in the second half has slightly skewed them but even then it is clear to see that Toure (number 4) and Sakho (number 17) are fairly high, roughly along the same line. Skrtel (number 37) is positioned clearly deeper, although slightly to the left due to his change to left-sided centre back when Rodgers shifted to a back four in the second half.
Clearly, such a positional difference means different roles within the system. In possession, Toure and Sakho have to push wider, supporting the wing backs, stretching the pitch and even be willing, more in Sakho's case, to get forward and overlap with the wing back.When the team is out of possession, they, as the outside defenders, have to play more aggressively on the front foot, stepping up to close down and mark between the lines, trying to win the ball in that area.
Skrtel's role defensively is somewhat different. He covers behind when Toure or Sakho step out, guarding any runs in that space, sweeping any balls played through or in the air. In effect, he plays as a sweeper.
This role suits him in many ways. He doesn't have to push up and be aggressive 1 v 1 against players moving between the lines, he is less likely to get caught out for pace because he can stay behind, often deeper than the outside centre backs and he faces more balls in the air from his lower position
In this match it has to be said that Skrtel put in another efficient performance. He did his job, covering well from behind, winning aerial balls over the top, tracking Giroud's runs behind. At the moment he arguably looks one of Liverpool's best players and it cannot be underestimated how much of that is down to the role Rodgers has given him within the team, a role where his skill-set is best put to use and his weaknesses are less exposed.
How Arsenal exploited Liverpool's system
It would be wrong to say that Liverpool played poorly in this game. Certain aspects of the team's play worked well in different parts and despite the fact that Arsenal were obviously the better side and were a level above on the day, Liverpool still played to a decent level.
Having said that, certain areas of weakness within the current system were highlighted throughout the first half.
The first step to understanding these are to understand how Arsenal were playing and the quality of their personnel. Arsenal's obvious strength is in their passing quality, their ability to combine with each other, playing short passes at a high-speed and to control and create chances through this. With Arteta, Ramsey, Cazorla, Ozil and Rosicky in midfield, Arsenal had plenty of talent in ball control and retention, fluidity, ability to combine lines through the phases of possession and to use and create space within Liverpool's defensive system.
Another look at the average positions shows how close together their midfield and attacking players played together.
What was obvious even from the line up was that Arsenal don't particularly attack with much width. That's not to say they don't use the wide areas – they absolutely do as will be touched on in a second. But their penetration doesn't generally come from attacking using flank play. If it does, it's generally on counter attacks where there is more space.
However what was interesting looking at the percentages of where attacks came from was that just 24% of Arsenal's attacks came through the middle. 36% came down the left, 41% came down the right.
If Arsenal's attacking players were playing so narrow and close together, why did it seem that they were barely playing through the middle and attacking so much in the wide areas? To provide context as to the reason for this, you simply need to study Liverpool's system.
When teams play a 4-2-3-1 or a 4-3-3, quite often it is talked about how they are playing with three in midfield. This match up has often been mentioned in reference to gaining dominance or control in midfield through numerical superiority or at least equality. However this negates part of the issue, especially when talking about the defensive phase. For example a 4-2-3-1/4-4-1-1 may have three midfielders in the middle to try and control space and limit the ability to link play in the middle. However, because it also has two layers of width (the full backs and the wingers in front), it also has extra support in controlling that crucial central space – for example, wingers are able to 'pinch in' knowing they have the full backs behind them should play be progressed down the flank.
One of the main aspects of the 3-5-2 is that there is only one layer of width – the wing backs. Many people assume that this means you can get overloads against the wing backs 2 v 1. If played correctly, this isn't necessarily the case – if a team tries to attack down the side with two players, the wing back only needs to step out and the outside centre back come across and you can deal with such a scenario comfortably.
However because the wing backs are generally the only layer of width in a 3-5-2 and largely control the flank, it makes it difficult for them to ever 'pinch in' as wingers may do in an orthodox system with four at the back.
Let's have a look at this example below:
Rosicky has the ball in space. First of all, it is too far out for Sakho to go – he is already marking Cazorla and Giroud is making a run behind him so he can't just rush out. Cissokho is marking Sagna in the wide area. He cannot tuck in and put pressure on Rosicky because he is the only player on that side marking the flank and he would just leave Sagna with a lot of space behind if he went to Rosicky. It is therefore left to Gerrard to try to get across.
This is the type of situation that Arsenal had space and time in throughout the first half. When play is switched and the full back has made a run to attract the wing back, it is left to the midfield to get across horizontally as quickly as possible. This leaves them exposed and having to work hard in order to shift across laterally. This is why Arsenal were attacking the wide zones on the stats and these were the little areas where they were constantly able to find space and to retain possession.
Next Page: What other moves exploited the weaknesses in Liverpool's system? Read more…
What other moves exploited the weaknesses in Liverpool's system?
A couple of them were related to the set up of the back three that was mentioned earlier.
Olivier Giroud has become one of the best forwards in the league and one of his biggest assets is his movement. In this game, he often looked to work the space laterally of Skrtel. Because Arsenal weren't directly attacking through the very centre and because of Skrtel's sweeper role, the centre back was generally the deepest outfield player for Liverpool. Because he wasn't defending along a straight line for a lot of the time, it meant there was space either side of him, especially when Toure or Sakho came out to pressure. Giroud tried to disrupt the shape within the defence by moving laterally into the space.
This movement helped create the early opportunity for Rosicky in the area:
Rosicky has received the ball from Cazorla who is being marked by Sakho. Giroud makes a horizontal run, taking the covering Skrtel with him and disrupting the shape and organisation of Liverpool's defence.
The other movement or positioning that caused Liverpool's system problems was that of runs between Skrtel and the outside centre backs in order to stop them stepping up to mark between the lines.
Because of Arsenal's personnel and own attacking system, creating space to use between the lines was highly important their game. If space was condensed very tightly in that area, Arsenal might well have found it very difficult to control and to create as much as they did. However because of their fluidity and movement, Liverpool found it difficult to control this area.
This space was key for Arsenal's offensive play throughout the game and Liverpool's lack of control of it was increasingly apparent. Again one of the keys about this vulnerability was that Arsenal had the players and system to expose it. Ramsey, Ozil, Cazorla and Rosicky all appeared in this area and were willing to play off each others' movement in order to expose it. Most other teams in the league, maybe with the exception of Man City and Chelsea, do not have the ability to play quickly and precisely and interact with each other as Arsenal did in this area. But Liverpool were unable to stop it and it probably ended up costing them.
It was of course not easy to deal with. Considering Arsenal's players and attacking system, they effectively had 5 v 3 in midfield. Even with the outside centre backs stepping up to mark between the lines, this was difficult to deal with. Liverpool's lack of ideal compactness hurt them and gave Arsenal enough space to show their superior quality.
Another problem this midfield superiority emphasised was Sturridge and Suarez's positioning off the ball. One of the main reasons Rodgers has changed to this system is that it frees up Suarez and Sturridge to play together in their best positions, without having to overtly think about tracking back as they would if one of them played wide, as would have to happen in most other formations. When Liverpool are without possession, Suarez and particularly Sturridge generally remain high and wait for transition opportunities where they can be as far up the pitch as possible. The reasoning behind this is sound but the trade-off of it is a lack of vertical compactness.
What this did was further emphasise Arsenal's dominance and space in midfield. When Liverpool's block was pushed deep, Arsenal had a lot of space and time in front of Liverpool to retain and circulate possession. This made it easier to switch play, to take advantage of the weaknesses in Liverpool's defensive system and to control the game.
Next Page: Liverpool's Attack…
Liverpool's attack
One of the key talking points before the game was whether Liverpool would be able to play 2 v 2 against Arsenal's centre backs on the counter attack. After all, Sturridge and Suarez were staying high up the pitch waiting for these opportunities.
Really however, such a strategy didn't really pay off. This was partly because Arsenal's pressing high up the pitch was very good, making it hard for Liverpool to attack quickly and behind the Arsenal defenders. When Liverpool's block was pushed deep, it was hard to avoid the Arsenal press when they recovered the ball and this made it difficult to surprise them.
The other reason it didn't pay off was that on many occasions, wrong runs were made from the front two. Sturridge often came very deep for the ball on transition and marked tightly by Koscielny, it made it difficult to attack with pace. Koscielny it has to be said put in an extremely good performance, marking Liverpool's strikers tightly, even to deep positions between the lines and not allowing them to turn. This made it hard for Liverpool both on the counter attack and generally in possession.
Much of Liverpool spacing in attack was decent. Suarez and Sturridge often drop off between the lines to receive the ball. Often teams will overplay the middle in order to stop condense the area around there or to block passing lanes to them – wingers will pinch in to block forward passes to Suarez who moves in horizontal channels between the lines. What this does is create a lot of space wide. Indeed Liverpool's wing backs, Flanagan and Cissokho, often had the most amount of space on the pitch.
The problem was that it was never really taken advantage of. Because Liverpool only had one layer of width out wide, they needed dynamism and thrust. Unfortunately Flanagan couldn't provide that, nor could Cissokho who is getting used to a new league. There wasn't much aggression or positivity on the ball in these areas and crosses were poor.
What this match particularly showed was how much of Liverpool's goal threat is reliant on Suarez and Sturridge. Although both still managed to be a threat in parts, because they were closed down quickly and couldn't cause problems on the counter attack either, Liverpool were stuck. The wing backs weren't providing any goal threat, Henderson for all his defensive work rate is not the most controlled or penetrative in possession, Gerrard didn't have the space to mark vertical runs forward, Lucas clearly wasn't the person to threaten to score. In short, Liverpool ended up being too reliant on Suarez and Sturridge and because they were generally handled well and marked tightly, it became difficult for Liverpool to get into Arsenal's penalty area.
Change of shape
In all fairness, the first half wasn't a disaster for Liverpool. They started off brightly and but for a refereeing decision to pull play back after Suarez tried to take a quick free kick or Henderson being a bit more positive and composed and Liverpool could have been at least level at half time. The truth however was that Arsenal had been a level above and Liverpool needed to affect the game in a different way.
Rodgers' change at half time was positive and well thought out. Cissokho had a pretty poor game in the first half and bringing on Coutinho to provide an extra penetrative threat made sense even though it clearly wasn't ideal to throw him back in at half time in such a big game.
The shape of the team changed to a rough 4-4-2 with Sakho moving across to left back, Henderson right-wing and Coutinho left. What this did was mean Liverpool had two layers of width, even with Coutinho and Henderson often moving between the lines. Coutinho interestingly often pulled very wide on the left to receive the ball, opening up the channel and then looking to play a pass behind into Suarez. This caused immediate problems in a couple of moves early in the second half, one of which created a chance for Henderson in the box.
It has to be said however that Coutinho clearly wasn't going to be at his optimum level after being out injured for a few weeks. His movement was good in parts as was his ideas but his passing was a little off he had problems adjusting defensively to the speed of the match. Not a worry for Rodgers long-term – this was his first game for a few weeks. But in this match, it meant that the team didn't quite have the final pass on a number of occasions.
What the shift also did was lead to a more open game in the second half. It wasn't necessarily down the shape – Arsenal theoretically had more of an advantage through the middle than they had in the first half but Liverpool's midfield four also defended fairly narrow. The reason it was more open was simply that Liverpool were pushing for an equalizer – they were getting numbers forward and trying to score.
What this did was sacrifice control in the middle. While in the first half, Arsenal had threatened between the lines, here it became a lot more crucial. Liverpool were very open on transitions, understandably so, and Arsenal had a lot of space with which to use through the middle when they regained possession.
Should Liverpool have tried to be more calm and controlling? Probably. There was a whole half left and with Coutinho, Suarez and Sturridge, there was always going to be a threat. With Lucas and Gerrard in the middle, there can be a lack of pace and mobility and an open game wasn't exactly suited to that midfield partnership – they didn't want to be running back towards their own goal and trying to deal with Arsenal's runs between the lines.
Arsenal's second goal
There should be a caveat when analysing the goals conceded that both were very well taken, with a high amount of technique and quality in the finishing and movement. Most teams don't have the quality of Arsenal and such small details won't always be punished so comprehensively.
However it has to be said that both goals were very preventable. On the first goal, there was a big space in midfield when Arteta received the ball. Gerrard was walking back in the build up through midfield from a position wide and high on the right and never once looked like getting back into position quickly enough. As the ball progressed, Sagna was allowed too much space behind to get the cross in and very crucially, Cazorla's diagonal run was untracked. Flanagan was out of position and because of Gerrard's positioning and failure to recover quickly, he was unable to get to Cazorla's run. Such a flaw in Gerrard's game is becoming more apparent at the moment it was important in this game.
The second goal was very much one of basic errors. Whereas the first one is more difficult because of the fact that players are chasing back at pace, the second will be very disappointing for Rodgers.
After this, it was obviously going to be very difficult to get back into the game. Arsenal were a danger on the counter attack but also retained possession to a very high level, a level at which Liverpool are currently unable to restrict defensively. Even so, Liverpool were still a threat and that is a positive to be taken from the game – despite the fact that Arsenal were extremely impressive, Liverpool still managed to threaten a goal.
Conclusion
What can we take from this game? Well most teams in this league do not possess the talent in possession that Arsenal have. The current system has flaws and Arsenal exposed them well. The balance in midfield is very much an issue for Liverpool at the moment and the lack of coordination, compactness and intensity in pressing in midfield is a worry.
What is also a worry is how little goalscoring threat there is from anywhere other than the two strikers. In many ways, lots of teams would sacrifice goals in midfield in order to have Suarez and Sturridge up front. However it was clear from this game that if they are closed down, there is a very little goalscoring threat from midfield or from out wide. This may well have to be something Rodgers sorts out in January but it remains a problem if Liverpool want to improve.