Nico Williams as Forward's Athletic Club Contract Winds Down
Liverpool's interest in Nico Williams, the shining gem of Spanish football, has once again surfaced in recent headlines. The 21-year-old sensation, hailing from Athletic Club, boasts an impressive tally of nine goals and six assists from his 43 appearances in the 2022/23 season.
Reds Among Premier League Clubs Monitoring Williams
Insider sources last month hinted that the Merseyside club had made enquiries about the Spaniard. Williams, whose contract with Athletic Club has a £43m release clause, is certainly drawing eyes from top-flight clubs. Besides Liverpool, Unai Emery's Aston Villa, Arsenal, Tottenham, and even Barcelona have shown interest in the forward. A report by 90min suggests that Liverpool is part of a quartet of Premier League clubs keenly watching Williams' next move, especially if he opts against a contract renewal.
European Heavyweights in the Mix
It's not just Premier League teams on the alert. European giants, namely Bayern Munich and Juventus, are also keenly monitoring the unfolding situation around the Spanish forward. With his contract expiring next summer, Williams will be eligible to sign a pre-contract with any non-Spanish club starting from January if no fresh agreement is inked with Athletic.

Athletic Club's Stance on Williams' Future
Jon Uriarte, the president of Athletic Club, recently addressed the rising speculation around their star player. He expressed confidence and calmness about Williams' future at the club, hinting at a lucrative project in store for the young forward. Emphasising the strong bond between Williams' family and Athletic Club, Uriarte seemed optimistic about retaining the forward. It's worth noting that Athletic Club has a unique tradition of selecting only players of Basque descent.
Liverpool's Post-Salah Era: Is Williams the Answer?
There's been increasing chatter about Mohamed Salah's potential move to the Saudi Pro League, leaving Liverpool fans wondering about his successor. While Nico Williams and Salah have distinct playing styles, some experts believe Williams could fit the bill. Anfield Watch's Danny Corcoran pointed out Williams' strengths, notably his exceptional ability in one-on-one situations and advancing the ball with his dribbling. The forward's stats, particularly his ranking in the 95th percentile for progressive carries per 90 and the 92nd percentile for successful take-ons, further bolster this claim.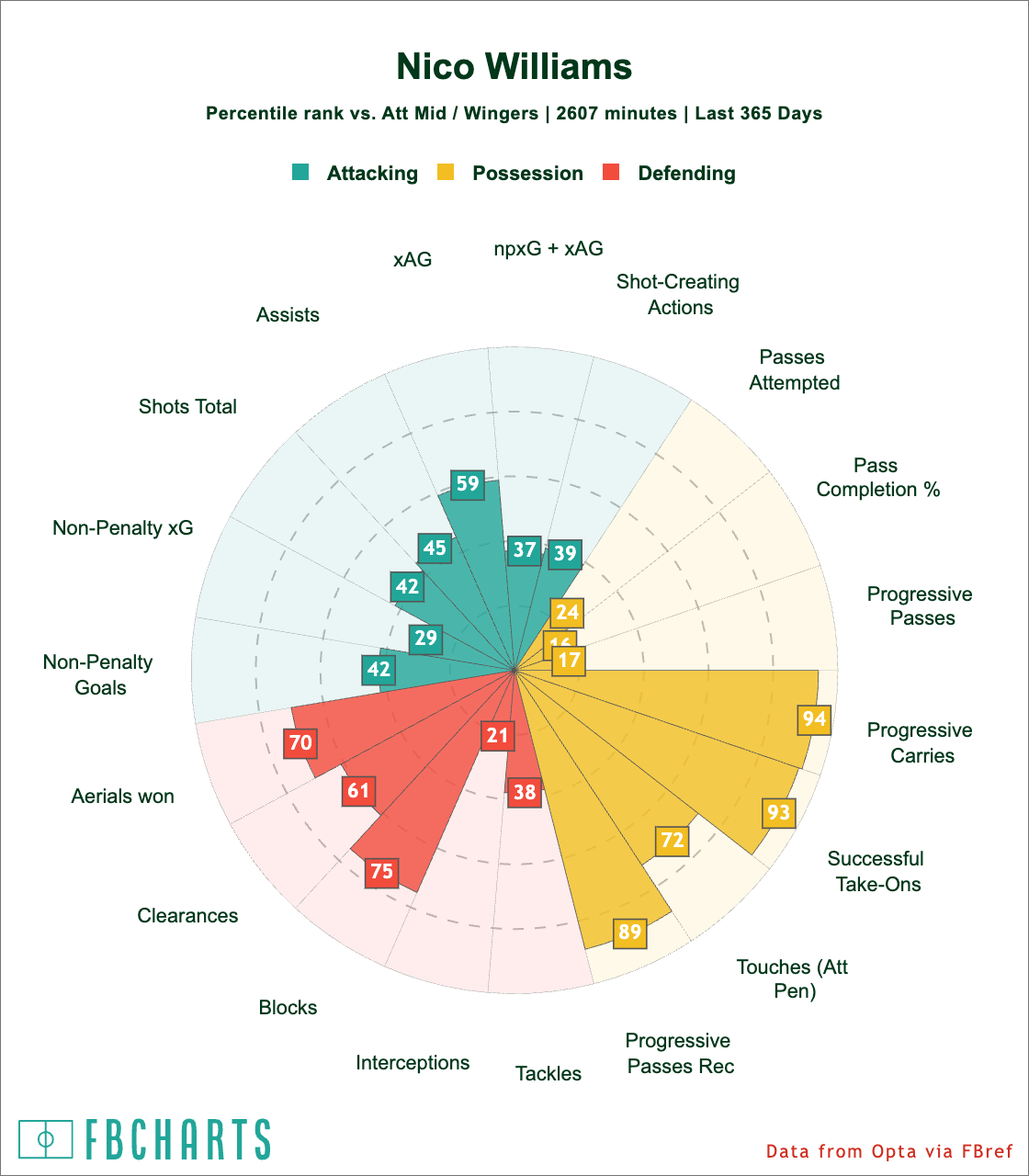 Nico Williams: Performance Overview in the Last 365 Days
The radar chart provides a comprehensive view of Nico Williams' performance metrics over the past year, benchmarked against other attacking midfielders and wingers. The metrics are segmented into three main categories: Attacking, Possession, and Defending.
Attacking:

Williams has a 50th percentile rank in total shots, indicating an average performance in this area.
His assists and non-penalty goals both fall below the 50th percentile, suggesting there might be room for improvement.
His shot-creating actions stand at the 54th percentile, indicating slightly above-average performance.

Possession:

Nico demonstrates exceptional skill in progressive carries, with a remarkable 97th percentile rank.
His touches (excluding penalties) are also noteworthy, with a 94th percentile rank.
Other possession metrics, such as passes attempted (79th percentile), pass completion percentage (91st percentile), and progressive passes received (38th percentile) further showcase his significant contributions in maintaining and advancing ball possession.

Defending:

A standout metric in this category is Nico's performance in blocks, where he achieves an impressive 87th percentile rank.
His tackles (14th percentile) and interceptions (12th percentile) are areas where he seems to lag behind his peers.
However, he shows a commendable performance in clearances with a 48th percentile rank.
In summary, while Nico Williams displays remarkable skills in possession-related metrics and has specific strengths in defending, there are certain areas in his attacking game that could benefit from further development. Overall, his performance paints the picture of a well-rounded player with the potential to make significant contributions on the pitch.
Note: Percentile ranks show where the player stands relative to other attacking midfielders and wingers. A higher percentile indicates superior performance in that specific metric.