Liverpool Braces for Robertson's Absence Following Surgery
In a recent turn of events that has left Liverpool fans apprehensive, key defender Andy Robertson has undergone a successful shoulder operation following a clash during Scotland's Euro 2024 qualifying match against Spain. The untimely injury came as a significant blow, not just for the Scottish national team but also for Jurgen Klopp's squad at Anfield.
Robertson sustained the injury in a rather strenuous encounter with Spain's keeper Unai Simon, which resulted in him exiting the field with his arm supported by his shirt, a sight that undoubtedly stirred concern among the Reds' supporters. Addressing the media, Liverpool's manager Jurgen Klopp was the harbinger of the news about Robertson's surgery, confirming the procedure went as well as possible under the circumstances.
The Road to Recovery: Klopp Uncertain of Return Date
While the successful operation is a positive step in Robertson's recovery, Klopp admitted that the timeline for his return remains uncertain. "We don't know how long it will take, but the first step is done," he revealed during a press conference, leaving fans in speculation about when they will see the popular left-back on the field again.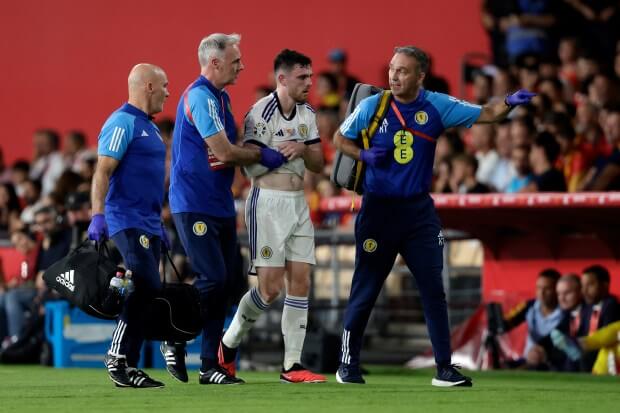 In Robertson's absence, Greek defender Kostas Tsimikas has stepped into the left-back role with confidence, marking his territory in both domestic and European matches. The 27-year-old has proven his mettle, having already contributed significantly to Liverpool's Europa League victories over LASK Linz and Union Saint-Gilloise, and a noteworthy EFL Cup triumph against Leicester City. His recent performance in the Merseyside derby win against Everton also did not go unnoticed.
Further deepening the squad's versatility, Klopp indicated that Joe Gomez, known for his roles at centre-back or right-back, and the promising 19-year-old Luke Chambers are potential options for the left-back position if the situation calls for it.
Upcoming Challenges: Europa League Showdown
With the Europa League match against French outfit Toulouse on the horizon, Liverpool's squad depth will indeed be tested. Klopp's men will host the clash at Anfield, with their restructured defence expected to be under the microscope in Robertson's absence. The situation undeniably places additional pressure on Liverpool's defensive strategies, as fans eagerly await to see how the team will adapt.