Klopp Mulls Gakpo's Inclusion Amid Injury Updates
As Liverpool's focus shifts to the upcoming Europa League face-off with Toulouse, the Anfield camp is abuzz with speculation regarding Cody Gakpo's return to the fold. The Dutch striker's potential comeback could be a timely boost for Jurgen Klopp's side, balancing the scales of morale that dipped following Andrew Robertson's recent surgery.
Having been sidelined since a knee injury incurred during Liverpool's regrettable stumble against Tottenham, Gakpo's resurgence in training sessions ahead of the triumph against Everton has been a sight for sore eyes. His availability for selection has been confirmed, heralding positive news for the Reds. Klopp, known for his meticulous approach, has kept fans and pundits alike guessing on whether Gakpo will feature in the critical European tie.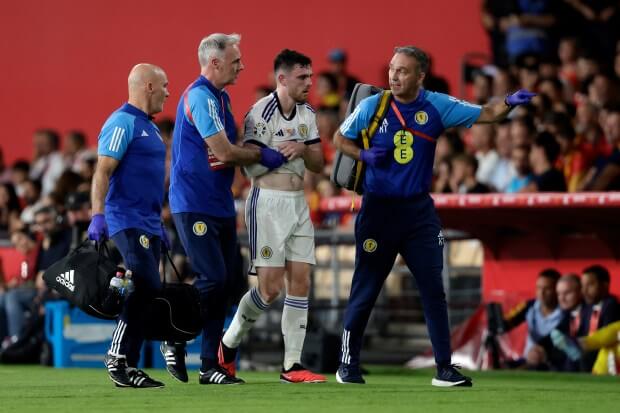 Robertson's Recovery: A Long Road Ahead
Conversely, the picture isn't as rosy for left-back Andy Robertson. The aftermath of a shoulder injury sustained during his international spell with Scotland led to a surgical route. While the operation was successful, it heralds an extended spell away from the pitch. Klopp's briefing was devoid of definitive timelines, underscoring the unpredictable nature of rehabilitation.
Despite the temptation for rotation, Klopp's reverence for Toulouse's capabilities is apparent. The German tactician's strategy hinges on granting full respect to the French side's youthful vigour and recent domestic cup triumph. The Reds' orchestrator is fully aware of the visitors' morale-boosting draw against PSG, signalling a warning to his troops about underestimation.
Liverpool's Calculated Approach to Europa Dominance
The stakes are high as Liverpool eyes a substantial lead in Group E. A victory would not only propel them five points clear but also significantly enhance their knock-out stage prospects. Amidst this, Klopp plays a balancing act, ensuring his alterations don't undermine the team's stability.
The squad's depth will be under scrutiny, with Curtis Jones yearning for more game time following a setback that curtailed his momentum. The young midfielder's eagerness to move beyond past mistakes signifies the inner resolve that Klopp demands from his warriors.
As Liverpool brace for Toulouse, the blending of caution with ambition defines their quest for European glory. The harmony between respecting the opponent and enforcing Anfield's dread will be pivotal in their journey ahead.