Liverpool 2.0: The New Wave
The 2-0 victory over Everton last weekend marked an interesting staging post in the development of Liverpool 2.0, both in terms of 2023/24 and in a slightly longer sense too.
With nine games in the bank this term, the season is effectively a quarter complete. The Reds find themselves three points off the top and with a points-per-game average which equates to 84 across an entire campaign. Having crawled over the finish line with 67 points in 2022/23, things are looking up no matter how this season ultimately ends.
Tactical Evolution
While the complete midfield rebuild took place this summer, in truth the evolution of the side began in part back in April. For the visit of Arsenal, Jürgen Klopp made a tactical switch which has largely remained in place ever since. When in possession, his side adopts something of a 3-2-2-3 formation, with right-back Trent Alexander-Arnold inverting into midfield to accompany the number six.

As this was in place for the final 10 matches of 2022/23, we now have a half-season of games with this framework that we can assess. There have certainly been negatives and positives along the way.
The main point for the latter is that Liverpool have suffered just one defeat in these 19 matches, and that the hugely controversial, VAR disfigured, injury time own goal inflicted loss at Tottenham. The Reds could easily have an unblemished record, but would they have deserved for that to be the case?
More or less. Per FBRef, Aston Villa won the expected goal battle by 0.6 in the final home match of last season, while the Reds were bettered by between 0.9 and 1.1 in their clashes with Newcastle and Spurs in this campaign. With Villa having had a penalty and Liverpool having ten and nine men for significant spells in the latter matches, they've contested well when fielding a full complement of players.
Individual Spotlight
For individuals, the picture is more mixed. Let's start with Alexander-Arnold, the man with the most to potentially gain from this evolution in the role of the right-back.
He has had some of the most effective Premier League matches he has ever experienced within the last six months. Per Understat, the games against Leeds, Nottingham Forest and Southampton are all in his career top six for expected assists.
However, there have also been three games in which Alexander-Arnold hasn't created any chances at all. This was most starkly seen in the recent Merseyside derby. The Reds had 26 shots, with 10 different players setting up at least one of them, yet Trent was not among their number. Across the last two games, Alisson Becker has created a chance whereas the number 66 has not, and that's not a great look for a system which is supposed to be prising more from his supremely talented feet.
Then there's Mohamed Salah, who has been in supreme form in this period. Allot him an assist for Luis Díaz' disallowed goal against Tottenham for the sake of argument (and supreme football justice) and he has either scored or assisted in the last 15 league matches. Having started the 3-2-2-3 era with goals against Arsenal, Leeds and Forest, only in the game at West Ham has the Egyptian not provided a goal or assist that an incompetent video assistant referee has not been able to overrule.
But if we're being ultra critical, and the fifth highest goal scorer in the history of this illustrious club needs to be held to high standards, it's fair to question if Salah has been scoring enough goals in run-of-the-mill play. Discounting the penalties (and subsequent rebound against Bournemouth) leaves eight goals, three of which came from set play situations. With an open play, counter attacking strike in each of the last two league matches, hopefully the 31-year-old can resume regular contributions without the need for dead ball opportunities.
A team is about far more than two players anyway, even arguably its most important pair. There has been a definite upturn in form for other members of the existing squad, plus three of the four new midfielders have been playing well.
Diogo Jota, for instance, ended a year-long goal drought after the system changed. Virgil van Dijk may not ever reach the heights of 2018-2020 again but he has been back to something like his best. Darwin Núñez' all-round game has improved significantly while Curtis Jones has been very impressive when available to play. There have been net gains across the roster, which matters most and is reflected in the Premier League table for this period too.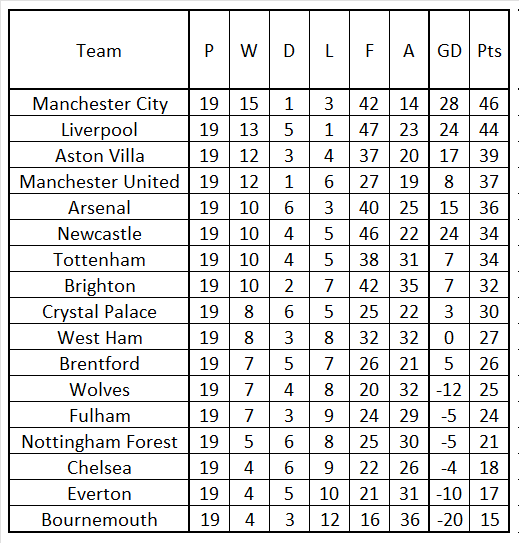 Concluding Thoughts
Who cares if Alexander-Arnold isn't consistently creative and Salah mostly relies on penalties and set pieces for goals when Liverpool have been the second best team in the Premier League? If they can maintain their 2.32 points-per-game average from this period across the remainder of 2023/24 then they'll finish the campaign with 87 points.
Enough to win the league? Maybe, maybe not. But it would certainly demonstrate that the Reds are back, and that Liverpool 2.0(.3.2.2.3) is the real deal.