Liverpool Maintain Europa Dominance with Clinical Victory Over Toulouse
As European nights returned to Anfield, Liverpool demonstrated sheer class in their Europa League group stage fixture, orchestrating a dominant display to overcome Toulouse with a high-octane performance that underscored their depth and quality.
In a whirlwind start, Diogo Jota epitomised the hosts' attacking intent in the early phases. The forward's dazzling footwork and composed finish beyond the reach of the Toulouse defence ignited the Anfield atmosphere in the ninth minute. However, the visitors offered a momentary rebuttal via Thijs Dallinga, exploiting a rare lapse in Liverpool's defensive line, primarily due to Trent Alexander-Arnold's positioning, to restore parity.
Tactical Masterclass Leads to Midfield Dominance
Alexander-Arnold, donning the captain's armband, responded with the maturity and leadership expected from a Liverpool stalwart. The full-back's inch-perfect delivery found Wataru Endo, whose emphatic header marked his inaugural goal for the Reds. The relentless pressure persisted, culminating in Darwin Nunez's thunderous strike to hand Liverpool a comfortable 3-1 cushion heading into the interval.

The narrative of strength in depth continued as Liverpool's lesser-sung talents seized their European showcase. Midway through the continuation, Nunez's solo expedition concluded with a thud against the woodwork, setting the stage for Ryan Gravenberch to tuck away the rebound, exemplifying the Reds' midfield prowess on the night.
Further testament to the squad's depth was the introduction of fresh legs, including the likes of promising talents Luke Chambers, Callum Scanlon, and James McConnell, along with the return of Cody Gakpo, fortifying Liverpool's on-field presence.
Defensive Concerns Overshadowed by Attacking Flair
Despite the scoreline, Liverpool navigated moments of self-inflicted jeopardy, particularly when goalkeeper Caoimhin Kelleher's errant distribution nearly gifted Toulouse a lifeline, if not for Alexander-Arnold's goal-line intervention. Such moments, however, were footnotes in an otherwise commanding performance, highlighted by Mohamed Salah's stoppage-time artistry for Liverpool's fifth, affirming their offensive ruthlessness.
With this result, Liverpool's European expedition looks increasingly promising, their position at the zenith of Group E unchallenged. While the Reds' eyes are set on domestic accolades, their comprehensive dismantling of the French Cup holders suggests a dual-front assault this season is more than feasible.
Jurgen Klopp's strategic squad rotation indicates not just the depth but the trust in his cadre, a crucial component as they juggle competitions. The stage is now set for the return leg against Toulouse, where another victory would guarantee Liverpool's progression, amplifying their status as genuine contenders for Europa League glory.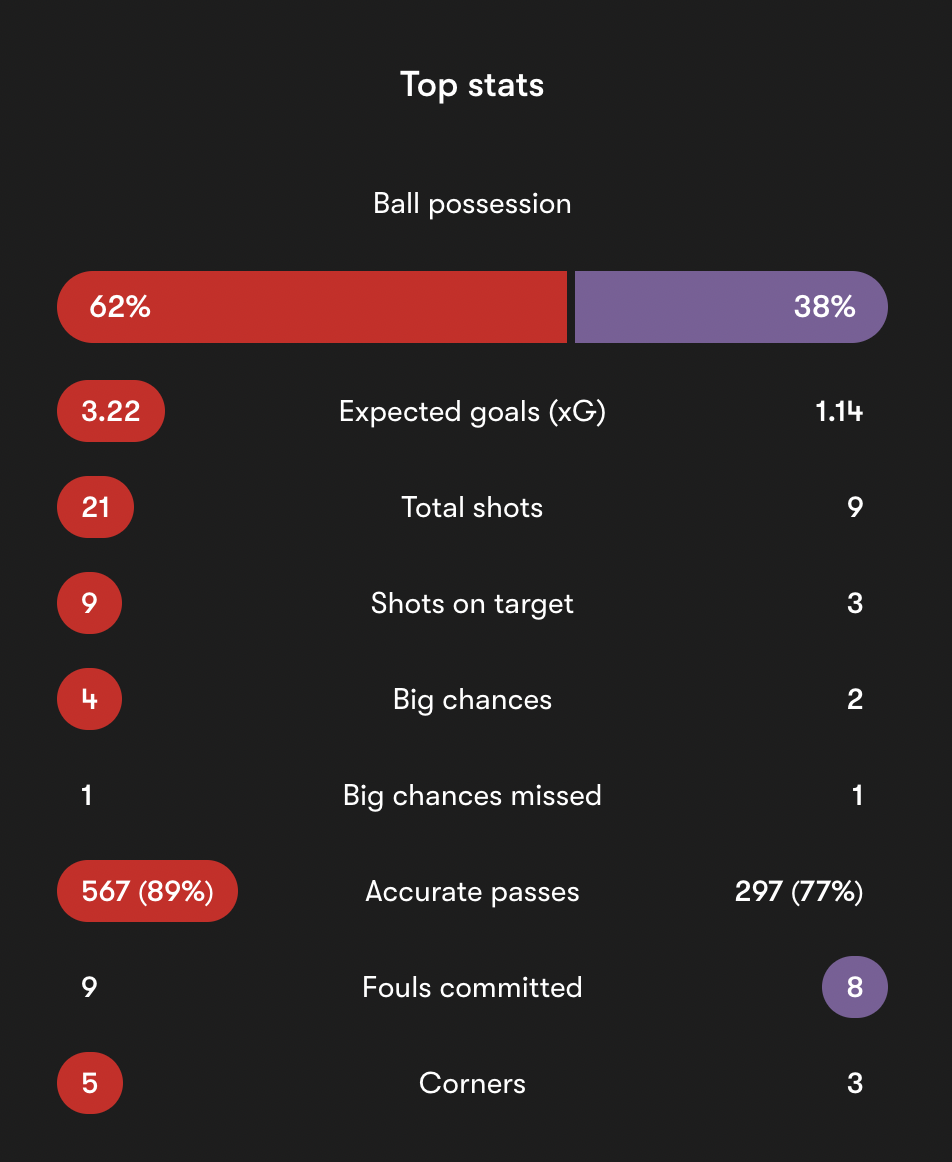 Courtesy of Futmob
In a high-intensity match between Liverpool and Toulouse, the statistics provide a clear insight into the dominance of one team over the other. Here, we break down the numbers to understand the story behind the stats.
Ball Possession:
Liverpool showcased their signature control and dominance in the game, with a staggering 62% ball possession compared to Toulouse's 38%. This metric speaks volumes about Liverpool's ability to retain the ball and dictate the pace of the game, thereby exerting pressure on the opposition.
Expected Goals (xG):
The Expected Goals (xG) is a crucial metric to predict the number of goals a team should have scored based on the chances they had. Liverpool's xG stands at an impressive 3.22, indicating they created numerous clear-cut opportunities. Toulouse, on the other hand, had an xG of 1.14, suggesting fewer goal-scoring opportunities.
Shots and Accuracy:
Liverpool unleashed a total of 21 shots, with almost half of them (9) being on target. This aggressive approach is indicative of their offensive mindset and determination to score. Toulouse managed 9 shots, of which only 3 were on target, highlighting their struggles against Liverpool's formidable defense.
Big Chances:
While Liverpool created 4 big chances, they missed one of these golden opportunities. Toulouse, despite their fewer ball possessions, managed to carve out 2 big chances, missing one as well. These stats underscore the competitive nature of the match and the fine margins that often determine the outcome.
Pass Accuracy:
Liverpool's pass accuracy stood out at an impressive 89% with 567 accurate passes. Such precision plays a significant role in maintaining ball possession and building up play. Toulouse, with 297 accurate passes, had a pass accuracy of 77% – commendable, yet overshadowed by Liverpool's brilliance.
Fouls and Corners:
Both teams exhibited intense competition, with Liverpool committing 9 fouls and Toulouse 8. This stat reflects the tough challenges and fierce contests for ball possession throughout the match. Corner stats, with Liverpool earning 5 and Toulouse 3, further emphasize Liverpool's offensive pressure.