Understanding Anfield's Predicament
The iconic Anfield, a ground steeped in history and success, finds its expansion plans beleaguered by unprecedented delays and financial dilemmas. The Anfield Road End's incomplete visage stands as a testament to a series of complications, primarily spurred by the Buckingham Group's unforeseen collapse.
"The sights and sounds of a busy construction site at Anfield signify efforts to rectify delays caused by Buckingham Group's demise," explains Gregg Evans of The Athletic. However, the switch to Rayner Rowen as the new contractor marks only the beginning of a lengthy, complex recovery process. Liverpool CEO Billy Hogan describes the situation as "really complex and deeply frustrating," underscoring the club's challenge in maneuvering through this infrastructure quagmire.
Financial Strain on the Horizon
"Lost revenue is racking up and with 11,000 seats unavailable…Liverpool are finding it increasingly difficult to relocate supporters," states Evans. The financial strain is palpable, with each game potentially losing around £750,000 in revenue, a dire situation for the club and its fans. This fiscal headache comes at a time when FSG's financial strategies are already under the microscope due to recent stake sales and balance sheet concerns.

The Downfall of Buckingham Group
Buckingham Group's unexpected downfall, leaving debts over £108 million, was a significant blow to Liverpool's plans. "Significant and increasing losses incurred on key sports and leisure contracts due to inflation pressures," as per a Grant Thornton document, highlights the harsh realities the construction sector faces, contributing to Buckingham's failure and subsequent project delays.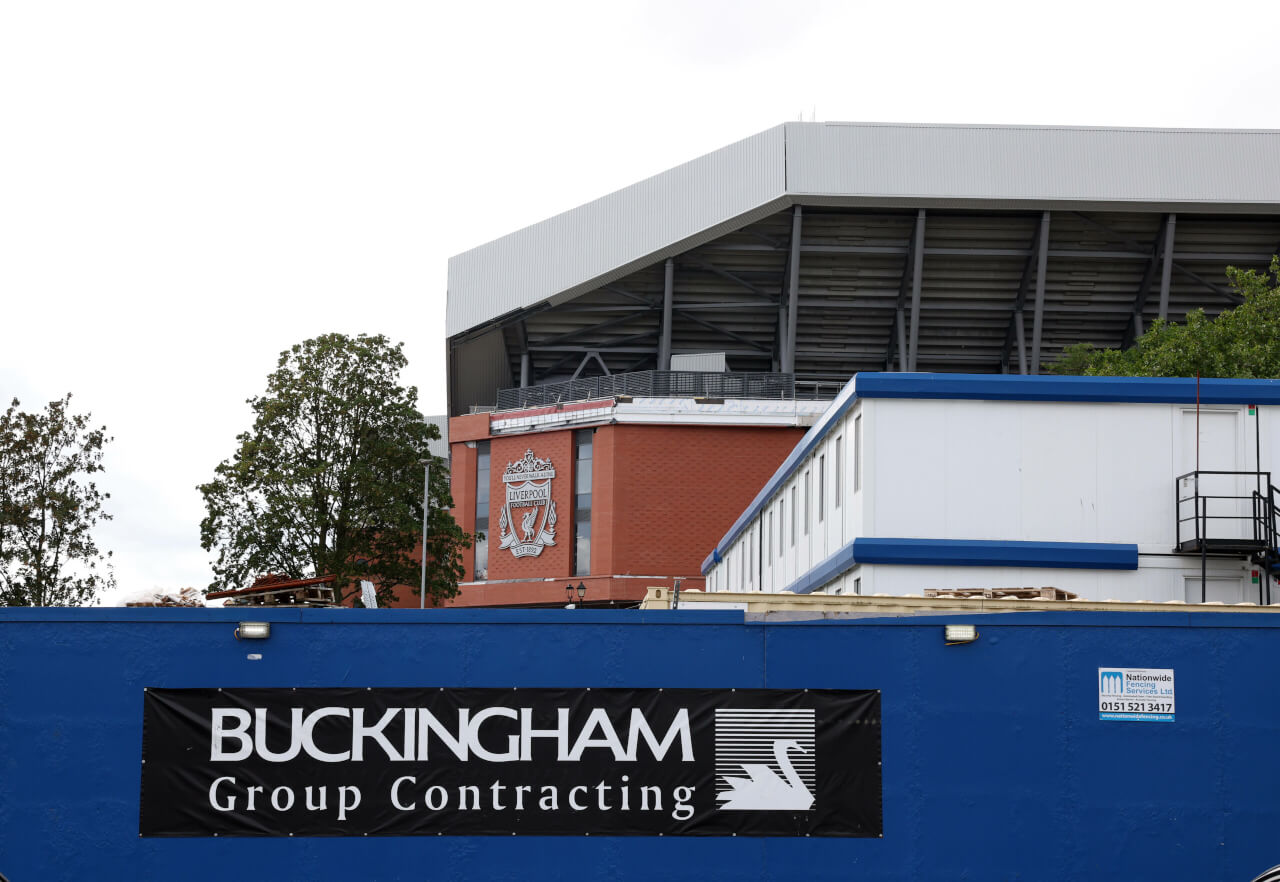 Evans notes, "The construction industry is facing testing times, with insolvencies at a 14-year high as many firms are caught cold by the rising price of materials and energy." These testing times have rippled across sectors, pushing companies to reevaluate their operational and financial strategies, particularly around large, high-stake projects like stadium constructions.
Legal Entanglements and Future Implications
The legal severance from Buckingham Group was a necessary step for Liverpool, pivoting control back to the club and inviting Rayner Rowen to steer the ship through turbulent waters. However, industry insiders affirm the futility in pursuing legal recourse against the crumbled contractor, suggesting the focus should remain on forward movement and damage limitation.
Supporters bear the emotional brunt, with many voicing disappointments over cancelled tickets and disrupted plans, particularly for high-profile matches. The club's remedial actions, albeit limited, reflect an attempt to mitigate discontent among its loyal fanbase, ensuring some relocations and continuous communication.
An Uncertain Completion Date
The completion date for Anfield's expansion drifts in uncertainty. Predictions suggest work stretching into 2024, presenting a scenario where Liverpool faces the prospect of playing several home games in a semi-finished arena, an outcome less than ideal for everyone involved.
Liverpool's journey through this infrastructural and financial crisis underscores the fragility of large-scale projects in the face of industry volatility. The club's resilience and strategy moving forward will not only define the completion of the Anfield Road End but also set a precedent for handling such adversities in the future.