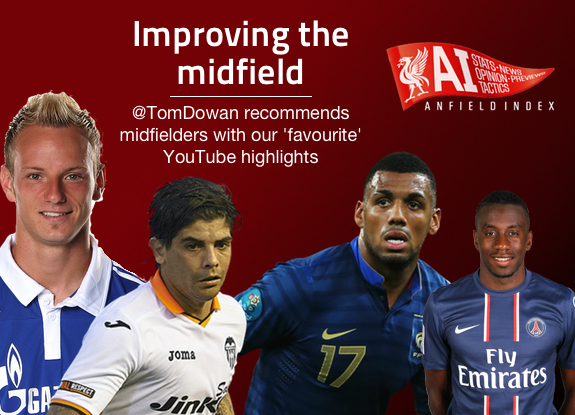 Central Midfield Recommendations for Liverpool FC

The talking point of the season so far, perhaps bar the sparkling performances of our striking duo, is Liverpool FC's midfield. Many fans have pointed towards our lack of creativity and control in midfield as the key weakness to our top four aspirations, with Lucas' lacking positional discipline (being dribbled past 1.6 times per game this season and committing a whopping 2.3 fouls per game) and the ageing captain not being able to keep at a top level performance for 90 minutes week in week out, perhaps January should see our central engine as the main transfer priority. Here are 4 targets that could prove to be both realistic and a huge boost in our quest for champions league football.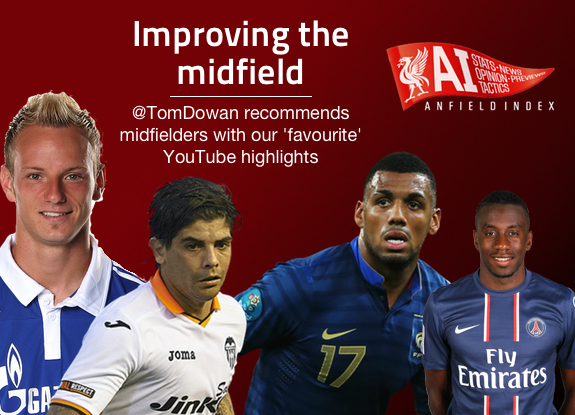 The Defensive Role
Yann M'Vila – the first of my two suggestions for the defensive midfielder role comes in the form of a 23 year old Frenchman, currently plying his trade in Russia, Yann M'Vila. A player who has in the past been more well known for his off the field antics than his on-field performances; M'Vila has become a father recently and thus matured, he could be the missing piston in our central engine. The Frenchman isn't a particularly prominent tackler, tending to stay on his feet and thus completing 1.6 tackles per game in his 14 Russian Premier League Appearances. While this may seem an underwhelming stat, it perhaps suggests that M'Vila could be well suited to our style – playing as a 'controller' defensive midfielder. Yann M'Vila would certainly be an improvement on Lucas' positional awareness, as the Rubin Kazan midfielder is dribbled past a measely 0.6 times per game so far this year. Rodgers' focus on competency with the ball could also mean that the Frenchman is a good fit to our system, as he has a pass success rate of 88.2% in the aforementioned appearances. With life in Russia proving to be uncomfortable for M'Vila, January could be the perfect time to move for the talented French Defensive Midfielder.
Yann M'Vila best bits
Blaise Matuidi – perhaps a much less realistic target than my first suggestion, however, Matuidi is entering the final few months of his contract and anything can happen in football! At the age of 26 Matuidi is slightly older than the typical FSG/LFC target but as a January acquisition, the established Defensive Midfielder could be the difference between fifth and fourth come the end of the season. The first stat of note is Matuidi's incredible pass success rate, in 10 Ligue 1 appearances he has a staggering pass completion rate of 91.5% – at first look he certainly seems suited to our system! The PSG midfielder is also a fairly aggressive tackler, completing 2.9 tackles per game so far this year and is again much more positionally aware than what we currently have, being dribbled past just 0.6 times per game. Unrealistic perhaps, worth a punt? Absolutely!
Blaise Matuidi best bits
Kicks, tricks and flicks
Ivan Rakitic – the first on my list to partner any new defensive midfielder in a new look centre is Ivan Rakitic. The Sevilla central midfielder has made a blistering start to the season in La Liga (11 apps), scoring 7 goals and creating two more, taking 2.5 shots per game. Rakitic is another who is very comfortable on the ball and very creative, completing 2.5 key passes per game with an 82.3% pass completion rate. The Sevilla man is also comfortable anchoring the team, completing 2.5 tackles per game in his 11 La Liga appearances so far this season. Many of theses stats are similar to that of Steven Gerrard so far this season, however, at the age of 25 Rakitic would bring some much needed stamina in midfield; something that is key to a pressing system.
Ivan Rakitic best bits
Ever Banega – another 25 year old, the Valencia man has many Liverpool fans purring. Ever Banega has featured 11 times in La Liga also this season, scoring one and creating three more. Banega is another player who fits Liverpool's passing modus operendi, with a pass success rate of 82.8% so far in La Liga, playing 2.2 key passes p/g. As an anchor Banega is more than competent also, completing 2.8 tackles per game, it is however, Banega's ability to beat a man that sets him apart from the other midfielders I have mentioned so far, completing an impressive 2.8 dribbles in his 11 La Liga appearances. With Valencia apparently willing to offload the Argentine in the summer, this one may have to wait, however either in January or in the summer Banega would prove to be a super addition to Rodgers' squad.
Ever Banega best bits
It seems clear to say that our midfield needs a bit of a rejuvenation and I believe that a combination of one of the defensive midfielders mentions & one of the central midfielders from the four players discussed in this article (maybe over the next two windows) would provide just that.
By @TomDowan