Liverpool's Solidarity in Victory over Nottingham Forest
Liverpool's unity was on full display as they sailed to a decisive victory against Nottingham Forest, their triumph shadowed by concern for their teammate Luis Diaz. The Colombia winger was conspicuously absent from the Anfield showdown, sidelined by the distressing news of his parents' kidnapping in his home country.
In a heartfelt gesture of camaraderie, Diogo Jota dedicated his 31st-minute opener to Diaz, brandishing his colleague's shirt during the celebration. The moment came after a thwarted strike from Darwin Nunez ricocheted from Forest's Matt Turner, landing conveniently for Jota to execute. This demonstration of team spirit underscores the close-knit nature of the Liverpool squad, which seems to be a key ingredient to their resilience this season.
Liverpool's Domineering Display Unfazed by Off-Pitch Crisis
Despite the off-field turmoil, the Reds exhibited their classic dominance. Nunez swiftly complemented Jota's effort with a goal four minutes ensuing, marking his sixth of the season, thanks to a strategic assist from Dominik Szoboszlai. The synergy on the pitch overshadowed the gravity of Diaz's personal plight, highlighting professional focus amidst emotional strain.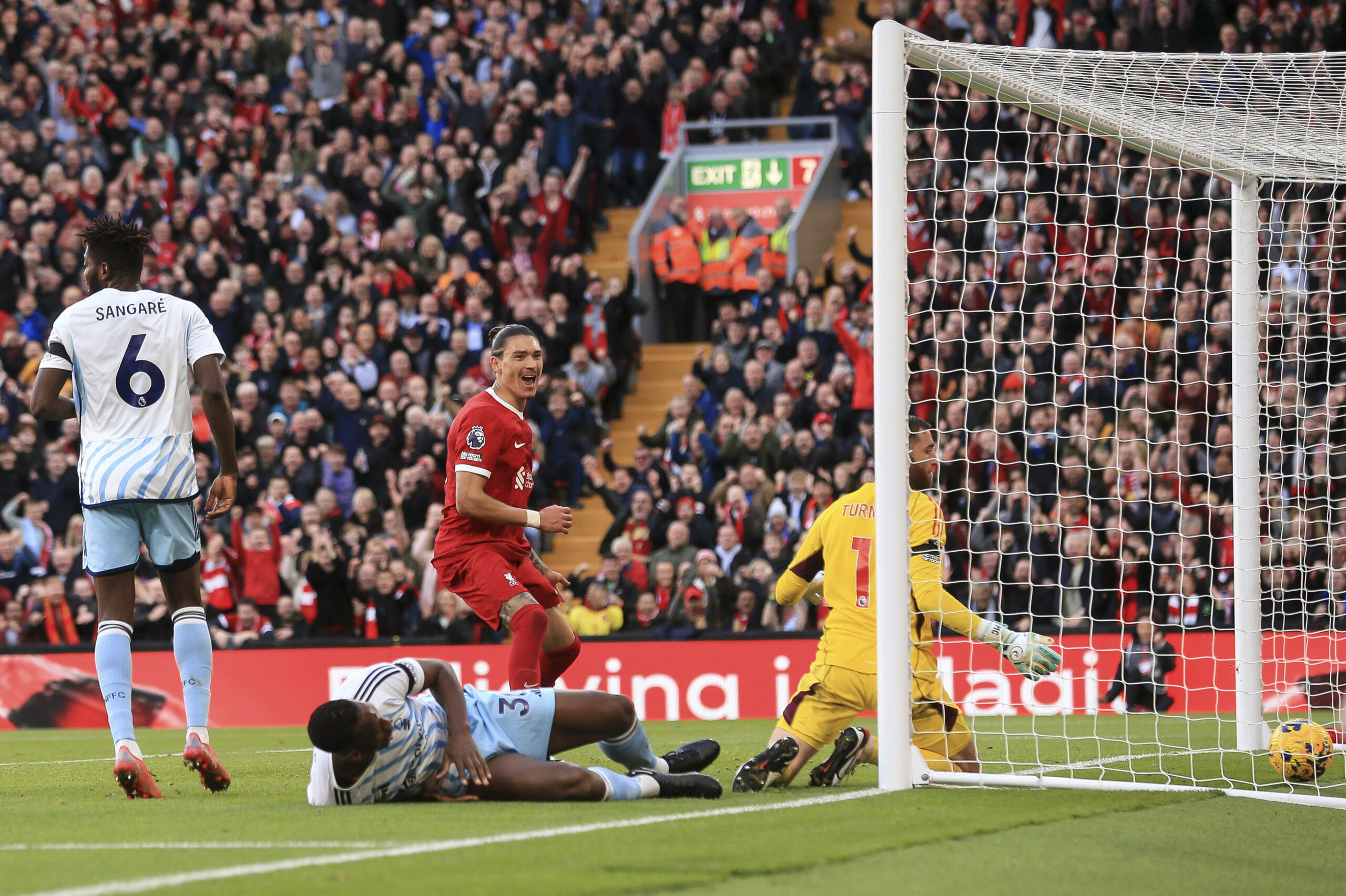 Salah Joins Elite Scoring History
Nottingham Forest's ordeal compounded when a blunder involving Turner and substitute Harry Toffolo opened the floodgates for Mohamed Salah to etch his name in Liverpool folklore. The Egyptian maestro capitalised on the defensive mix-up, registering a goal that places him alongside the revered Harry Chambers (1922) and John Aldridge (1987) in scoring in each of the first five home league matches of a season.
Jurgen Klopp's men, undeterred by the 22-point chasm that separated them from champions Manchester City last season, are showcasing formidable form. With Tottenham merely three points away in the perch position, Liverpool's sharpened claws are evident. This latest triumph over Forest is a testament to their renewed vigour, consolidating their stance as serious title contenders.
While Forest's Turner exhibited moments of brilliance, denying both Ryan Gravenberch and Szoboszlai, his eventual lapse proved costly. The keeper's misadventure outside his comfort zone paved the way for Salah's historic goal, rounding off a 3-0 victory for the Reds.
Unwavering Fan Support as Diaz Faces Personal Turmoil
Amidst the strategic tussle on the field, Liverpool fans' choruses resonated around Anfield, their chants for Diaz weaving an emotional narrative through the stadium. The empathy for the winger's situation, coupled with the squad's undisturbed focus, speaks volumes of the club's family ethos.
The uncertainty hovering over Diaz's circumstances is a poignant reminder of the realities facing players off the pitch. As investigations continue in Colombia, the solidarity from fans and teammates alike is undoubtedly a source of strength for the 26-year-old during this challenging ordeal.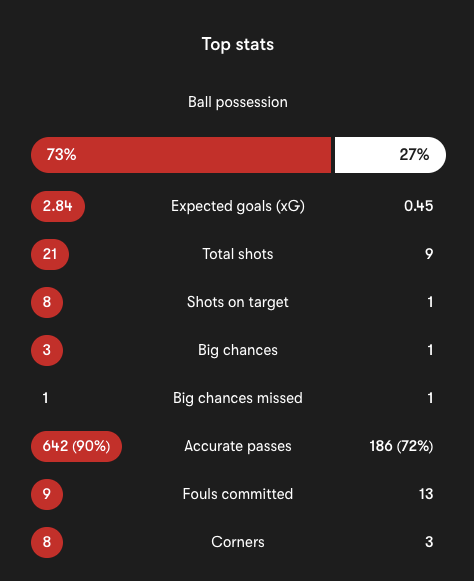 Dominant Stats Courtesy of Futmob
Football, often known as the 'beautiful game', is played and watched by millions globally. Beyond the dazzling footwork, magnificent goals, and fervent fan chants, lie statistics that offer an analytical snapshot into the match's ebb and flow. An insightful graphic by Futmob has recently captured the essence of Liverpool's latest tussle with Forest, revealing an indisputable dominance.
73% to 27% – the possession statistics are staggeringly in favour of Liverpool. These numbers narrate a tale of a side that didn't merely participate in the game but dominated every inch of the field. Holding onto the ball for nearly three-quarters of the game, Liverpool's mastery in retaining possession hindered Forest from creating meaningful attacks or gaining any significant foothold in the match.
Expected Goals (xG) Illuminate Attacking Prowess
An xG of 2.84 for Liverpool against Forest's 0.45 sharply illuminates the gulf in attacking quality and intent between the two sides. While stats don't always guarantee goals, the disparity in these figures demonstrates the number of clear-cut chances Liverpool carved out. Forest, on the other hand, seemed to play more of a restrained game, perhaps focusing on defence and only occasionally venturing into the attacking third.
Liverpool took an astonishing 21 shots compared to Forest's 9. More revealing is the shots on target data: 8 for Liverpool and a solitary one for Forest. The Merseyside giants weren't merely content with taking potshots; they aimed to challenge the keeper, test the defence, and find the net. The disparity in numbers stands testament to Liverpool's relentless offensive onslaught.
Both teams had their moments, with 3 big chances falling to Liverpool and 1 for Forest. Interestingly, both teams missed a 'big chance' each. This indicates that despite Liverpool's dominance, had Forest converted their golden opportunity, the dynamics of the game could have shifted.
Passing Mastery Defines the Game's Rhythm
Passing statistics further underline Liverpool's dominance. A whopping 642 accurate passes with a 90% accuracy rate underpin the team's emphasis on fluid, precise ball movement. Forest managed 186 accurate passes, holding a respectable 72% accuracy rate, indicating their struggle to break Liverpool's pressing game.
A Tactical Affair: Fouls and Corners
Liverpool committed 9 fouls, while Forest registered 13, reflecting Forest's potential defensive strategy to disrupt Liverpool's rhythm. The corner stats, with Liverpool leading 8 to 3, further exemplify the pressure exerted by the Reds throughout the match.