Has the Liverpool Captain Lost His Edge?
Recent talk about Liverpool's leading defender, Virgil Van Dijk, suggests that age may be catching up with him. As Sam Maguire accurately highlighted in his article for Anfield Watch, rival fans and some pundits have expressed doubts about Van Dijk's recent performances. They cite instances like his reaction during the Newcastle United game: "Van Dijk was a little sluggish to react to the pass to Alexander Isak… he had to kick through the attacker at St James' Park." Such observations fuel the narrative of a diminishing Van Dijk.
Isolated Incidents vs. Overall Performance
While there have been moments of vulnerability, as seen against Tottenham and West Ham, it's essential to take a holistic view. Maguire points out, "In isolation, these situations aren't that much of a concern. As a collective though, many felt it suggested that it was a clear sign that it was the beginning of the end for Van Dijk as the most dominant defender in the Premier League."
Bouncing Back with Finesse
Van Dijk's recent stats paint a different picture. Maguire wrote, "Surprisingly, the shutout against the Toffees was the first of the season with Van Dijk in the starting XI. He was instrumental in the 2-0 victory." Going into the specifics, Van Dijk "attempted 106 passes and found a teammate 90% of the time against a resolute Everton team." Against Nottingham Forest, Van Dijk again showcased his defensive prowess, leaving no room for critics.

The Evolution of Van Dijk
Van Dijk isn't the same player from years ago; he's evolved. Maguire mentions, "He's busier than he's ever been for Liverpool, competing in more tackles, making more blocks, clearances, and interceptions." The impressive part, as highlighted by Maguire, is that "he's also winning a higher percentage of, well, everything." This evolution may be due to Liverpool's new system or simply Van Dijk's maturity and experience.
The Takeaway: Quality Over Flashy Moments
Van Dijk's game might have shifted from the flashier moments of dominance to a more consistent, grounded performance. As Maguire concluded, "the focus should be on how he's busier but arguably better."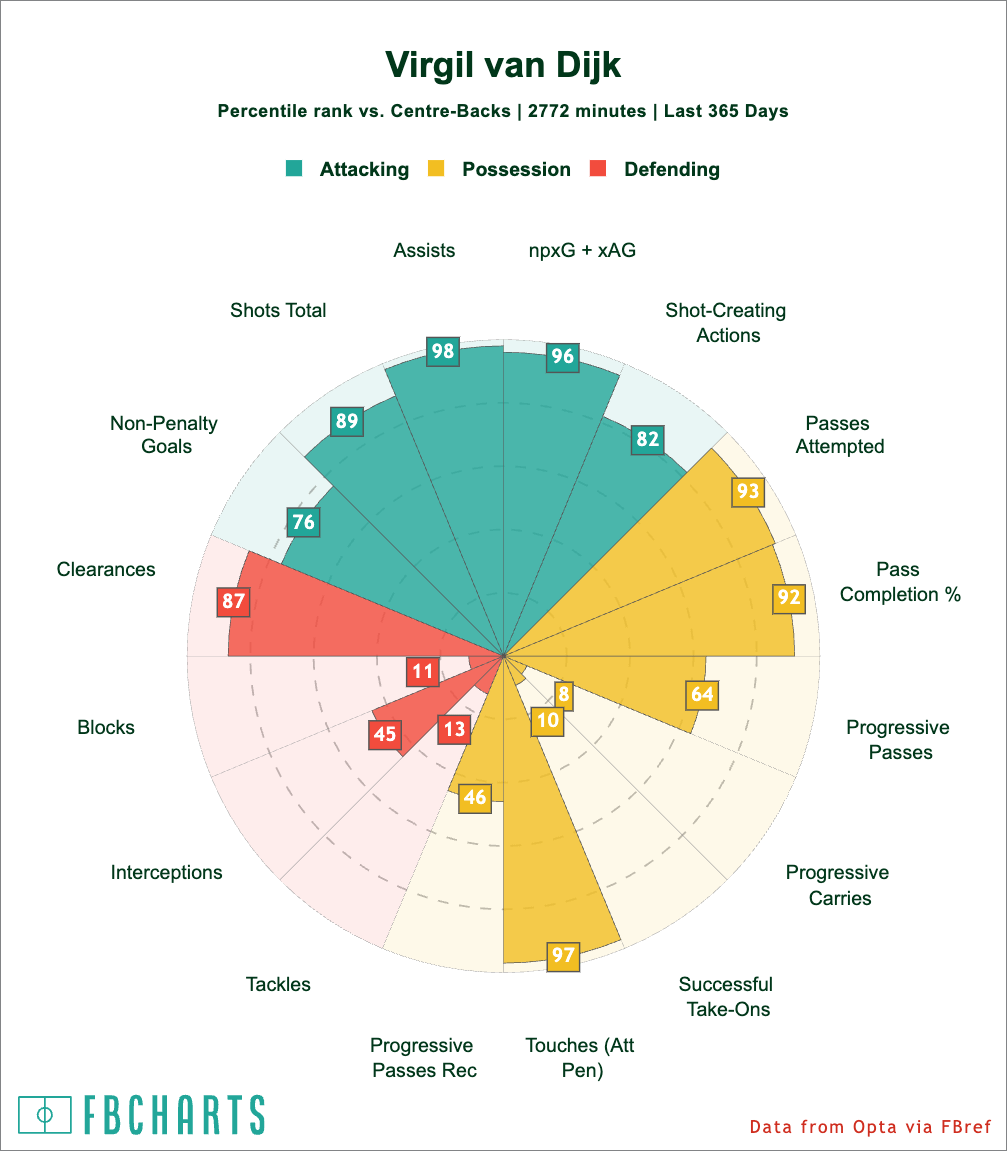 Analysing Virgil van Dijk's Impressive Stats: A Defensive Masterclass
As football fans worldwide know, Virgil van Dijk is more than just Liverpool's centre-back; he's a footballing colossus. With recent discussions circling about his form, the latest stats from Fbref provide a detailed look into the Dutchman's performance over the last 365 days. With 2772 minutes of game time under his belt, this in-depth radar chart offers some key insights.
To start with the attacking stats, Van Dijk's non-penalty goals come in at the 89th percentile, impressive for a defender. His total shots are ranked even higher, at 98th percentile, showing he's not shy about coming forward and taking his chances. However, his assists stand at the 1st percentile, indicating that while he might start attacking plays, he rarely provides the final pass.
In the possession department, Van Dijk shines again. His pass completion rate is in the 92nd percentile, showcasing his ability to retain and distribute the ball effectively. Furthermore, his attempted passes come in at a staggering 93rd percentile, emphasizing his significance in building the game from the back. His touches (excluding penalties) rank at the 97th percentile, and the progressive carries and passes he receives underscore his pivotal role in moving the ball forward.
Defensive Data
Now, let's delve into the core of his role: defending. Van Dijk's clearances are at the 76th percentile, and his blocks come in at the 87th percentile, highlighting his ability to thwart attacking threats. His interceptions, vital for stopping potentially dangerous plays, rank at the 46th percentile. One area where there seems to be room for improvement is in tackles, which come in at the 13th percentile. But, when considering the holistic view of his stats, this particular percentile might indicate his excellent positioning, which often negates the need to make a tackle in the first place.
In conclusion, these stats from Fbref reiterate what many Liverpool fans and football pundits have always believed: Virgil van Dijk is an integral part of Liverpool's defence, bringing both attacking prowess and defensive solidity. While no player is without areas to improve, Van Dijk's overall stats paint the picture of a defender in prime form, skillfully juggling his roles and responsibilities on the pitch. With numbers like these, it's no wonder he's regarded as one of the best in his position.
Credit: Data from Opta via Fbref.