Liverpool's Search for Defensive Reinforcements
In the dynamic world of football, the quest for robustness at the back is unending. Liverpool, a club with a rich defensive heritage, finds itself pondering the future of its backline. With Joel Matip's tenure nearing its conclusion and the ever-present spectre of injuries haunting Joe Gomez and Ibrahima Konate, the Reds are casting their eyes towards new horizons.
Amidst the search for fresh blood, the name Goncalo Inacio emerges with a compelling allure. The Sporting CP stalwart, boasting over a century of appearances and capped by Portugal, represents the archetype of the modern defender: assured in possession and formidable in defence.
Real Madrid's Interest: A Twist in the Tale
However, the plot thickens with the entry of Spanish giants Real Madrid. Reports from Spain signal Los Blancos' intent to rejuvenate their defensive ranks, eyeing Inacio as a potential linchpin. With the clock ticking on Nacho Fernandez's contract and Eder Militao's season marred by injury, Madrid's interest could set the stage for a winter tussle.

Inacio's recent commitment to Sporting CP, extending until 2027 with a heftier release clause, adds a layer of complexity to any transfer narrative. Liverpool's recent midfield pursuits – the elusive Jude Bellingham and Aurélien Tchouaméni, now with Real Madrid – linger in memory, adding a tinge of urgency to their strategic moves.
Liverpool's Strategy Moving Forward
For Jurgen Klopp's Liverpool, the addition of a player of Inacio's calibre is not just desirable but perhaps necessary. As the Reds navigate the challenges of the Premier League, the blend of youth and skill that Inacio offers could be the keystone in their defensive arch.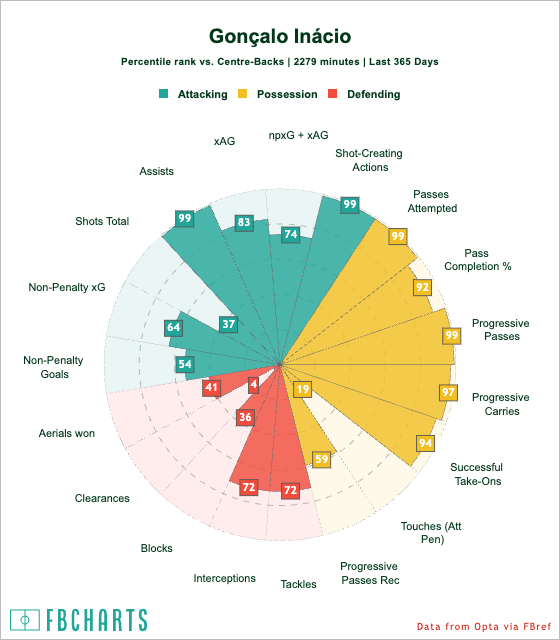 A Force in Defense and Beyond: Gonçalo Inácio's Astounding Stats
Gonçalo Inácio is not just another name on the pitch; he's a force to be reckoned with. The chart provided by Fbref showcases his exceptional performance data over the last 365 days, positioning him as one of the elite centre-backs in the game. From impressive shot-creating actions to staunch defensive plays, Inácio's stats speak volumes about his prowess on the field.
Master of Possession: Inácio's Command over the Ball
Diving into the realm of possession, Inácio's numbers are nothing short of commendable. With a remarkable 98th percentile rank in passes attempted and a stellar 99th percentile rank in both pass completion percentage and progressive passes, it's evident that when the ball is at Inácio's feet, magic happens. His ability to drive the game forward is further highlighted by his 98th percentile ranking in progressive carries.
Defending with Vigour: Inácio's Wall-Like Presence
On the defensive front, Inácio's performance data indicates a player who is always at the right place, at the right time. His stats in clearances, blocks, and interceptions are considerably above average, with percentile ranks of 52, 65, and 62 respectively. These numbers reinforce the idea that opponents find it challenging to get past this stalwart defender.
Interestingly, Inácio isn't only about defending. His attacking metrics are worth noting. Boasting a 98th percentile rank in shot-creating actions, it's clear he contributes significantly to offensive opportunities. Although his numbers in non-penalty goals and shots total might appear modest, remember, he's a centre-back, making these stats impressive for his position.
Performance Data in Perspective: How Inácio Compares
When pitting Inácio against other centre-backs, it becomes evident that he's among the best. His performance data, as visualized in the Fbref chart, reveals a player who is both consistent and extraordinary in various facets of the game. From staunch defending to proactive possession, Inácio seems to have mastered it all, marking him as a player to watch in the coming seasons.