Football's Televisual Shift
It hurts those of us of a certain age, but we have to accept that football is now a primarily televisual game. The fans in the stadium become less important by the year.
Except… the struggle for owners and marketeers is that atmosphere matters. People want to watch Liverpool across the world in part because of the sounds and spectacle off the pitch. Even if certain teams are not winning and playing poorly, armchair audiences love a small core of clubs – if you don't believe that, check out Manchester United's viewing figures. That's why we get more 12.30 kick offs than most. If a broadcaster gets the chance to have Liverpool on, they'll grab us first.
Worldwide Appeal For Anfield's Atmosphere
What that means is that, even if matchday attendees don't bring in that much cash comparatively, it makes sense to nurture the crowd. As far back as 1990, Silvio Berlusconi spoke about letting supporters in free to generate background colour. That will never happen. There's too much greed.
But don't piss off the crowd. Avoid stupid mistakes. Don't let the jobsworths make decisions. Make sure you have a clear policy, especially at times when there are divisive political issues at play.

It's easy to understand that Liverpool would not want to have Israeli or Palestinian symbols on display given the conflict in the Holy Land. It's incomprehensible that Greek flags or Japanese rising suns would attract the attention of overzealous stewards.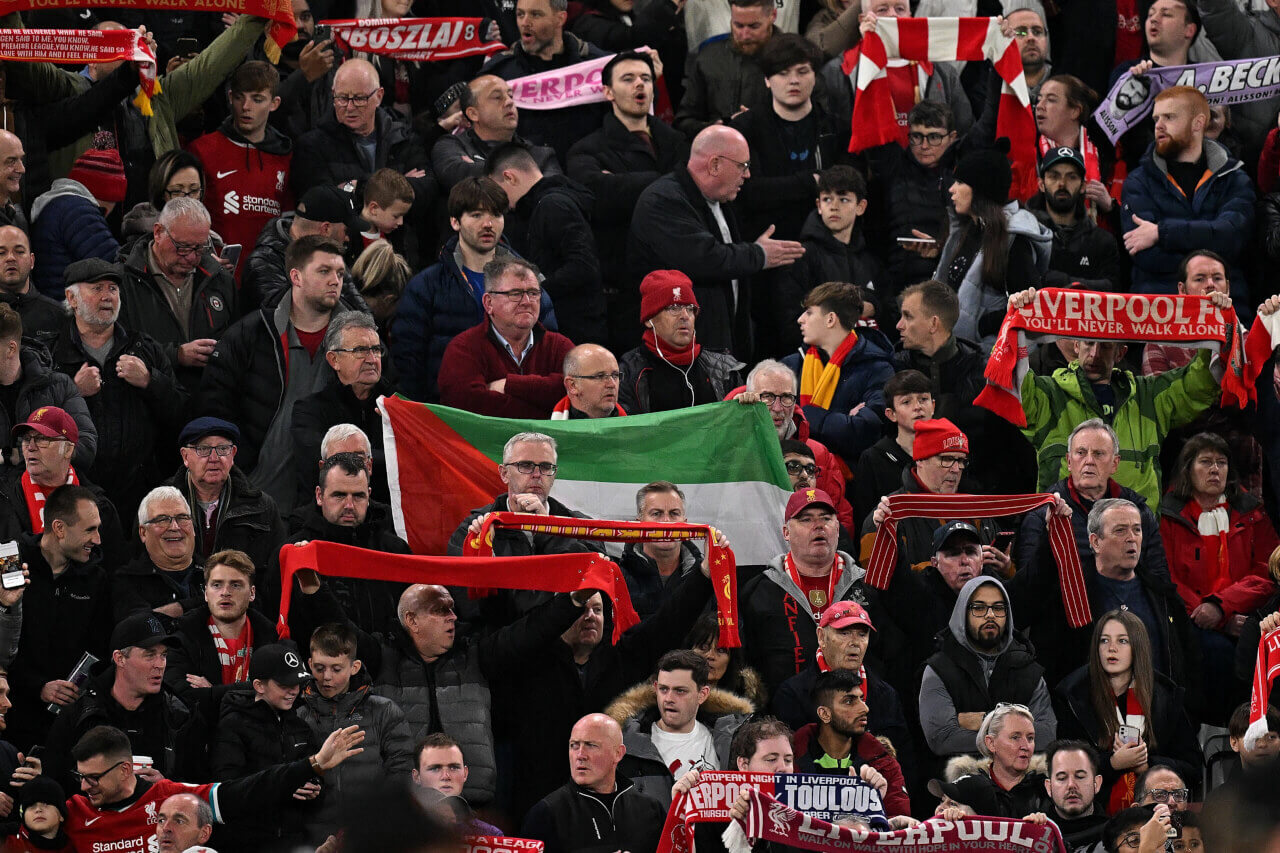 Rancid Regimes
The club followed the advice of the Premier League. We live in a time when the organising body – and the owners – want games as sanitised as possible (while, of course, allowing rancid regimes to buy into the sport).
My view on this will probably offend many people. Football reflects the mood of the society from which it draws its support. That, I believe, is a good thing.
Those who say keep politics out of the game invariably mean embargo the political stances they don't support. We are in poppy territory. I consider the poppy, which originated as a protest against the slaughter of the first world war, to have been reclaimed as a nationalistic symbol and fetishized by right wingers in the past two decades. The majority of people don't. It's up to them. We disagree.
My natural sympathy – on a wider scale – is with the underdogs. Palestinians have suffered outrageous treatment. However, those Israeli LFC fans who were slaughtered in the Hamas outrage should not have been denied recognition by their friends at Anfield. Wanting justice for Gaza should not preclude empathy and respect for those murdered in a terrorist rampage.
The point is wider than this particular issue. If you try and censor fan culture, it's a slippery slope. Yes, Liverpool have always taken pride in our global support – it was as far back in 1976 that I was desperate for one of those 'supporters all over the world' scarfs – but it should not be in the remit of the club to determine how the crowd reacts to geopolitical crises.
I get the argument that they don't want to alienate any section of the worldwide fanbase. Except that was not a concern when Russia invaded Ukraine. Yes, it was right to show solidarity to an invaded company, and the issues around Gaza are more complex, but the events of the past two years make the 'keep politics out of football' crew look ludicrous.
Being Free to be Offended is Vital
Would tributes to murdered Israelis or Palestinian flags cause public order issues? Well, back in the 1980s, when the Troubles in Northern Ireland felt terrifyingly close to Merseyside, someone two barriers behind me on the Kop waved an Ulster Volunteer Force flag at every game. The UVF were murdering Catholics at random. Was I offended? Damn right.
Others displayed Irish tricolours. Did that upset those with Unionist sympathies in a city that had Protestant Party councillors until the mid-1970s? Of course. In the end, though, you were at the match. We had Liverpool in common.
And those different principles contributed to the unique culture of our support. I think we're grown up enough to accept that there are conflicting and passionate views within the ground. Shying away from that is more likely to exacerbate the divisions than make them go away.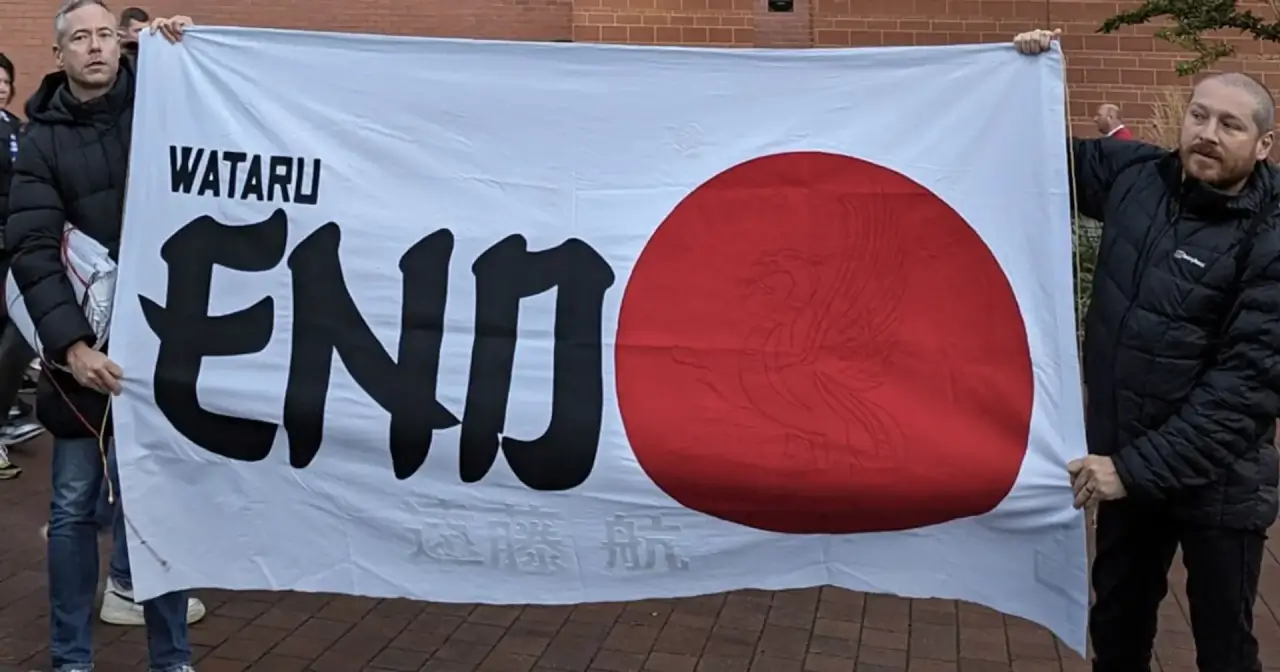 Flag Culture at Anfield
Or the club could take the other approach and tie itself in knots over Greek and Japanese symbols. Like it did. A bit childish, isn't it. Again, the banner culture grew organically. If Liverpool attempt to control it – especially in such a foolish manner – they'll kill it. The owner of the Endo flag in the main stand seems to have had particularly brutal treatment by the club. The only thing offensive about that banner was the response to it.
Treat supporters like adults and allow them to do their own thing. And if the politics don't suit you, suck it up. If you want fans to be passionate, you can't slice it to suit yourself.
In a depressing period, Darwin Nunez is life-affirming. My favourite all-time Liverpool moment is his miscontrol at Bournemouth. The home crowd laughed and jeered. Then he retrieved the ball and scored an outrageous strike.
OK, maybe I'm exaggerating and it's not the greatest moment in the history of the club. Yet it's just what we needed at the time and shows how football can be uplifting, thrilling and intensely comic in a single split-second. If you don't like Darwin, you need therapy.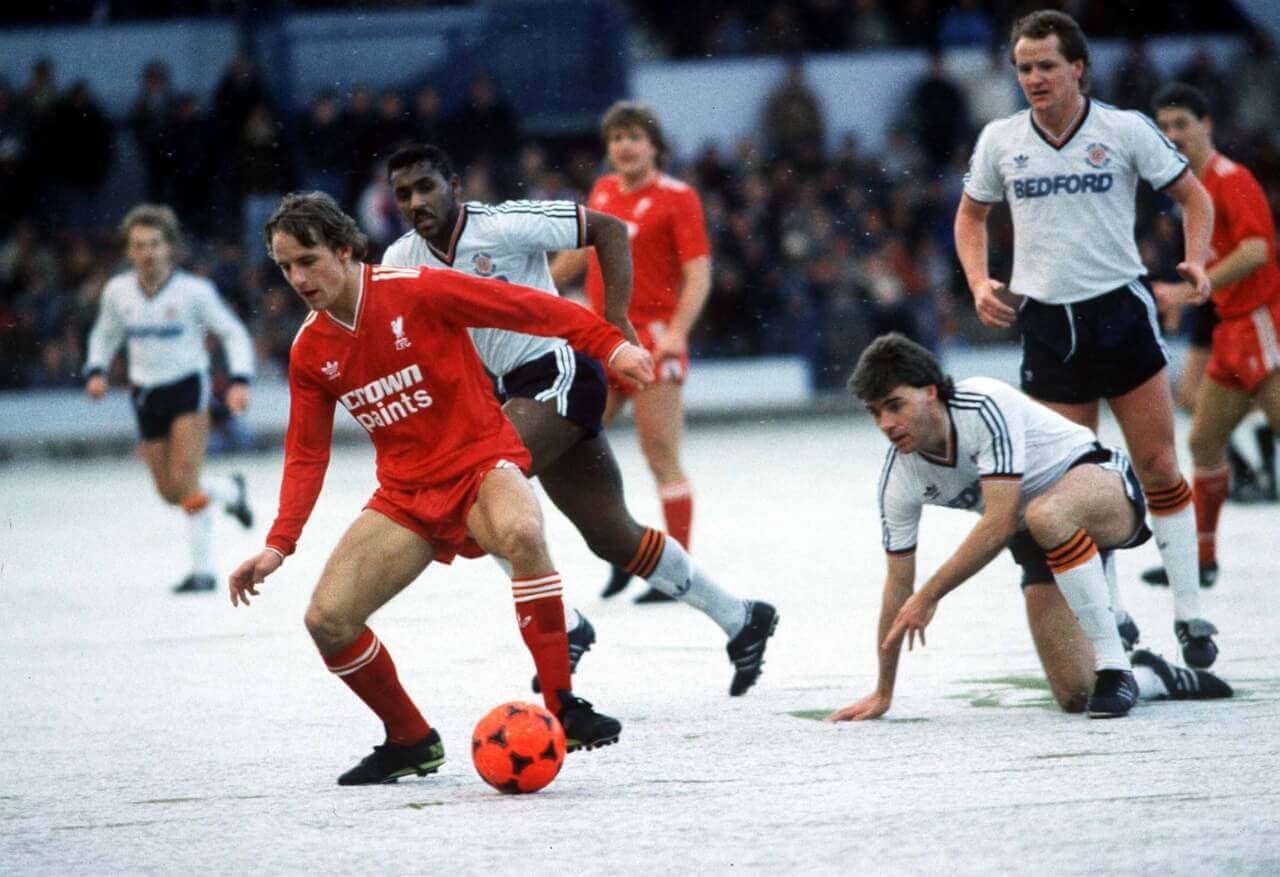 Reflecting on Previous Visits to Luton
Luton Town. So many memories. So few of them positive.
My first time at Kenilworth Road was the opening day of the season in 1974. Bob Paisley's first game as manager. It was a bright and sunny day and we won 2-1.
The next time was nine years later, during the grim days of Thatcher when David Evans, a Tory MP, was the club's driving force and plastic pitches and away-fan bans were on the horizon.
It was the worst of small-city England, with a death-trap stadium and a risible hooligan 'firm' called Men In Gear. They were the sort of people who wore their trousers short to show off Lacoste socks; the type who preyed on scarfers. Tommy Robinson, the right-wing nutter, changed his name from Stephen Yaxley-Lennon to honour one of the MIG leaders. Imagine how big a tosser the first Robinson was.
Luton are another of those teams that youngsters don't really care about but – like Forest last week – us arl arses harbour resentments towards.
Screw the plucky little Luton narrative. Stuff those Brexit, Tommy Robinson, half-mast-kex-wearing bastards good and proper, Reds.