The Pursuit of Arthur Vermeeren: A Premier League Tug-of-War
In the ever-evolving theatre of European football, the name Arthur Vermeeren is swiftly becoming a fixture in the transfer rumour mill. The young Belgian midfielder, who has been honing his craft within the esteemed ranks of Royal Antwerp, has not only captured the imagination of his current club's faithful but has also drawn admiring glances from the Premier League's elite, with Manchester United and Liverpool reportedly vying for his signature.
Manchester United's Midfield Marvel Interest
As the leaves turned in September, reports surfaced of Manchester United's keen interest in Vermeeren. The Old Trafford outfit, guided by the discerning eye of Erik ten Hag, is said to have placed the Belgian prodigy high on their wishlist. Ten Hag's penchant for nurturing young talent is well-documented, and in Vermeeren, he sees a player ripe for the grand stage of English football.
Barcelona's Gaze Turns Northward
Yet, the Red Devils are not alone in their pursuit. Barcelona, with their rich history of developing midfield maestros, have also been seduced by Vermeeren's potential. The La Liga giants have monitored the 18-year-old's progress meticulously, especially during their Champions League encounters against Royal Antwerp. The conversations between Barca's Deco and Antwerp's Marc Overmars have hinted at a Catalan interest that could spark a bidding war.

Liverpool Enters the Fray
Amidst this backdrop of intrigue, Liverpool emerges as a formidable contender. The Anfield side, with a keen eye for emerging talent, has also been linked with the Belgian. Their track record of integrating young prospects into a world-class setup makes them an attractive destination for any rising star.
The financial aspect of this transfer saga is as complex as it is compelling. With a market value hovering around €17 million, Royal Antwerp's expectations exceed this figure, with aspirations of commanding a fee in the region of €20 to €25 million for their prized asset. It's a testament to Vermeeren's burgeoning reputation that such numbers are being quoted.
The Future of a Flemish Phenom
As the narrative unfolds, the trajectory of Arthur Vermeeren's career is a topic of hot discussion. With Manchester United and Liverpool both alert to the situation, the coming months could be pivotal in determining where this talented midfielder will ply his trade. The certainty of his talent is matched only by the uncertainty of his destination.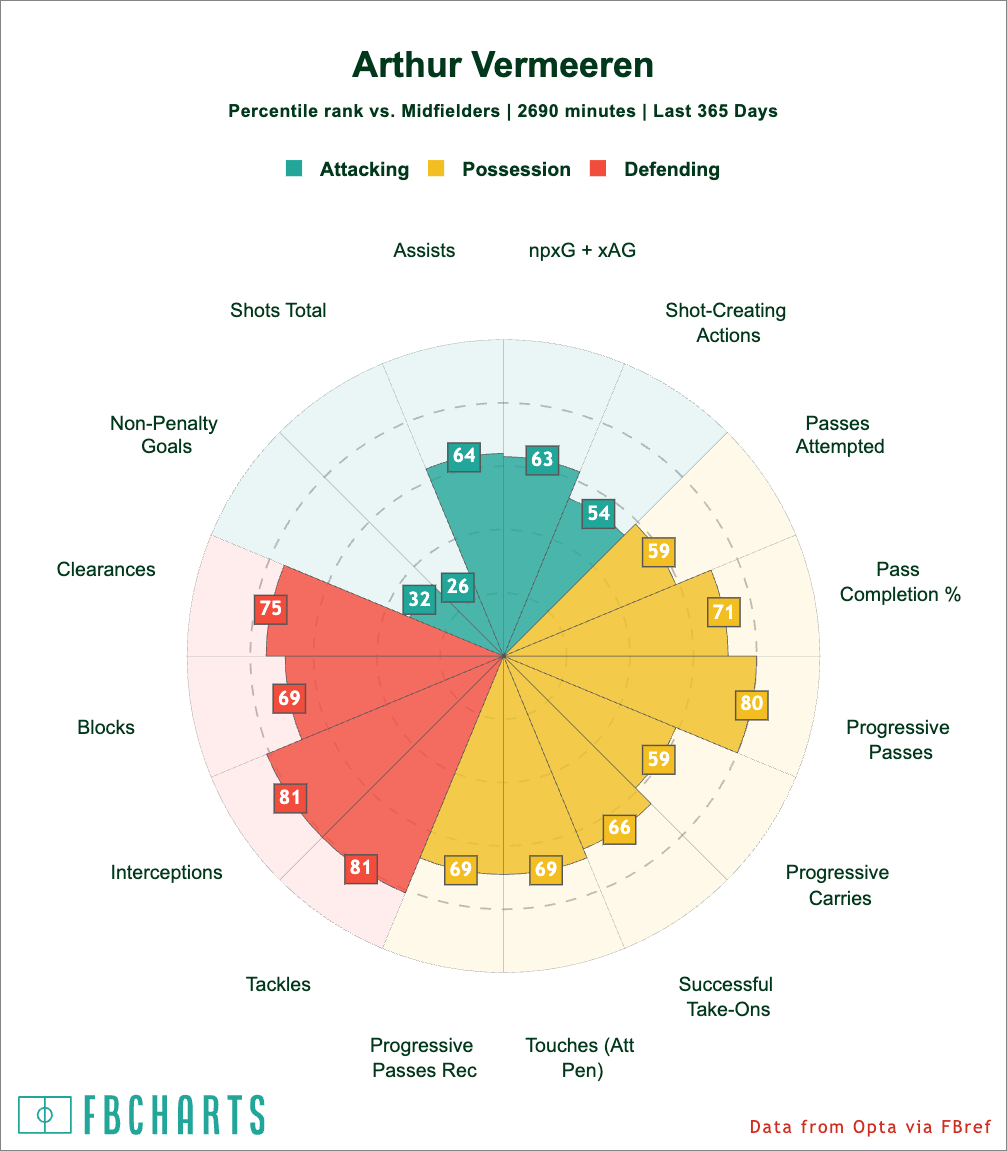 Attacking Might
Vermeeren's attacking statistics are a sight to behold. With a 59th percentile in shot-creating actions and a respectable 54 in total shots, he is not shy about pressing forward and making attempts on goal. Interestingly, his non-penalty goals and assists rank on the lower end at 32 and 26 percentiles, respectively. This suggests that while Vermeeren is proactive in initiating plays, he may benefit from refining his finishing touch.
Possession and Control
The possession stats are a testament to Vermeeren's ability to maintain ball control. With an impressive 80th percentile in progressive passes and a 71 in pass completion percentage, Vermeeren consistently ensures his team keeps the ball moving. His prowess in progressive carries (69th percentile) and successful take-ons (66th percentile) further demonstrates his capability to drive the ball forward, navigating through opposition defenses with ease.
Defensive Duties
Vermeeren is no slouch in the defensive department either. He ranks exceptionally high in blocks and interceptions, both at the 81st percentile. His tackles are also commendable, standing at the 69th percentile. With such robust defensive stats, it's evident that Vermeeren is a well-rounded midfielder, striking a balance between offense and defense. His 75th percentile in clearances further solidifies his role as a player who can be trusted to safeguard the goal when the situation demands.
In essence, Arthur Vermeeren's performance data paints a picture of a dynamic midfielder. He is adept at both initiating offensive plays and staving off potential threats from the opposition. While there's always room for improvement, particularly in his goal-scoring, the stats suggest that Vermeeren is undoubtedly an asset to his team.
With players like Vermeeren, it's not just about the raw numbers but the impact they bring on the field. His stats, courtesy of fbref, provide a quantifiable insight, but it's his agility, vision, and footballing brain that truly set him apart.