Liverpool in the Hunt for Goncalo Inacio
Despite swirling rumours, Liverpool remains firmly in the mix for Sporting Lisbon's defensive ace Goncalo Inacio. As the transfer landscape continually shifts, the Merseyside club is keeping its eyes on potential defensive reinforcements, with the 22-year-old Portuguese centre-back a prime target.
The Real Madrid Connection
Recent speculations from Spain had placed Real Madrid at the front of the queue for Inacio's signature. Yet, these reports may have been a tad premature. Trusted voices in the transfer community have clarified that while Madrid's interest is genuine, their actions have been limited to routine scouting, leaving the door ajar for Liverpool to make a strategic play.
A Strategic Play by Liverpool
The situation is ripe for Liverpool to capitalise. With no concrete moves from Real Madrid for Inacio as of yet, and the player's release clause set at a substantial €60 million, the Reds are well-positioned to observe the development of their own, Jarell Quansah, while still keeping Inacio within their crosshairs for a potential summer move.

Fabrizio Romano insists no deal has been agreed:
"What I can tell you is that at the moment, from what I'm told Real Madrid have not agreed anything with Sporting for Goncalo Inacio There is no agreement, there is not even a concrete negotiation at this stage. Probably this rumour is coming from the mission of Real Madrid scouts who are always around to keep an eye on clubs, talents, players. Nothing is done and nothing is guaranteed for the January window, at the moment the situation is still quiet it's just about normal scouting for a very talented player.

"Remember what I told you one month ago about Goncalo Inacio, he's on the list of many clubs in England for a long time including Newcastle, including Liverpool, but also Manchester United are exploring the conditions of this player. At the moment it's just about scouting, there's still nothing concrete. What's real is the release clause – €60m [£52m]. We will keep you posted if we hear more news about that."
The Quansah Factor
The emergence of Jarell Quansah from Liverpool's academy presents an intriguing subplot. At 20 years old, his rapid ascent has given Liverpool much to ponder. Investing in Inacio could inadvertently stymie Quansah's progress. Liverpool's strategy may well hinge on balancing immediate needs with long-term development.
The Transfer Window Watch
As January approaches, the anticipation around Inacio's next steps mounts. While the situation is fluid, Liverpool fans can rest assured that the club remains in contention. The narrative around Inacio is far from complete, and Liverpool's transfer team is undoubtedly monitoring every twist and turn.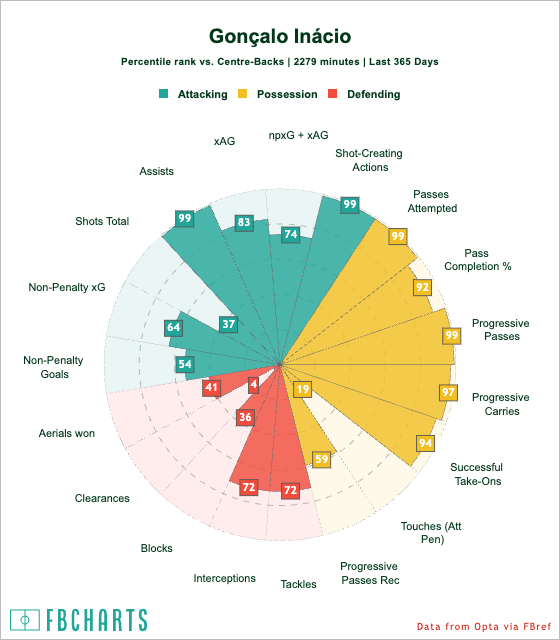 Attacking Proficiency
Starting with his attacking metrics, Inácio exhibits exceptional qualities. Standing tall with a 98th percentile rank in shot-creating actions, he has the ability to initiate attacks even from deep positions. This isn't a common trait among centre-backs, marking him as a unique talent. His total shots and non-penalty goals statistics further amplify his threat in the final third.
Dominance in Possession
When it comes to possession, Inácio is head and shoulders above most of his counterparts. Boasting a 99th percentile in passes attempted and an astounding 94th percentile in pass completion percentage, it's clear he's the fulcrum of Sporting's build-up play. His progressive passes, sitting at a 99th percentile, show he doesn't just retain the ball; he actively pushes his team forward. Complementing this is his 98th percentile rank in progressive carries, indicating his ability to drive forward with the ball at his feet.
Defensive Resilience
On the defensive front, Inácio shines brightly as well. With a percentile of 89 in interceptions and 57 in tackles, he showcases a keen sense of reading the game. His ability to intercept and break up play is pivotal to Sporting's defensive solidity. His blocks and clearances statistics further affirm his commitment to keeping his goal unbreached.
However, it's worth noting a few areas where Inácio's stats don't scale the upper echelons. His numbers in assists, expected goals, and successful take-ons are areas he could further hone to evolve into an even more complete player. But given his age and trajectory, there's ample time for growth.
What This Means for Clubs Scouting Inácio
Inácio is clearly a centre-back tailored for the modern game. His attacking and ball progression metrics make him an asset for teams favouring a possession-based style. His defensive stats show he's more than capable of holding his own against top-tier forwards. Any club looking to bolster its defence while adding some flair would be wise to have Inácio on its radar.