Liverpool's Gaze Fixed on Palmeiras Prodigy Luis Guilherme
In the world of football, the talent-hunting saga continues, with Liverpool setting their sights on the burgeoning talent of Luis Guilherme, Palmeiras' emerging starlet. The pursuit is not a fleeting fancy; the Merseyside club has been monitoring the youngster's progress with keen interest for a significant period.
The strategy of infusing young South American flair into European squads has become increasingly prominent post-Brexit, and Liverpool seem poised to embrace this trend. Historically reserved, they have watched from a distance as other clubs have ventured into markets like Brazil and Ecuador. Yet now, a change in the winds suggests Liverpool may finally be dipping their toes into these prolific talent pools.
Palmeiras' Left-Footed Phenom
Guilherme, a 17-year-old left-footed forward with a mere 26 appearances for Palmeiras, is not just another name on the team sheet. His involvement at such a tender age is indicative of a distinctive talent, one that Liverpool recognises and may deem ripe for the Anfield setting.

The financial aspect, of course, remains a pivotal factor in this transfer narrative. Guilherme's current standing comes with a hefty £48 million release clause, casting a shadow of doubt on the feasibility of Liverpool's move. The price tag is in stark contrast to that of Andre Trindade, the Fluminense midfielder also linked with Liverpool, who is expected to command a much lower fee.
The Prospect Watch
As the Brazilian domestic season reaches its climax, all eyes are on Guilherme to see if he can escalate his performances to justify the mounting hype. The digital age allows fans and pundits alike to catch glimpses of his potential online, with the youngster showcasing dribbling skills and creativity that have undoubtedly placed him on the radar of Europe's elite, including Liverpool.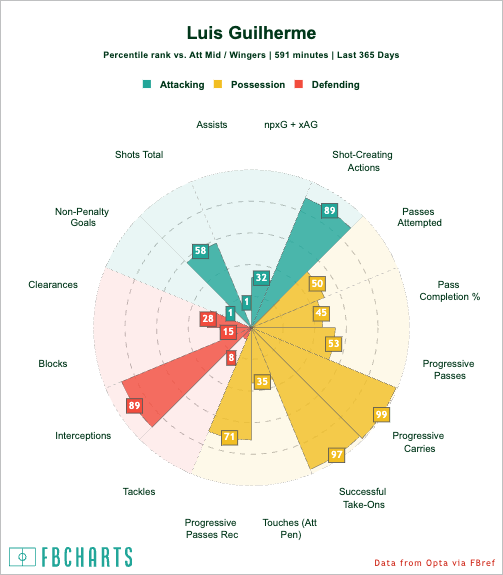 Defensive Fortitude
Among the most striking elements in Guilherme's stats is his defensive prowess. Recording a laudable 89th percentile in interceptions, this showcases his anticipatory sense on the pitch. His knack for breaking up play is further highlighted by a similarly impressive 89th percentile in blocks. The message is clear: Guilherme is not just an attacker who waits for the ball. He's involved, alert, and keenly aware of defensive responsibilities.
On-the-Ball Brilliance
Guilherme's data further portrays his commanding presence when in possession. A staggering 99th percentile in progressive carries speaks volumes of his ability to drive the team forward. But what's more intriguing is his 97th percentile in successful take-ons. Not only does he possess the ball, but he also makes things happen. His agility, speed, and technical flair make him a constant menace for opposition defences.
Room for Improvement
No player is without areas to hone, and Guilherme is no exception. His shot-creating actions, standing at a 50th percentile, and non-penalty goals at 28th, hint at potential areas for development. As he matures, refining his finishing and becoming more decisive in the final third will undoubtedly propel him into the elite bracket of footballers.