Liverpool's Midfield Reinforcement: The Case for Andre
Anfield Midfield Puzzle
Liverpool's midfield, a blend of dynamism and creativity, has been the engine room of Jurgen Klopp's side. Yet, as the rigours of a demanding season take their toll, the Reds' depth in the central areas has come under scrutiny. ESPN's report, courtesy of South American football connoisseur Tim Vickery, hints at a solution that may arrive in January: Fluminense's Andre.
Despite an influx of midfield talent last summer, Liverpool's quest for the ideal No. 6 persists. The acquisition of Andre, a player who combines the tenacity of a defensive midfielder with the vision of a deep-lying playmaker, could provide the equipoise Klopp seeks.
Andre: The Missing Piece?
Andre's potential arrival at Anfield is not a new narrative. The Brazilian was on the cusp of a Merseyside move last summer, only for Fluminense's Copa Libertadores ambitions to defer the transfer. With the tournament concluding, Liverpool's interest appears to be rekindled, and Andre's signature could be imminent.

Klopp's midfield conundrum has been exacerbated by the varying success of Alexis Mac Allister in the No. 6 role and the injury woes of Stefan Bajcetic. Wataru Endo, while a capable squad player, may not be the long-term answer. Andre, with his blend of defensive solidity and playmaking prowess, could be the solution Klopp is searching for.
Vickery Endorsement
Tim Vickery's endorsement carries weight, given his expertise in South American football. His assertion that Andre "may well" join Liverpool in January adds substance to the speculation. Vickery's insights into Andre's role at Fluminense—chasing, running, covering—paint a picture of a player tailor-made for Klopp's high-octane system.
Andre's Attributes – Why Do Liverpool Want Andre?
André: The Midfield Metronome According to Stats
Pillar of Possession and Distribution
The midfield maestro known simply as André stands out in a realm where control and rhythm are paramount. With performance data provided by Fbref, we're offered a graphical symphony of his playing style, allowing an insight into the statistical impact of this midfield general.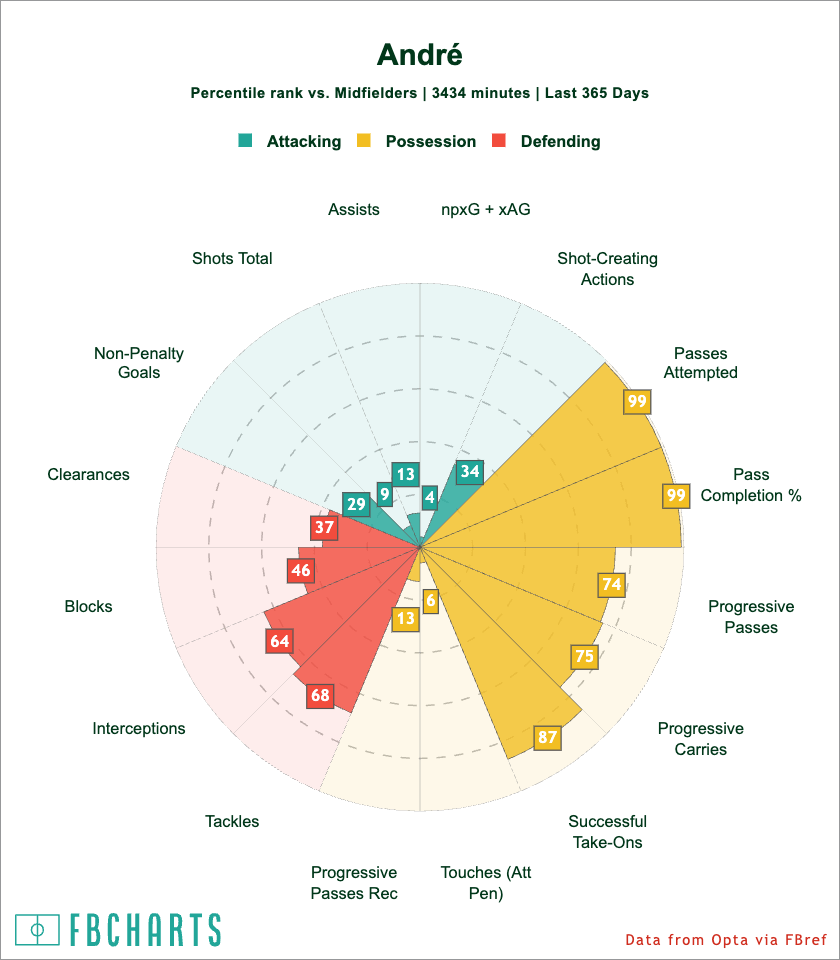 Passing: The Heartbeat of His Game
At the epicentre of André's influence is his passing ability. The stats illustrate a player who doesn't just participate in the game; he dictates it. With a 99th percentile in both passes attempted and pass completion percentage, André emerges as the epitome of a possession-based midfielder. His touch is reliable, his vision clear, and his execution nearly flawless. These figures don't just tell a story; they sing an ode to consistency and quality in midfield play.
Defensive Duties: An Area for Growth
Where light shines brightest, shadows are cast, and André's defensive contributions could be said to lurk in these shaded areas. His percentile for interceptions and tackles shows a player whose strengths lie not in the grit of defence but in the craft of ball retention. However, his ranking in the 64th and 68th percentiles respectively suggests a competency, if not mastery, that complements his primary role.
The Dynamic of Progressive Play
In the modern game, progression is key, and André's performance in progressive carries and successful take-ons demonstrates a willingness to advance play. These figures, nestled comfortably in the high percentiles, hint at a player comfortable with moving the ball under pressure, essential for breaking lines and changing the phases of play.
A Statistical Snapshot of André
The performance data and stats offered by Fbref tell a compelling narrative of André's role in the midfield orchestra. High in possession and distribution metrics, he is the player that keeps the game ticking, even if the more combative aspects of midfield play don't feature as prominently in his repertoire. Through these numbers, André is revealed not just as a midfielder but as a guardian of the game's tempo, and his statistical imprint firmly establishes his value on the pitch.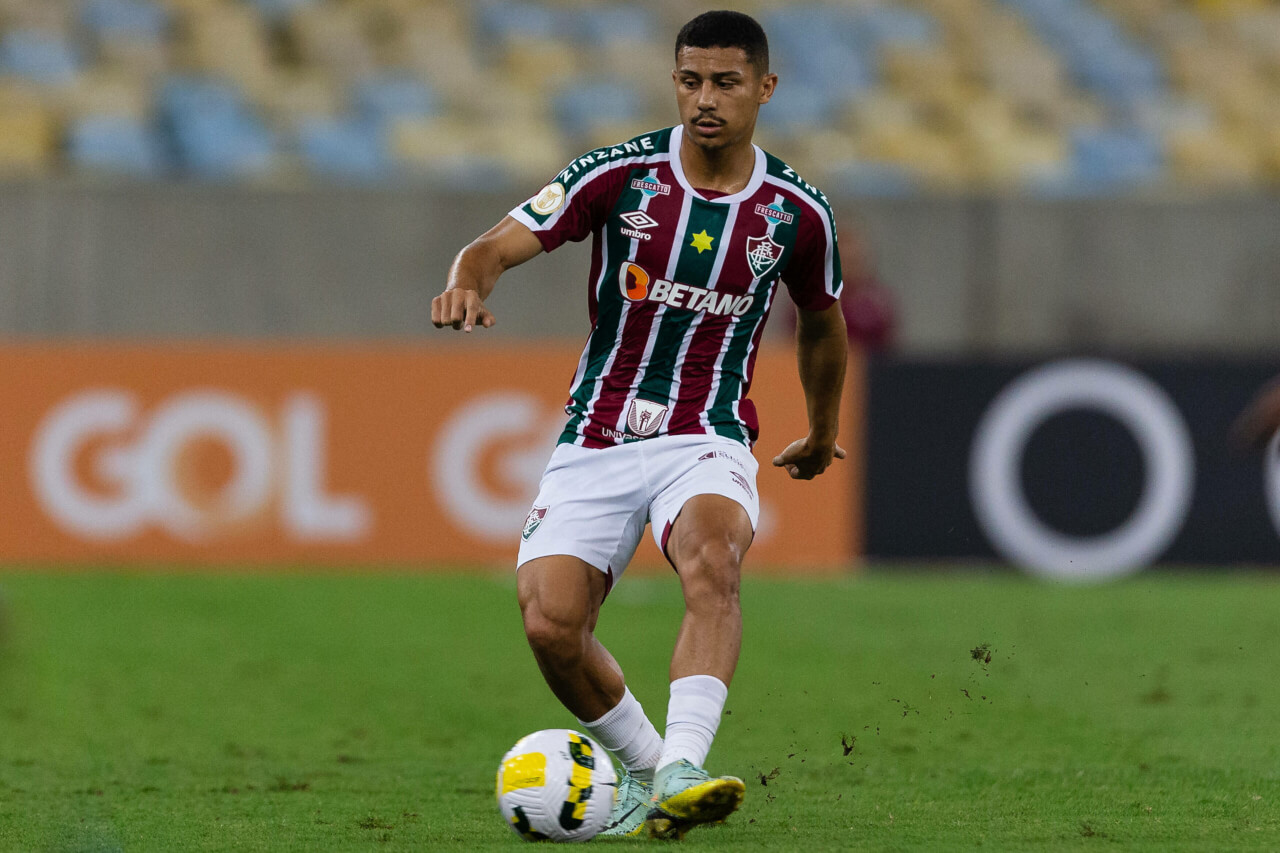 Liverpool's midfield is undergoing a transformation, with new arrivals infusing fresh blood into the squad. Andre's addition would continue this trend, offering a new dimension to a midfield unit that thrives on versatility.
Copa Libertadores Factor
Fluminense's journey to the Copa Libertadores final has been a testament to Andre's influence. His performances on such a grand stage have only heightened his appeal to top European clubs. Liverpool, recognizing his contributions, are poised to make their move.
Transfer Mechanics
Liverpool's approach to the transfer—opting not to trigger Andre's release clause in the summer—may have fostered goodwill with Fluminense. This strategic patience could yield favourable terms for the Reds as they aim to secure Andre's services.
Reports suggest that personal terms with Andre are already in place. This development, if true, indicates that Liverpool's interest is serious and that Andre could be Anfield-bound come January.
Anticipation Builds
As the January transfer window approaches, Liverpool fans will be watching with bated breath. The prospect of Andre joining the ranks is an exciting one, promising to add depth and quality to a midfield that is already brimming with talent.
In conclusion, Liverpool's midfield, the heartbeat of Klopp's side, could be set for a significant boost with the acquisition of Andre. His skill set appears to be a perfect match for the Reds' style of play, and his potential arrival could be a pivotal moment in their season. As the January window looms, all eyes will be on Anfield to see if this transfer comes to fruition.