Persistent Pursuit of Mbappe by Liverpool
In the ever-evolving theatre of football transfers, Liverpool's name remains steadfastly in the mix for Kylian Mbappe's signature. The Paris Saint-Germain (PSG) luminary, whose contract is winding down, has not been shy about his openness to new horizons. The Merseyside club's interest is not a recent development; it has been a constant since a notable encounter back in 2017.
The Klopp-Mbappe Connection
Jurgen Klopp, Liverpool's charismatic manager, once met with Mbappe in the intimate setting of a private jet, discussing potential futures as the French prodigy was charting his course away from Monaco. Despite Mbappe's decision to grace PSG with his talents, the dialogue between him and Liverpool has reportedly never dwindled.
Anfield's French Fancy
As the football world speculates on Mbappe's next chapter, Liverpool is purported to hold a belief in their odds of securing his services. Direct communications with the World Cup winner are said to be ongoing, fuelling the narrative of a possible Anfield arrival.

The saga of Mbappe's future is akin to that of Jude Bellingham's, shrouded in speculation yet leaning towards a predictable climax. The consensus suggests a £166m valuation leaning towards a Real Madrid culmination, or perhaps a renewed allegiance to PSG.
A Tactical Conundrum for Liverpool
Strategically, Liverpool's courtship of Mbappe presents a puzzle. Even with the potential departure of Mohamed Salah, the squad's composition—brimming with left-sided right-footers—raises questions about the necessity and fit of Mbappe within the team's framework. Klopp's admiration for Mbappe is unquestionable, yet the practicality of such a move is debated, especially with the accompanying media spectacle.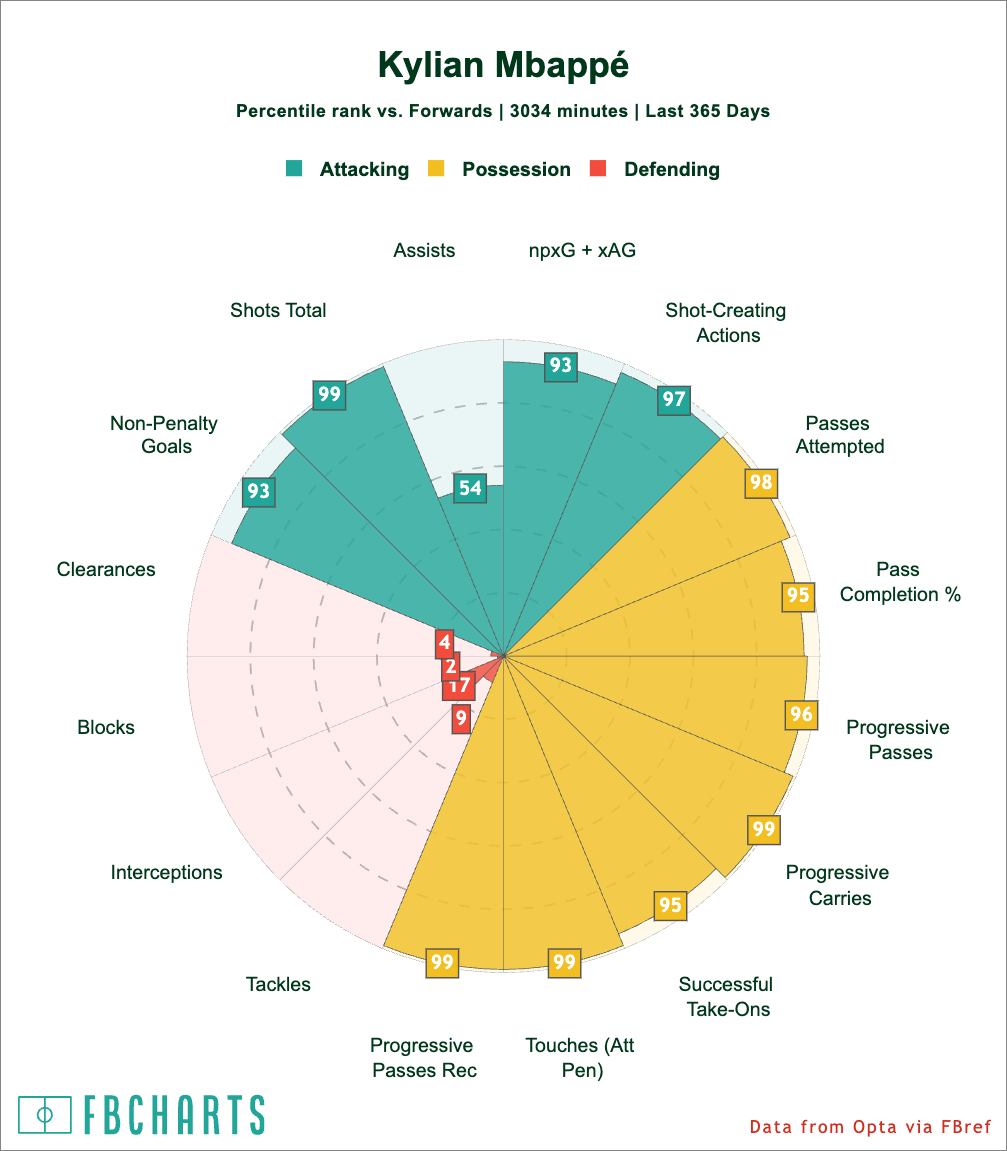 A Statistical Behemoth on the Pitch
Kylian Mbappé's prowess on the football field is not just in the flair of his play but also quantifiable in a striking statistical dashboard provided by FBref. His comprehensive stats speak volumes of his versatility and effectiveness as a forward, making him a formidable force in the game.
Attacking Excellence
In the attacking domain, Mbappé's percentile ranks are stratospheric. His non-penalty goals are in the 99th percentile, underscoring his clinical finishing ability. He doesn't just rack up the numbers but does so from open play, which is often harder and more indicative of a player's raw scoring prowess. Shots total and assists, sitting comfortably in the 93rd percentile, depict a player equally adept at setting up goals as he is at burying the ball in the net. This versatility makes Mbappé a dual-threat to defenses everywhere.
Possession Metrics
Mbappé's possession stats shine just as brightly. He's in the high 90s for both successful take-ons and progressive carries, indicating not just his comfort on the ball but also his capability to drive the play forward, transitioning from midfield to attacking thirds with ease and efficiency. His touch in the attacking penalty area, in the 95th percentile, demonstrates a player who gets into dangerous positions and is heavily involved in the final third.
Defending Contributions
While not primarily known for his defending, Mbappé's stats do show contributions in this area. The lower percentiles for clearances, blocks, and interceptions, reflect a forward-focused player, but when the need arises, he's shown the ability to get back and contribute defensively.
An Analytical Glimpse
The chart's data, sourced from Opta via FBref, offers a multi-dimensional view of Mbappé's gameplay over the last 365 days. His 3,034 minutes of playtime have been a masterclass in modern forward play. The data visualization makes it clear — Mbappé is not merely a player; he's a statistical titan reshaping the contours of what we expect from a forward.
In sum, Kylian Mbappé stands not only as a fan favorite for his electrifying playstyle but also as a statistician's dream. His numbers are a testament to a player at the peak of his powers, and the sport is all the more thrilling for it.
Credit: FBref.com