What A Performance by Andre
In the pulsating heart of Rio de Janeiro's iconic Maracana Stadium, a star illuminated the pitch, not just by the floodlights but by sheer talent and poise. Andre Trindade, the name on every Liverpool supporter's lips, orchestrated a midfield masterclass for Fluminense in their historic Copa Libertadores triumph over Boca Juniors.
The Engine Room's Shining Star
As the clock ticked over into the 120th minute, Trindade's stamina never waned. His relentless energy drove Fluminense forward, embodying the spirit and tenacity that the Merseyside club values. The first-half saw Fluminense's veteran forward German Cano break the deadlock, a testament to the team's attacking verve, with Trindade as the fulcrum.

🇧🇷 Andre's performance in #Libertadores Final with #Fluminense winning for the first time.

So… would you #LFC fans or not?pic.twitter.com/R4zWpVCKnT

— AnfieldIndex (@AnfieldIndex) November 5, 2023
The narrative took a twist when Luis Advincula's long-range effort for Boca Juniors found the net, a goal worthy of drawing the sides level. The drama intensified in extra time, with John Kennedy netting a decisive goal for Fluminense, only to later receive marching orders, setting the stage for a nail-biting finale.
Resilience Against the Odds
Despite being a man down, Fluminense, with Trindade's leadership, held firm against the six-time champions. The match saw its share of drama, with Boca Juniors' Frank Fabra also seeing red, balancing the scales as the game reached its crescendo.
Trindade's performance was not just about grit; it was a statistical marvel. Dominating with the most dribbles on the pitch and a staggering 95% pass accuracy, he was the heartbeat of Fernando Diniz's setup. His 79 touches, coupled with defensive prowess in tackles and recoveries, not to mention winning the majority of his duels both on the ground and in the air, painted the picture of a player tailor-made for Liverpool's dynamic midfield.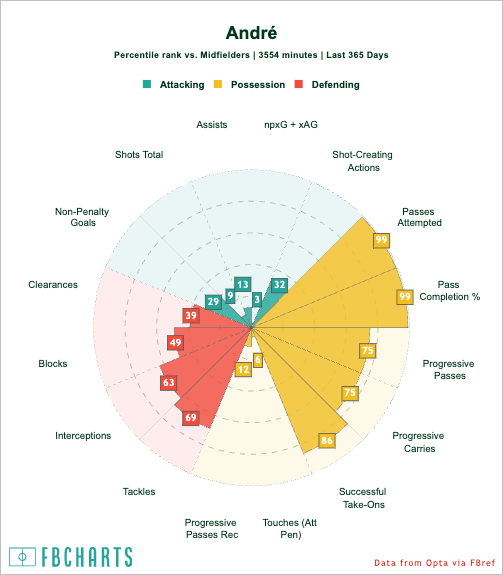 Statistical Analysis by AI Index: Unlocking André Trindade's Midfield Mastery
In the realm of football where every touch, pass, and tackle can tip the scales, André Trindade's performance data provides a crystal-clear picture of a player who is both a cornerstone and a catalyst for his team. Derived from Fbref, powered by Opta data, this statistical odyssey reveals the sheer influence André exerts from the midfield, bridging defence with attack.
Performance Data: The Engine Room's Heartbeat
Trindade's heatmap of stats unfurls a tapestry of relentless efficacy over the past year, distilled into a 3554-minute-long symphony of footballing prowess. His percentile ranks among midfielders highlight a dual-threat capacity—flawless in possession and formidable in defence. In the attacking third, his assists and non-penalty goals may not dazzle, but his shot-creating actions speak volumes, asserting him as a pivotal playmaker.
This is #Andre (just turned 22) in the last year. Comparison is only vs "next 8" leagues but these are outstanding 1v1 defensive numbers.
Context Vs peak age Rodri and Bruno in 2nd image. pic.twitter.com/UxFhJ2GAZB

— Dan Kennett (@DanKennett) November 4, 2023
When it comes to possession, the performance data vaults André into the elite, with pass completion at a staggering 99th percentile. This isn't just about quantity; it's about quality too. His progressive passes and carries chart an adventurous player unafraid to drive play forward, morphing defence into attack with both vision and precision.
Defending Stats: The Art of Recovery
Defensively, André's numbers are a testament to a tenacious will. Occupying the 86th percentile for successful pressure, he is the quintessential disruptor, a thorn in the side of opposing playmakers. Tackles and interceptions, nestled comfortably in the upper echelons, further underscore his keen sense for snuffing out danger before it flares.
Fbref's visual distillation of André Trindade's performance data and stats isn't just a snapshot; it's the storyline of a midfielder whose gravitational pull can alter the flow of a game. With such a data-backed narrative, André Trindade emerges not merely as a player but as an experience—an embodiment of modern midfield artistry.
[Performance Data Credit: Fbref/Opta]