Liverpool's Late Lifeline at Luton: Diaz Delivers
On a day where an underdog story was nearly etched in Premier League lore, Luis Diaz emerged as Liverpool's saviour, clinching a vital point in the dying embers of a captivating duel with Luton Town. The Reds, expected to dominate, found themselves embroiled in an unexpectedly stiff challenge, with a spirited Luton side showing resilience and tactical acumen.
A Tale of Unexpected Resistance
Luton Town set up a formidable defensive unit that managed to quell the usually unrelenting Liverpool attack for large swathes of the game. The Hatters, far from overawed, contested every ball and breakaway with a belief that seemed to grow as the match wore on, embodying the strategic nous of their manager, Rob Edwards.
Liverpool's Forward Frustration
Liverpool's attacking contingent, brimming with talent, struggled to penetrate Luton's backline. Despite promising attempts from Darwin Nunez and Diogo Jota, Luton's defence stood firm, particularly on the right flank, marshalled by Issa Kabore and his defensive comrades. Liverpool's urgency grew in the second half, yet it was Luton's Tahith Chong who stole the headlines with a clinical finish to shock the visitors.

Diaz to the Rescue
In a storyline befitting the twists of this Premier League season, Diaz, amidst personal challenges, provided the decisive touch that salvaged a result for Liverpool. His stoic header at the back post, following a Harvey Elliott cross, was a testament to his character and skill, ensuring the Reds avoided a rare stumble.
Player Performances Under the Microscope
As the dust settles, player ratings offer a window into the individual battles that defined the match. The likes of Luton's Teden Mengi and Liverpool's Virgil van Dijk shone, while others, including Liverpool's Joe Gomez, faced a more challenging afternoon. These performances shape the narrative of a game where expectations met reality in an unexpected fashion.
Managerial Mastery and Misses
Jurgen Klopp, known for his tactical insights, found his match in Rob Edwards. Klopp's Liverpool, usually so commanding, were matched by Edwards' Luton, whose setup and substitutions almost crafted a historic victory. Diaz's late goal, resulting from Klopp's changes, may be seen as redemption for the German tactician's strategic decisions.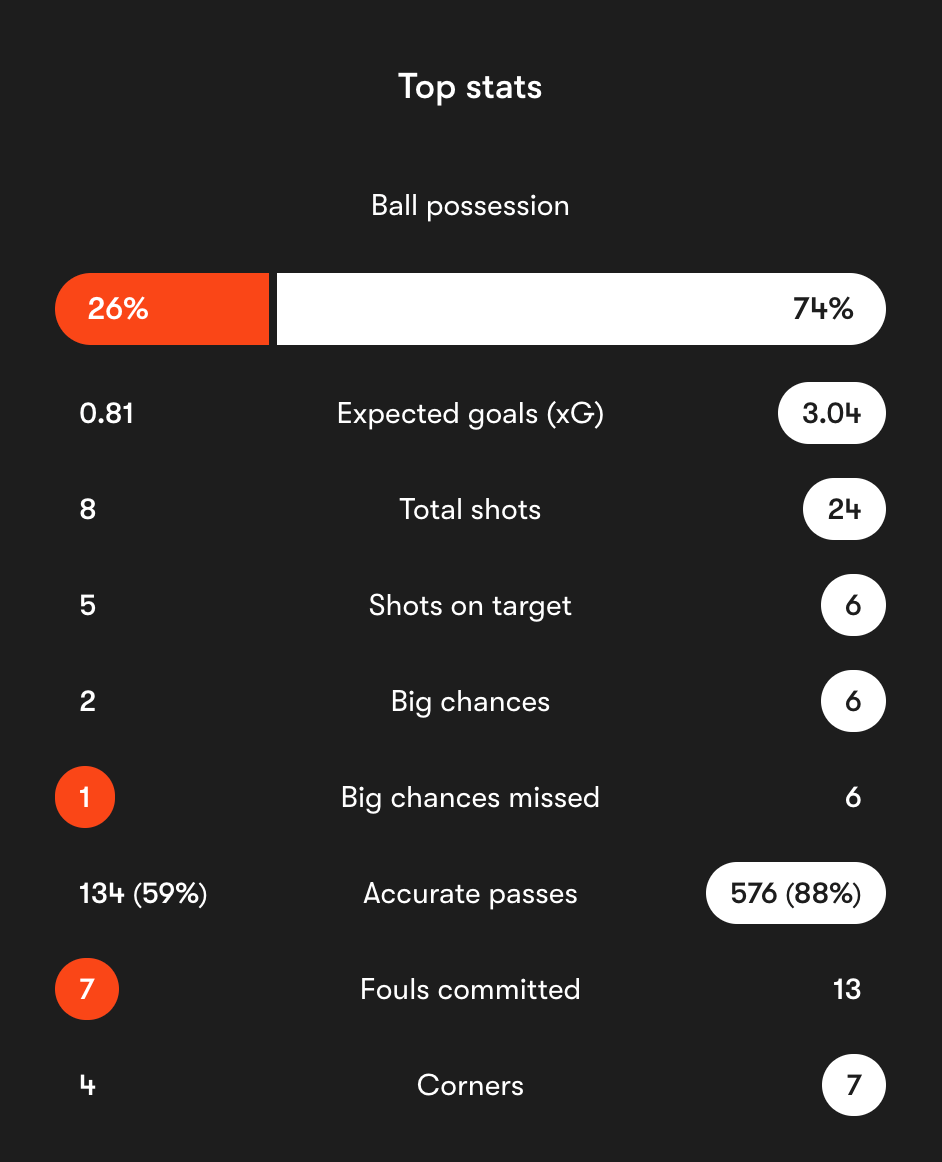 Liverpool's Dominance Over Luton Town
In the latest encounter that had fans on the edge of their seats, Liverpool showcased a performance that was nothing short of dominant, according to the match stats provided by Futmob. The numbers speak volumes about the flow of the game and give us an in-depth understanding of how Liverpool managed to impose their style over Luton Town.
Ball possession, often a telling statistic, was lopsided in favor of Liverpool with a staggering 74%, leaving Luton Town grappling for control with only 26%. This chasm in possession indicates Liverpool's ability to control the tempo and impose their game plan effectively.
Expected Goals Highlights LFC's Wasterful Finishing
The Expected Goals (xG) metric further cements Liverpool's supremacy. An xG of 3.04 to Luton Town's 0.81 highlights not just the volume of attempts at goal but the quality of these chances. It reflects a game where Liverpool created scoring opportunities that were not just numerous, but also highly likely to find the back of the net.
Shots on target is another area where Liverpool outperformed Luton Town, with 6 against 5. This may seem close numerically, but in the context of total shots taken (24 for Liverpool, 8 for Luton Town), it tells us that Liverpool was not only more aggressive but also more precise.
Liverpool's ability to carve out significant opportunities is evident with the 6 big chances they created, though both teams shared an equal number of big chances missed. This suggests that while Luton Town struggled to create opportunities, they also squandered what little they had.
The accurate passes stats are particularly revealing—Liverpool completed an impressive 576 passes with an 88% accuracy, dwarfing Luton Town's 134 at 59%. This disparity underlines Liverpool's technical superiority and fluidity in their play.
Fouls committed and corners won were the only stats where Luton Town seemed to edge Liverpool, with 13 fouls to 7, and corners even at 7 apiece. This might indicate a more aggressive approach from Luton Town, possibly born out of frustration and the need to disrupt Liverpool's rhythm.
In conclusion, the stats provided by Futmob offer a clear picture: Liverpool's tactical and technical prowess was too much for Luton Town. The game was a showcase of Liverpool's strategic play, with ball control and chance creation proving to be the decisive factors in their dominance.