Virgil van Dijk: The Premier League Colossus
As the heartbeat of Liverpool's defence, Virgil van Dijk's commanding presence is once again becoming the talk of the Premier League. Following a period of recuperation and finding his feet after a gruelling knee injury, Van Dijk's statistical dominance has re-emerged, propelling him back to the pinnacle of English football's defensive hierarchy.
Rising Above the Challenge
The towering Dutchman's previous season left some pondering if he could scale his previous lofty standards. After all, a catastrophic knee injury in late 2020 sidelined him for the better part of a year, and upon his return, a slight dip in the imperious form we had grown accustomed to was noticeable. Yet, despite this, his credentials as a world-class defender remained intact.
Statistically Supreme
Now, the tide appears to have turned. Armed with data from Squawka, we can discern that not only is Van Dijk returning to his zenith, but he is also currently leading the Premier League in terms of defensive duels, and by a considerable margin. An astonishing 80% duel success rate firmly places him at the top, leaving the nearest competition, Levi Colwill, trailing at 72.7%.

Virgil van Dijk has a higher duel win % than any other player to win 50+ duels in Premier League this season.

And he's not been dribbled past once. 😮‍💨 pic.twitter.com/A4FFOE6CeJ

— Squawka (@Squawka) November 5, 2023
The Unbreachable Defender
Beyond the numbers, it's the on-field impact that solidifies Van Dijk's reputation. His unique ability to render opposing forwards ineffective is as strong as ever. With no player having bypassed him via a dribble this season, Van Dijk has re-affirmed his defensive prowess as his signature trait.
Liverpool's Linchpin and the Missing Piece
Van Dijk's resurgence is a signpost for Liverpool's ambitions to forge a robust team akin to their sterling 2019/20 setup. Yet, the piece to complete Liverpool's puzzle seems to be a shield in the form of a defensive midfielder to synergise with Van Dijk's renewed dominance.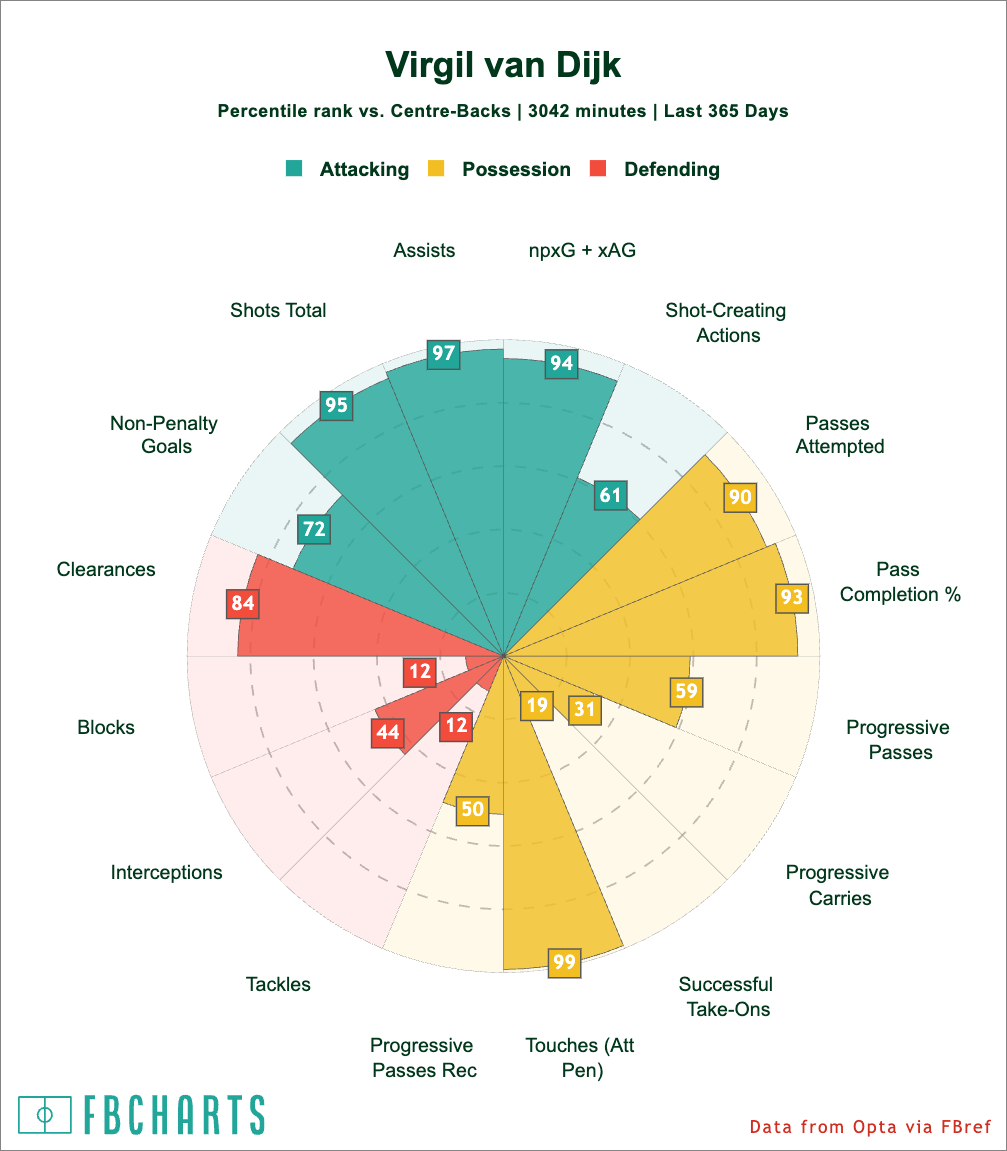 Virgil van Dijk: A Statistical Deep Dive into His Form
Liverpool's defensive stalwart, Virgil van Dijk, has re-established himself as a bastion at the heart of the Reds' backline. His form is not just a subject of visual appraisal but also a matter of quantitative fact, as depicted in a recent graphic by FBref, showcasing his percentile rank against other centre-backs in the Premier League.
Within the realm of defensive metrics, Van Dijk's prowess is particularly striking. He stands tall with an 86th percentile for clearances, underlining his aerial dominance and ability to alleviate pressure from his team. His penchant for blocking shots is also noteworthy, with a percentile ranking that speaks to his strategic positioning and anticipation.
It's in the sphere of possession where Van Dijk's contributions to Liverpool's style of play are illuminated. His passes attempted and pass completion percentage are stellar, residing in the 94th and 93rd percentiles respectively. These figures not only speak to his reliability but also his role in Liverpool's build-up play, ensuring that transitions from defence to attack are both smooth and effective.
Even in the Final Third He's World Class
Van Dijk's figures in the attacking third are no less impressive. His ability to contribute to Liverpool's offence is indicated by his 96th percentile ranking for shots total, blending defensive acuity with an offensive edge. Additionally, his role in shot-creating actions, standing in the 82nd percentile, showcases an aspect of his game that is often overshadowed by his defensive duties.
FBref's statistical illustration encapsulates the multifaceted nature of Van Dijk's game. His impact is not limited to the confines of his own penalty area but extends across the entire pitch, affecting the game in multiple dimensions. It's these statistics that provide empirical evidence of Van Dijk not just returning to form, but redefining the parameters of what it means to be a central defender in the modern era.
Data courtesy of Opta via FBref.