Liverpool's Radar Locks on Real Betis Sensation Assane Diao
In the dynamic world of football, Liverpool's keen eye for emerging talent has recently focused on Assane Diao, the Real Betis prodigy making waves in La Liga. The 18-year-old Senegalese-born winger, who dons the Spanish colours at the Under-19 level, has been a revelation this season, showcasing his prowess on the field with three goals in nine appearances, including a decisive goal that clinched victory for Betis in the Europa League against Sparta Prague.
Emerging Talent: Assane Diao's Meteoric Rise
Diao's talent has not only captured the attention of fans but also of statisticians, with Opta highlighting him as the youngest player to score in his first two La Liga starts in the 21st century. This feat, achieved just after his 18th birthday in September, has put him on the radar of top-tier clubs, with Liverpool reportedly considering him as a future replacement for their star winger, Mohamed Salah.
Contract Talks and Transfer Speculations
Betis' sporting director, Ramon Planes, has openly acknowledged the mounting interest in Diao, with a release clause of €30 million in his current contract. However, reports suggest a unique agreement that could allow Diao to depart for a reduced fee of €15 million, should Betis not offer a salary increase. This clause has sparked discussions about enhancing Diao's contract to secure a higher release clause, amidst growing interest from Premier League giants, including Liverpool, Newcastle, and Chelsea.

Liverpool's Search for Salah's Successor
The Merseyside club's connection with various wingers has intensified, fueled by speculations of Salah's potential exit. Diao, along with Leroy Sane of Bayern Munich, Nico Williams of Athletic Club, and Donyell Malen of Dortmund, are all in the mix as potential heirs to Salah's throne, should he move on from Anfield.
Premier League Giants Circle for Betis' Young Star
The allure of the Premier League is a potent one, and for a young talent like Diao, it represents a significant step up. With his contract running until 2027, the negotiations and strategic moves made now by Betis and interested parties like Liverpool could shape his career in the years to come.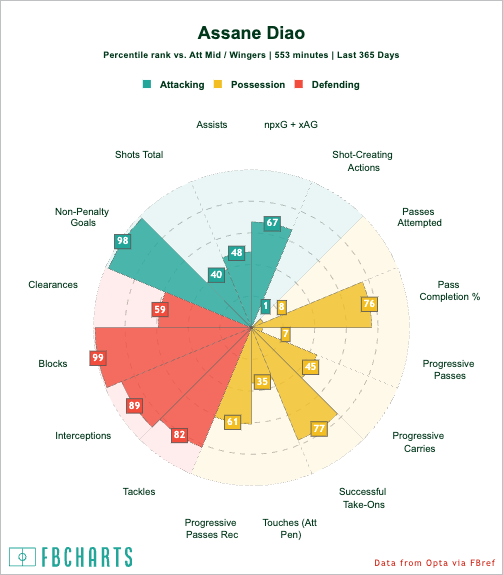 Assane Diao: A Statistical Powerhouse on the Pitch
In the world of modern football, where every move and decision is quantified, the analysis of a player's performance can be as thrilling as the game itself. Fbref offers a detailed statistical radar for Assane Diao, encapsulating his contributions across attacking, possession, and defending metrics over the last 365 days. Let's dive into the stats that make Diao a standout player.
Attacking Prowess:
Diao's attacking metrics are impressive, with non-penalty goals soaring at the 98th percentile against his peers—attacking midfielders and wingers. It's a clear indicator of his lethal precision in front of goal, even excluding penalties. However, his assists and shots total hover around the median, which could point to Diao being the finishing point of plays rather than the creator.
Mastery in Possession:
The possession stats tell us about Diao's role as a playmaker. His percentile rank for progressive carries and successful take-ons is above average, showcasing his ability to drive the ball forward and navigate through tight spaces. Furthermore, his touch in the attacking penalty area is commendably high, suggesting his pivotal role in the final third.
Defensive Contributions:
Defence is where Diao truly shines, with percentile scores in clearances and blocks at the 99th percentile, and a high 82nd percentile for interceptions. This reflects his exceptional ability to disrupt opposition plays, acting as a formidable backline asset.
Credits: Fbref with data from Opta via FBref.