Liverpool's Midfield Maestro: Pursuit of Andre Intensifies
As the transfer window looms, Liverpool's interest in securing the signature of Brazilian midfield dynamo Andre from Fluminense remains undiminished. Fabrizio Romano, a renowned journalist, has recently provided insights suggesting that the Reds are poised to make their move within the fortnight.
European Clubs Circle for Andre's Signature
Andre's burgeoning reputation has not gone unnoticed beyond the Merseyside. Romano's latest dispatches reveal a growing intrigue among Europe's elite clubs, all keen to decipher the terms that might pry the midfielder away from his current Brazilian outfit. With the January transfer window on the horizon, these clubs are gearing up for negotiations to ascertain the financial outlay required for such a talent, with figures speculated to be in the region of €35-40 million.
Timing is Everything: Post-Copa Libertadores Buzz
The conclusion of the Copa Libertadores has been a pivotal factor in the timing of Andre's potential move. Fluminense's triumph in the tournament not only showcased Andre's abilities on a grander stage but also, as per the club's president Mario Bittencourt, has likely inflated the player's market value. Liverpool's prudence in awaiting the culmination of the tournament may now see them entering into discussions with a heightened sense of urgency.

This is #Andre (just turned 22) in the last year. Comparison is only vs "next 8" leagues but these are outstanding 1v1 defensive numbers.
Context Vs peak age Rodri and Bruno in 2nd image. pic.twitter.com/UxFhJ2GAZB

— Dan Kennett (@DanKennett) November 4, 2023
Liverpool's Strategy and Andre's Aspirations
Liverpool's strategy in the transfer market has often been characterized by a blend of astuteness and assertiveness. The club's direct approach, as evidenced by CEO Billy Hogan's personal outreach to Bittencourt, underscores their serious intent. With the player's own ambitions and the club's willingness to invest, the stage seems set for a potential January move.
The Anfield Attraction: Will Andre Don the Red?
The allure of Anfield and the prospect of Premier League football is a potent draw for any player. Andre, at 22, stands on the cusp of a significant leap in his career trajectory. Liverpool's sustained interest amidst competition is a testament to the quality they perceive in him. The question now is whether they will flex their financial muscle to bring the Brazilian's flair to the northwest of England.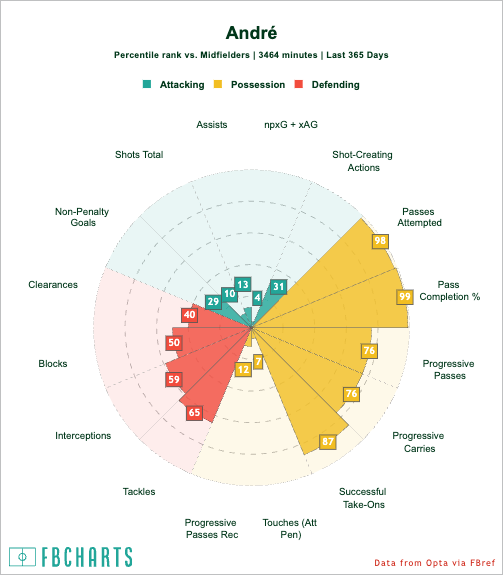 Statistical Analysis by Anfield Index: Andre's Dynamic Impact on the Pitch
Amidst the modern football era, where data analytics reign supreme, we find an intriguing subject in Andre's latest performance data, adeptly captured by Fbref's comprehensive stats. As a midfielder, his attacking contributions have been substantial, although they do not dominate his profile. His assist rate and involvement in shot-creating actions place him in the top tier, underscoring a keen eye for opportunities and a readiness to bolster the team's offensive endeavours.
Possession and Pass Mastery
Diving deeper into Andre's performance, his possession stats are nothing short of remarkable. The staggering 99th percentile in pass completion percentage is testament to his impeccable ball distribution and retention skills. He is the fulcrum of the team's midfield, orchestrating play with an astonishing 98th percentile ranking in passes attempted. This not only reflects Andre's technical proficiency but also his strategic understanding of the game's rhythm.
Defensive Duties and Overall Balance
Defensively, Andre's contributions are equally impressive. His stats showcase a robust defensive skill set, with high percentile ranks in interceptions and tackles, situating him in the 65th and 59th percentiles respectively. It's his adeptness in reading the game that allows him to execute timely interceptions, disrupting the opposition's flow and regaining possession efficiently.
In the modern game, where every pass, tackle, and run is quantified, Andre's comprehensive performance data, as meticulously documented by Fbref, paints the picture of a midfielder who excels across the board. With a blend of attacking flair, possession stability, and defensive reliability, he stands out as a multifaceted player whose value can be vividly understood through these insightful stats.