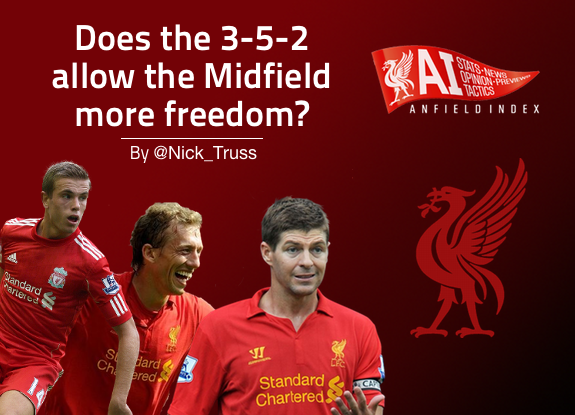 Does the 3-5-2 allow the Midfield more freedom?

The 3 5-2 formation has been Liverpool's preferred formation in the absence of Philippe Coutinho. Although Coutinho's return to the starting 11 is imminent that does not rule out the 3-5-2 being used in future games this season. In this article I will be discussing whether playing 3 centre backs allows the midfield to play with more creative freedom, which without star play-maker Coutinho is vital to the success of the football club.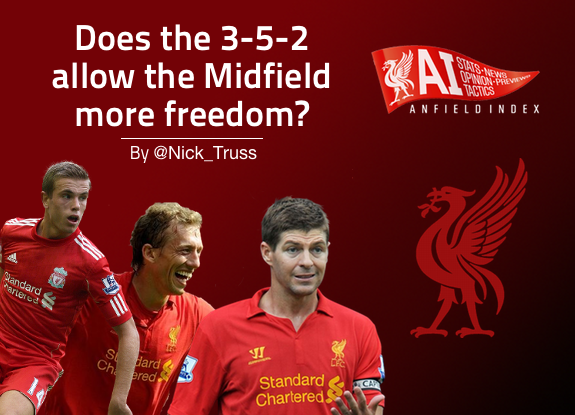 Liverpool lost their first game whilst using the 3-5-2 formation on Saturday against Arsenal at the Emirates. Although the formation has been somewhat successful during it's use it was evident on Saturday that the game was won and lost in the midfield battle, whether the midfield just had a particularly bad day remains to be seen but I believe that the midfield's inability to control the game has become an obvious flaw in the formation over the 5 games with Newcastle and Arsenal punishing us for this lack of control.
Mikel Arteta was deployed as the more defensive in Arsenals midfield 2 on Saturday and Lucas Leiva filled his usual position at the back of the triangle in Liverpool's 3.  (The tactics board below shows how both teams lined up and the circles highlight where the two players sat in their respected midfields.)
Attacking Options
The above table does not look very pretty for Lucas. However Arsenal had more possession during the game and as mentioned earlier had much better success in the midfield throughout the game. The main stats I wish to look at involved passes made in the final 3rd.
One clear advantage Mikel Arteta has over Lucas Leiva is his ability in advanced positions on the pitch another disadvantage for Lucas is he is not told to play an attacking role by Brendan Rodgers hence only making 9 final 3rd passes over the 90 minutes compared to Arteta's 27. However the accuracy stat shows he was equally as accurate in the final 3rd as Arteta.
The table to above shows Lucas sitting in 5th position for final 3rd pass accuracy throughout the 13/14 Premier League season for those players who have played more than 450 minutes. I believe this shows that Lucas is capable of making accurate passes in the final 3rd which Liverpool could use to their advantage adding an extra man to the attack. The 3 central defenders would be able to accommodate the gap left by Lucas if he did venture forward.
If not Lucas?
Many of you will think I am crazy for even suggesting Lucas should be used to help the attack (Editor's Note: Yep include me in that notion!), and I am in no way suggesting Liverpool utilise him in a role similar to Philippe Coutinho, although he was originally signed as an attacking midfielder from Gremio, I believe that allowing him more freedom in the final third will allow Gerrard and Henderson to push further forward perhaps leading to more goals from Midfield.
But if Lucas isn't the man for you we have an adequate replacement in Joe Allen. Liverpool are yet to see Allen play to his full potential, but during his time at Swansea in the 11/12 season he made 511 final third passes with an accuracy of 84%. Being the player in the squad with the most experience playing in Brendan Rodgers system he should be able to slot into this role pretty easily and effectively.
Barcelona
The reasons behind my bizarre theory come from Brendan Rodgers aspiration for the style of play Barcelona use, Brendan Rodgers has created his own version of this football, but with his midfield failing to dominate games as he'd like them too maybe he needs to look into how Barcelona use Busquets as the defensive player in their midfield. The diagram below is taken from Stats Zone and shows Busquets' attacking involvement in Barcelona's 1-0 win over Espanyol on Friday 1/11/13.
Barcelona do have the luxury of a squad Liverpool can only dream of at the minute but the premise is the same. A similar thing happens at Southampton. Southampton have been heaped with praise so far this season for the high pressing game they have played. Morgan Schneiderlin is used as a defensive midfielder sitting next to Victor Wanyama.
Having a defensive midfield partner may allow Schneiderlin the freedom to go forward, the 3-5-2 should also allow this freedom to the defensive midfield for Liverpool whether it be Lucas or Allen.
Probability
The chances of this happening in the near future are very low, which suggests my theory has been a complete waste of time, however I believe it could become an option for us if we are unfortunate to lose Coutinho again. With Coutinho back from injury it will be interesting to see how Liverpool line-up in order to accommodate Coutinho, Suarez and Sturridge in the same starting 11. I'd expect Rodgers to go back to a defensive 4 and play a 4-3-1-2 formation which should help  the team to get control of the midfield and bring back death by football.