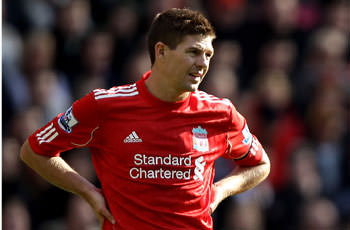 Hodgson Era: Steven Gerrard

Everyone knows Steven Gerrard. Regardless of what corner of the world you are in, he is up there with the World-Class players of today. In terms of whoever he plays for, be it England or Liverpool, there are always debating points about him. First one is the age old 'Golden Generation' question of Can Lampard and Steven Gerrard play together? The other is one I will try and highlight is what role suits Steven Gerrard best?
Is it defensive general who breaks up an attack and starts an attacking move?  Or is it Roy of Rovers, basically doing everything and pulling the team up by the bootstrings, taking the corner and having the desire to head it in? Well looking into some statistics under Hodgson tenure, he was employed as both at some point. But statistically you can have an argument for either.
Midfield General
Stevie has never been shy in putting in a tackle here and there, but it's not all about a strong 50/50. Great players make it an art. One of the best I have seen is Makélelé. In fact if you Google his name, the second result is 'Makélelé Role'.  When Stevie was employed in this role, he shows a tendency to cover the right hand side as well. This could be the fact that both Glen Johnson and Dirk Kuyt are playing on the same side so Stevie was providing this cover. Was this intentional? Without asking players or coaching staff, it's guess work but indicates yes to me.
His passing also improves in this role constantly hitting 80% and above. This was due to the increased amount of percentage balls, i.e. playing an easy 5-10 yard pass than a more challenging 20-30 killer pass. The only time he has played this role and not hit this number is Manchester City (Possibly influence to the change of tactics because the Mascherano incidents?). You will also notice that he deployed here during the stronger sides (Man United, Arsenal, Chelsea etc), but as it came toward the end of Roy's tenure, Steven Gerrard was fulfilling this role more often than not.
Support Forward
This is the flip side of the coin. Here he can express himself with his accurate shooting, precision killer passes and powerful runs. Something Rafa exploited in our quest for the title back in 2008/09. Everytime he was unleashed there was always a positive result. The team didn't lose when playing like this (West Brom (H); Birmingham (A); Blackburn (H) & Bolton (A)) although; interestingly he never scored in these games and gained only 1 assist. The team performed well and gained results prompting the argument that Stevie is more beneficial up there and back here!
Stevie's personal stats actually look worse, and the ratios are not as high when he is playing this role. The reason for that, is the opposite reason why he has a higher percentage of passing when being the midfield general. The killer pass. These passes are always more risky and have a lower completion percent by default. But with Stevie's direct type of play, it will bring other players into the game such as the wider midfielders and forwards.
Conclusion
Positionally, he was only allowed to play this position when he had cover. Roy had to have two defensive midfielders. Stevie was normally one of these. Personally, I think Mascherano affected the season plans as Roy had to make provisions for a suburb midfield general. Poulsen and Merieles were brought in to fill the void to allow either Steven Gerrard or Cole to create chances. Unfortunately for Roy, Poulsen didn't live to expectations and Merieles isn't that player (as we are seen under Kenny). So Roy had deployed Stevie as a defensive midfielder. Unfortunately, in my opinion and interpretation of the statistics and performance I have witness this year, it has been to our detriment. Stevie's talismanic nature is more a beneficial thing for the team, than himself. He is needs to be allowed to dictate the game and provide the guile and creativity to the side. But this comes from his powerful runs from deep towards goal, willingness to run through brick walls and provide the infectious desire and this difficult to do from within your own half and play with lot of self discipline.