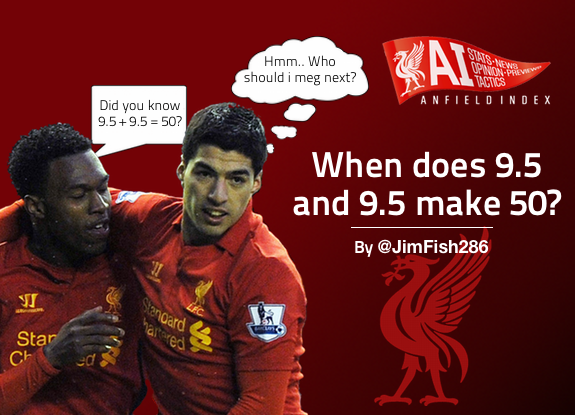 When does 9 1/2 and 9 1/2 make 50? | Suarez and Sturridge
Right now Liverpool are in a very strong position both in the league and in the striking and goal scoring departments. Not since the days of Fowler and Owen or Fowler and Collymore have we had two goalscoring threats up top. Two players who, on current form could get into any other Premier League sides and in Suarez's case into any team in the world period.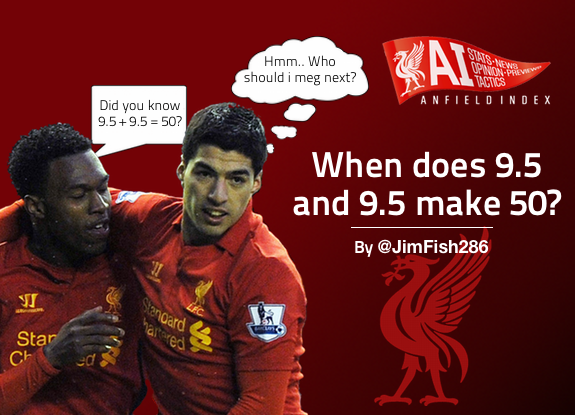 But how do you categorise them? Neither one is a "fox in the box" who only comes alive when the ball is within the 18 yard box, neither is a target man only, yet both are comfortable linking play from both long and short passes and neither are the sort of forward players who just stand up next to the last defender and wait for the ball to arrive to them.
They both have very different and yet very similar traits, they are strong in possession, enjoy drifting wide or coming short to get into the game. Suarez is stronger in the air but Sturridge has more pace. Both are deadly when the chance arrives at them, yet both can be selfless in their off the ball movement.
It is far too difficult for me to pigeon hole them, so I'll leave it up to Reds boss Brendan Rodgers:
What I've found is that if I play one up top and one wide, I take a little bit away from them. They work better as a proper front two. In Suarez and Sturridge, I've got what I call two 'nine-and-a-halves'. They both like to move, they like to drift and they both like to go into the half-positions in between the lines. You've got two great players as your front two and then you build the structure around that. I'm not the traditional 4-4-2 man and with the players we've got we can make this system work. If you have got them (Sturridge and Suarez) through the middle, moving and inter-changing then your structure has to then change behind that and that's obviously something that we have done.
What is clear is that the two of them love playing together, they have an almost telepathic understanding. Which, when you factor in Suarez's suspension at the end of last season and at the start of this season is even more remarkable.
Both are very clever footballers however and they appear to bring the best out of each other.
If you look how they have combined for goals so far this season you can see why people are saying they are the best partnership in the Barclays Premier League right now.
The threat posed by them both is frightening for central defenders, Suarez can drop deep to receive possession to his feet and Sturridge can stretch defenders in behind with his pace, that was wonderfully illustrated by the goal that Suarez scored away at Sunderland recently. A long raking pass from Steven Gerrard found Sturridge free on the right hand side, he drove into the penalty area and produced a wonderful cross for Suarez to tap in for his first goal back in a Liverpool shirt. (Go to 1.02 to view.)
If you look at their touch maps from that game you will see that Sturridge touched the ball only four times inside the Sunderland penalty area and Suarez just once more, including his two goals.
They must be a nightmare to defend against when they very rarely threaten the goal from within the penalty area. Sturridge had one shot the entire game and he scored with it, Suarez was a little more wasteful with five shots in total, three off target and two on target, however both resulted in goals.
The roles were slightly reversed against Crystal Palace at Anfield, where it was Sturridge's turn to have more shots on target than Suarez although both managed to again notch up one goal each during the 3-1 win.
They are clinical, precise and deadly.
What makes them both hard to mark and great to watch is their movement. On numerous occasions during the most recent home game against West Brom both players were outside of the penalty area, by that I mean outside the middle of the pitch, they weren't just waiting for the ball to come to them, they were searching for the space down the channels and in the space between the lines. That movement allowed space for the forward runs of  Jordan Henderson and Steven Gerrard.
In fact, three of the four goals scored that day originated from outside the penalty area, Suarez made the first himself with what has become his trademark, he received the ball, ran at and beat the defender,  nutmegged another and finished from just inside the penalty area, then there was his incredible header from 18 yards out and finally Sturridge's wonderful solo effort late in the game with his left foot. All different but all equally fantastic goals. Not to forget Sturridge's earlier effort that came from him cutting in from the right hand side and smashing an effort against the West Brom crossbar from outside the area.
If you back slightly to the home game against Manchester United when Daniel Sturridge played without Luis Suarez, you will see that Sturridge only touched the ball inside the area twice, however one resulted in a goal. That game, Liverpool set up slightly differently in a 4222 formation and dropped deep once they gave up possession. That was how Rodgers set the team up in the first five games of the Barclays Premier League season, until Luis Suarez returned.
Until then Liverpool only managed 5 goals however, in the next five games when Suarez and Sturridge are deployed together and they have switched to a 352 formation Reds have racked up an impressive 12 goals in five games.
With Suarez bagging 30 goals last season in all competitions and Sturridge having just set a new Liverpool record in scoring 20 goals in only 26 appearances there appears to be no end in sight to the pair's goal scoring exploits and long may it continue.
So, is it realistic to set the pair the target of fifty goals between them this season? Well if their current rate of scoring continues then that target fifty goal target will surely be achieved, especially when you add Phillipe Coutinho into the mix. The Brazilian playmaker already has a wonderful link up with Daniel Sturridge and it will be exciting for all Liverpool fans to see how he links up with the strike pair now he has returned from injury.
As the season progresses I am sure the strike pair will get to the fifty goal mark and so I hope you excuse my mathematics and see that 9 1/2 add 9 1/2 does in fact make 50!