Liverpool's Ambitious Pursuit of Leeds' Rising Star Archie Gray
At just 17, Archie Gray has taken the Championship by storm, showcasing his versatility and skill in Leeds United's midfield. His ability to adapt to different positions, drawing comparisons to Liverpool's Trent Alexander-Arnold, has not gone unnoticed. Gray, who can also play at right-back, has been a vital part of Leeds' campaign, appearing in nearly all their games since his debut.
Liverpool's Interest in Young Prodigy
Liverpool's interest in Archie Gray is more than just a passing glance. The Premier League giants are ready to make a significant investment, with a potential offer exceeding £40 million. Gray's rapid ascent in the Championship, combined with his athleticism and adaptability, makes him an attractive prospect for Liverpool, who are known for nurturing young talent.
The Significance of Gray's Legacy at Leeds
Gray's connection to Leeds United is deep-rooted. Joining the Leeds Academy at age nine, he carries the legacy of his great uncle, Leeds legend Eddie Gray. Despite his youth, Gray has already made an impression under managers Marcelo Bielsa, Javi Gracia, and Daniel Farke. Leeds, valuing him between £40m and £50m, face a tough decision as interest from other Premier League clubs like Crystal Palace and Everton intensifies.

Family Ties and Future Prospects
Archie Gray's football lineage extends beyond his Leeds legacy. His father, Andy Gray, also donned the Leeds jersey before a successful career with Nottingham Forest and the Scotland national team. Archie's younger brother, Harry, 14, is following in his footsteps, already making waves in Leeds' under-18 team.
The Potential Impact of Gray's Move
Should Liverpool succeed in signing Gray, it would mark a significant shift in the youngster's career. Moving from the Championship to the Premier League is a leap that few can manage at such a young age. Gray's potential move could reshape not only his future but also signal a strategic shift for Liverpool in nurturing homegrown talent.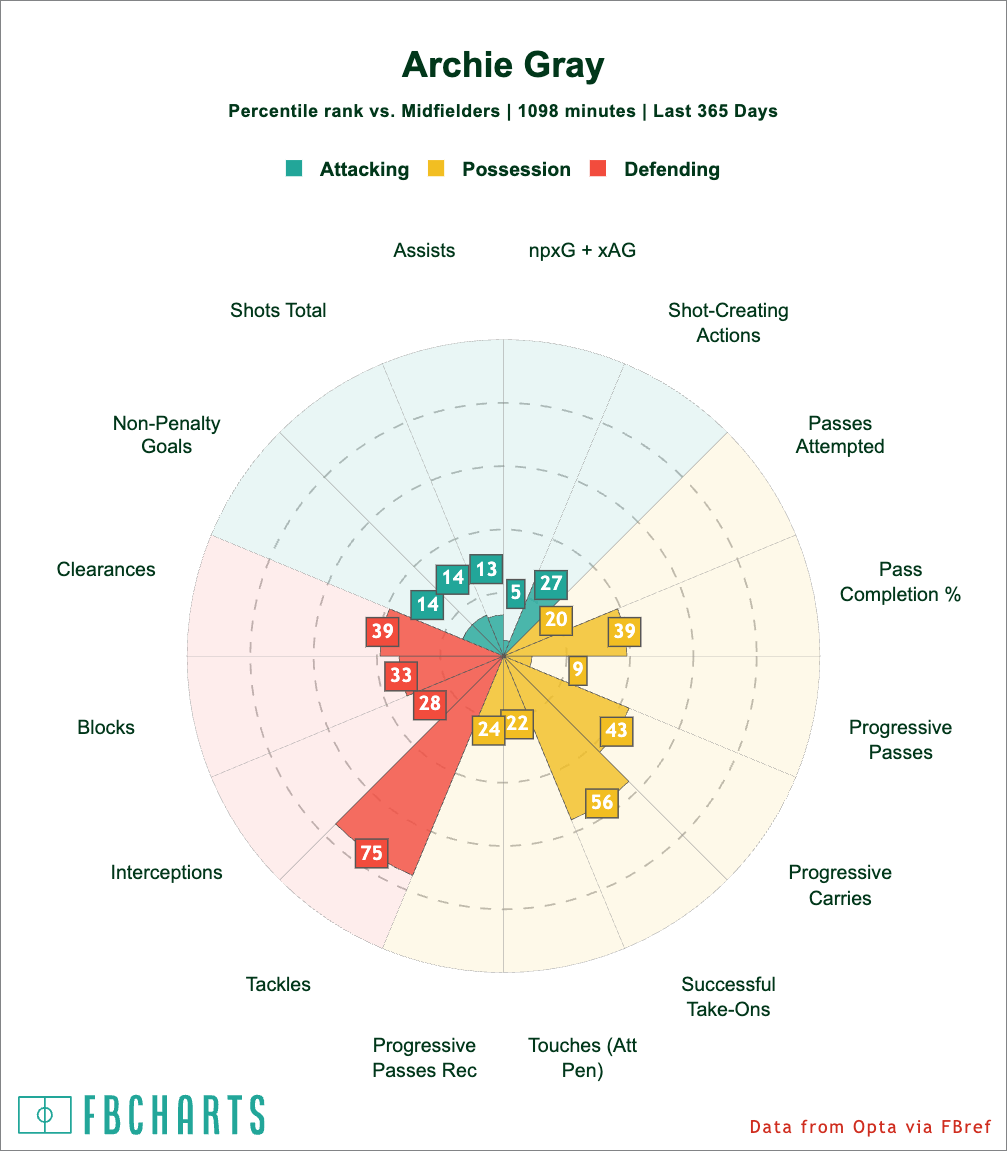 Statistical Analysis by Anfield Index: Archie Gray's Rising Profile
Football's future is charted by the stars of tomorrow, and Archie Gray's statistical fingerprint, as visualised by Fbref, speaks volumes about his burgeoning talent. Through the lens of performance data, we see a midfielder whose stats suggest a versatility and maturity beyond his years. In dissecting the data from the last 365 days, we find Gray's numbers painting the portrait of a player growing in stature in the intensely competitive arena of professional football.
Defensive Diligence and Offensive Promise
Gray's defensive contributions can't be overlooked, with interceptions and tackles considerably higher than many of his peers, positioning him in the top 75th percentile. Such figures highlight his keen sense of positioning and anticipation – attributes that make him a formidable presence in the heart of the field. The Leeds United prodigy also shows promise in attacking metrics, with shot-creating actions and assists plotting him well within the radar of top-tier clubs. This dual-threat capability aligns him with the modern breed of midfielders who are as adept at disrupting play as they are at sparking it.
The Portrait of a Progressive Playmaker
Progressive carries and passes – these are the metrics where Gray truly shines. His ability to advance the ball and set the tempo is reflected in his high percentile rank in these areas. The data underscores Gray's potential as a playmaker, a talent capable of threading through balls that dismantle defensive structures and create tangible opportunities for his teammates. Such stats are not just numbers on a chart; they are a testament to a player's vision and execution on the pitch.