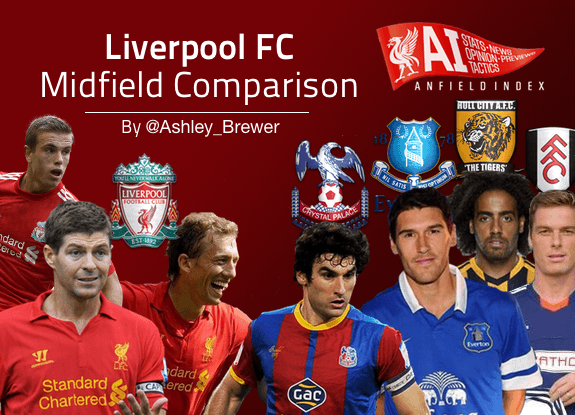 Liverpool Midfield Comparison | Vs Palace, Everton, Fulham & Hull
Following Liverpool's defeat to Arsenal, and with their midfield being the decisive factor between the two sides, the Anfield Index team has put our own midfield under the microscope to see how they compare to our Premier League rivals using statistics from WhoScored.
Editors Note: Please note that this is the author's first attempt at using statistics in their articles.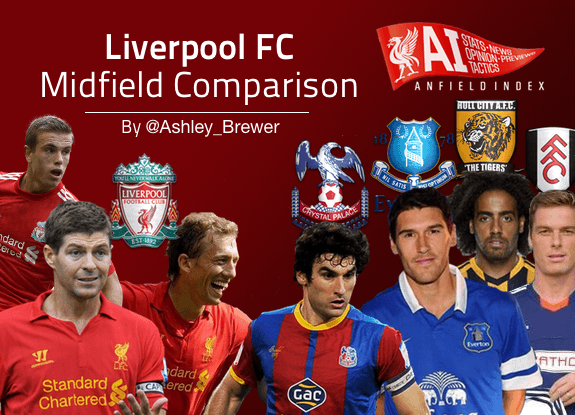 The entire league has been split up into five groups:

Group 1: Aston Villa, Arsenal, Cardiff City & Chelsea (Article written by Jon Moore)
Group 2: Crystal Palace, Everton, Fulham & Hull City (This Article)
Group 3: Manchester City, Manchester United, Newcastle United & Norwich City (Article written by Zak Forster)
Group 4: Southampton, Stoke, Swansea & Sunderland
Group 5: West Ham United, West Bromwich Albion and Tottenham Hotspur
In this article the stats of Group 2 will be compared to Liverpool FC's midfield of Gerrard, Henderson and Lucas.
Liverpool's midfield in comparison to Crystal Palace's
The first team I'll look at is also the only team we have played so far in this list, Crystal Palace, who have not had the greatest start to the season, sitting rock bottom in the league and favorites to be playing Championship football next season.
The first stats that catch your eye when you look at these lists are the passing and passing accuracy, both which are lead by Liverpool players, in Steven Gerrard and Lucas Leiva, as is shown in the chart. Although Mile Jedinak breaks up Liverpool domination of total passes, there is a huge difference between Liverpool's and Crystal Palace's players when it comes to pass accuracy, with only Kagisho Dikgacoi being over 80% for the Eagles in this category, whereas all three of the Red's players are over 86%.
It is Gerrard who tops the chances created too, with 25, 13 more than teammate Jordan Henderson (12), with Jedinak creating the third most with 8. The Liverpool captain is also the only player on this list who has scored a goal this season albeit two penalties.
When it comes to defending in the middle of the park however, Palace captain Jedinak dominates, coming in with the highest stats in tackles, aerial duels and inceptions – The incredible difference in the aerial duels and between him and everyone else sampled in this comparison piece making me refer back to WhoScored multiple times incase I had made a mistake.
Unfortunately for the South London side, their other two midfielders, Dikgacoi and Adlène Guédioura haven't been able to play at the Australian's standards, with the latter having the lowest stat in all categories except for interceptions, although, the fact that he has played less games than everyone else will be a contributing factor that too.
When you take into account the stats for passing, creativity, defending and goals scoring, I feel it is safe to say that it is Liverpool who have the better midfield.
Liverpool's midfield in comparison to Fulham's
Liverpool take on Fulham at Anfield this weekend, a team that was carved open easily by David Moyes' Manchester United last Saturday. Brendan Rodgers will be hoping that his side can bounce back from last weeks defeat at the Emirates in style against Martin Jol's side.
Once again, Gerrard is in the lead when it comes to the total number of passes, with Henderson and Lucas taking second and third place respectively, however when it comes to pass accuracy, it's Scott Parker who just edges it on top with an impressive 90%. It is only Bryan Ruiz who isn't able to boast an accuracy higher than 85%, as he fails to even reach the 80% mark, having only had 78.4% of his passes find his intended man.
The duo of Gerrard and Henderson again dominate the chances created stats, with Ruiz being the only player to come close with nine but, with three goals between the Costa Rican and Sidwell, they outscore the Reds midfield which is quite worrying as the only goals from central midfield have been two penalties from Stevie!
When it comes to the more defensive stats, it is Lucas who comes out leading the tackle wins, with his team mates having the next two best, and aerial duel wins. Henderson once again is in second place, on par with Ruiz, with both winning the ball in the air on 11 occasions. Lucas is stopped from getting a defensive clean sweep by Steve Sidwell, whose 25 interceptions beats the 26 year old by one.
Although the Cottagers outscored Liverpool's midfield, the Reds trio come out on top with passing, defending and creativity, making them the better side.
Liverpool's midfield in comparison to Everton's
Following the visit of Fulham, the Reds then march over Stanley Park to face Everton in the first Merseyside derby of the post Moyes era, with Roberto Martinez's men standing in a respectable seventh place, it looks like it's going to be a very close affair.
When it comes to the pass accuracy between the two sides, it is clear to see that there is not much between the two, with a mere 3.5% separating the highest, Lucas, and the lowest, Gareth Barry, which is no surprise at all when you take into account that Rodgers and Martinez both want their teams to play possession football with short accurate passing. Sandwiched between the two, Ross Barkley and Leon Osman have the slender edge over Henderson and Gerrard, but when you look at the total passes it is the three Liverpool players who are top.
When it comes to the number of goals scored Everton have rattled the net more, having scored four goals between all three players being looked at, with Barkley getting two to put him on top spot with Gerrard, although as mentioned before both of Stevie's were from the spot, giving Barkley the edge here.
Creatively, it is the usual two, Gerrard and Henderson, leading the way again with on-loan Barry getting the next most for the Blues with ten.
Lucas is once again the most dominate player in the middle of the pitch when it comes to the defensive side of the game with him having won the most tackles, aerial duels and interceptions. Out of all six players, Gerrard gets his first red stat in aerial duels after only winning only 4 this season, but when you combine the two side's total aerial duel wins this is another area that Liverpool come out superior.
This is by far the most difficult to call out of the four sides I have looked at in this article as both are almost identical on the pitch and on paper, however, I feel Liverpool do slightly nudge it as they come out on top defensively, with their passing  and creativity.
Liverpool's midfield in comparison to Hull City's
Another away game beckons following the derby with a visit to Steve Bruce's Hull City, who have had a decent start to the season, as they currently sit in tenth.
At the risk of giving you deja vu, it is Gerrard who has the most total passes of the lot, with Tom Huddlestone being the only player from last seasons Championship runners up who is anywhere near with 507. If you added Jake Livermore and David Meyler's total passes together (471), they still have less than Lucas, the player with the least total passes for the Merseysiders.
Former Tottenham Hotspurs youngster, Livermore goes some way in attempting to rectify this by having a decent pass completion rate of 85.4%, but again, it is the Red's number 21 who leads the way, with his team mates just behind him relatively unrivalled by the City trio.
When you look at Huddlestone, another brought in from White Hart Lane during the Summer, it is only his pass accuracy that lets him down, with his stats nearly on par or better than Henderson, defensively and offensively, as well as coming as close to Gerrard when it comes to chances created as anyone else has out of the sides I have looked at, with 22.
Despite this, he is still some way off Lucas, who once more can boast that has won the most tackles, aerial duels and interceptions so far this season.
To wrap this up, I feel that once again Liverpool have the better midfield out of these two sides.
Conclusion
To conclude this piece, with the stats that I have found on WhoScored, I feel like Liverpool's midfield trio of Steven Gerrard, Lucas Leiva and Jordan Henderson have shone brighter than their counterparts of the four teams that I have mentioned. In retrospect, it isn't exactly the strongest list of sides, with only Everton proving to be a match for them, but it will be very interesting to see how they match on the pitch when they face each other later this month.