Liverpool's Renewed Pursuit of Julian Brandt: A Strategic Move?
Klopp's Persistent Interest in Brandt
Liverpool's transfer strategy has taken a fascinating turn with the resurgence of interest in Borussia Dortmund's forward, Julian Brandt. This isn't the first time the Merseyside club has shown a keen interest in the German international. Jurgen Klopp, the mastermind behind Liverpool's recent successes, had previously eyed Brandt as a potential signing back in 2017, even considering him over Mohamed Salah, which speaks volumes about the German tactician's belief in Brandt's abilities.
Brandt's Journey and Performance
Having moved from Bayer Leverkusen to Dortmund in 2019, Brandt, now 27, has had a reasonably successful stint with the Bundesliga giants. His contribution to Dortmund has been significant, especially in the last 18 months, where his performance levels have seen a notable upsurge. With nine goals in the previous Bundesliga season and four already in the current campaign, Brandt is showcasing the potential that Klopp had spotted years ago. His role in Dortmund's near title triumph last season underscores his importance to the team.
Competition for Brandt's Signature
Liverpool is not alone in their admiration for Brandt. Arsenal and Newcastle United are also reportedly interested in the forward. However, with Dortmund's continued participation in the Champions League, a move in January seems unlikely. The German club values Brandt's contribution and may not be keen on letting him go mid-season.

Brandt's Playing Style: A Fit for Klopp's System?
Comparisons have been drawn between Brandt and Arsenal's Kai Havertz, particularly in terms of playing style. Both players exhibit elegance and technical proficiency, qualities that Klopp values highly in his forward players. Havertz's remarks in 2020, placing Brandt above the likes of Sancho and Haaland in terms of performance at Dortmund, further highlight the German international's calibre.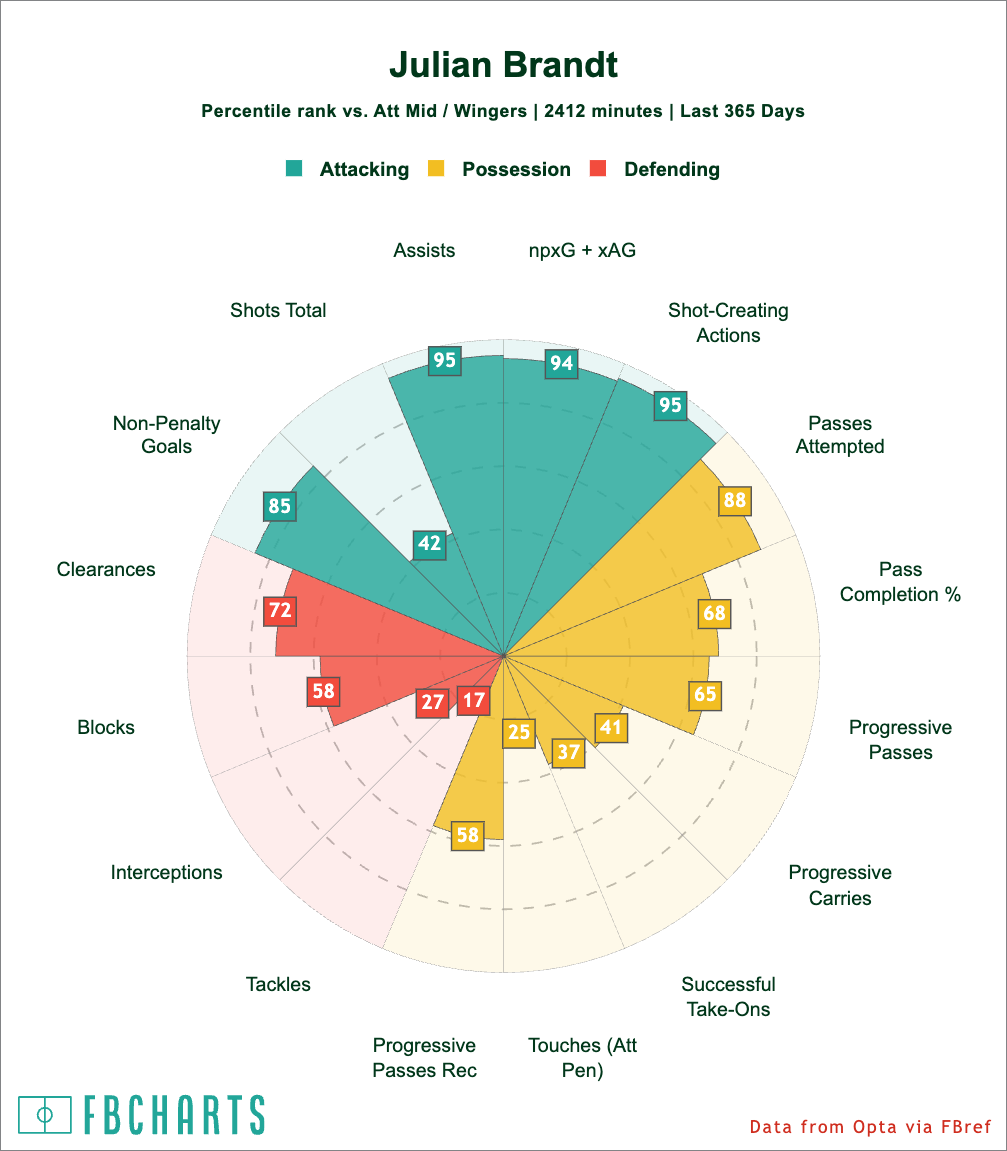 Statistical Analysis by Anfield Index: Dissecting Julian Brandt's Impact
Delving into the performance data provided by Fbref, Julian Brandt's influence on the pitch is illuminated through a prism of statistical excellence. His percentile rank, when pitted against attacking midfielders and wingers, paints the picture of a player at the zenith of his creative powers. In terms of assists, Brandt charts an impressive percentile, underlining his keen eye for carving open defenses. His shot-creating actions, a testament to his ability to conjure opportunities, are equally remarkable, showcasing his critical role in the attacking third.
Possession and Passing Mastery
Switching gears to possession stats, Brandt's numbers tell a story of a midfield maestro. The chart indicates his proficiency in pass completion, a skill paramount to maintaining team dynamics and controlling the game's tempo. His progressive passes and carries metrics resonate with a player who isn't just content with keeping the ball but is intent on driving his team forward, piercing through opposition lines with precision and intent.
Defensive Contributions and Overall Balance
Even the defensive side of Brandt's game doesn't lag, as reflected by his clearances and interceptions statistics. While not at the forefront of his skill set, these numbers suggest a well-rounded player who doesn't shirk his responsibilities when it's time to dig deep and defend. This balance between attacking flair and defensive diligence makes Brandt a multifaceted asset, the type that can thrive under the tactical demands of a manager like Jurgen Klopp.