Real Madrid's Pursuit of Liverpool's Alexander-Arnold
Madrid's Eye on English Talent
Real Madrid's quest to bolster their squad with top-tier English talent has recently been drawing significant attention. Following their successful acquisition of Jude Bellingham, who has been phenomenal at the Bernabeu, Madrid's focus has now shifted to Liverpool's eminent right-back, Trent Alexander-Arnold. Bellingham's journey, marked by an astonishing 13 goals in just 14 appearances, has set a high benchmark for English players in Spain.
Alexander-Arnold: Liverpool's Cornerstone
Trent Alexander-Arnold, known for his remarkable playmaking abilities, has become a linchpin in Jurgen Klopp's Liverpool setup. The 25-year-old's contract, set to expire in 2025, reflects his value to the team. Klopp, having crafted a team around Alexander-Arnold's unique skills, would find it challenging to envision Liverpool without him.
Real Madrid's Strategy and Challenges
Real Madrid, under President Florentino Perez, is reportedly readying a substantial offer to entice Liverpool into a discussion. Sources suggest an initial bid of £70 million could be tabled. However, Alexander-Arnold's loyalty to Liverpool and Klopp's reliance on him may pose a significant hurdle in Madrid's ambitions. Additionally, with a Transfermarkt valuation of €65 million, the economic aspects of such a transfer are also in the spotlight.

Madrid's Alternatives and Liverpool's Resolve
Madrid's previous interest in Chelsea's Reece James, another formidable English talent, met with resistance, as James remains committed to leading Chelsea forward. This experience underscores the challenge Madrid faces in attracting English stars away from their Premier League commitments.
The Future of Madrid's English Quest
As the transfer saga unfolds, Madrid's determination to add Alexander-Arnold to their ranks will test Liverpool's resolve and the player's own ambitions. The coming months may reveal whether Madrid can offer a deal enticing enough to draw another English star to the Spanish league.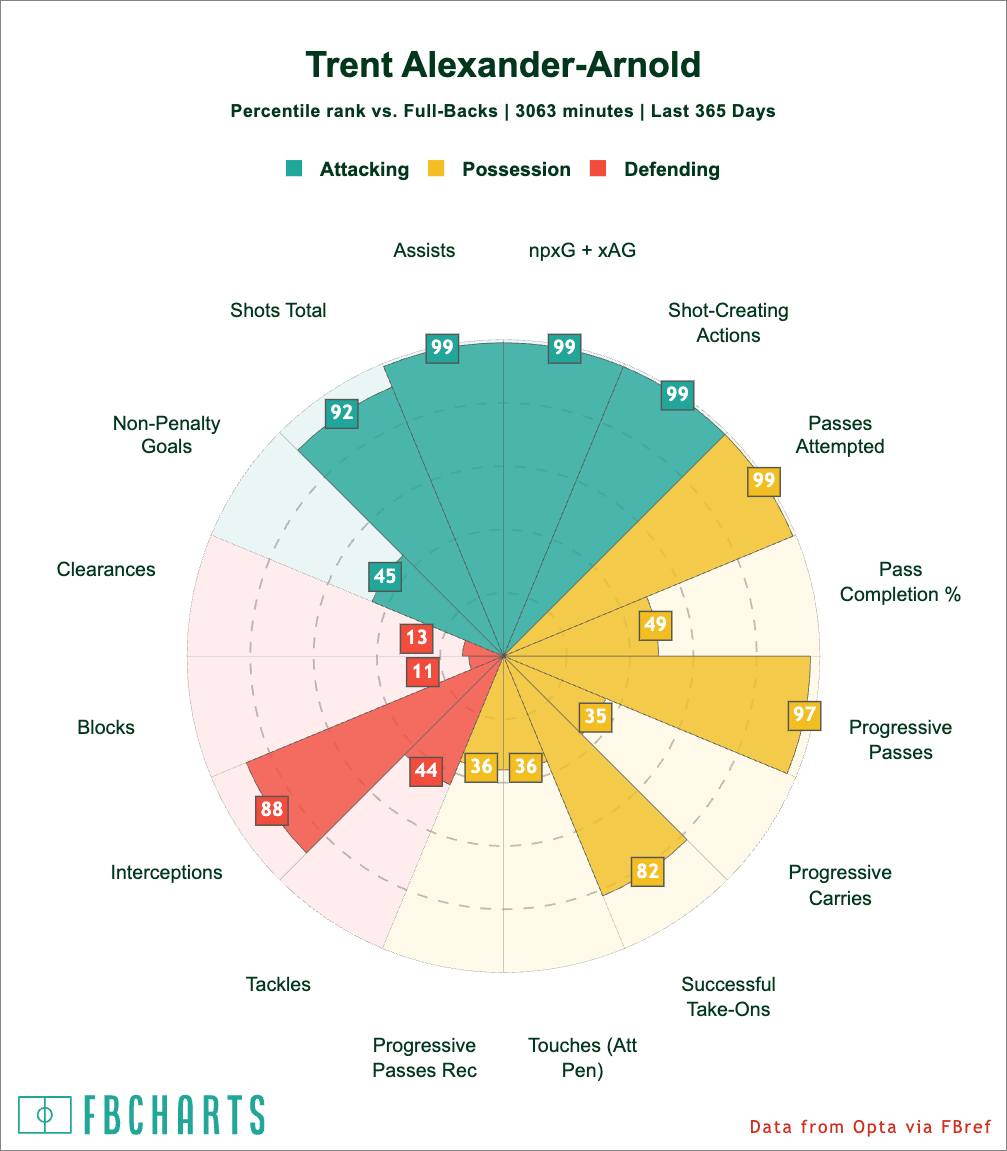 Statistical Analysis by Anfield Index: Unpacking Alexander-Arnold's Influence
Unveiling Alexander-Arnold's Stats
Trent Alexander-Arnold, Liverpool's visionary right-back, has been dissected in a fascinating statistical web by Fbref, showcasing his performance data across various metrics. His stats paint a vivid picture of a player at the zenith of his creative powers, influencing games from a defensive berth with the finesse of an artisan.
Attacking Prowess Highlighted
Alexander-Arnold's offensive contributions are nothing short of extraordinary. His percentile rank in assists, non-penalty goals, and shot-creating actions towers high, placing him in the 99th percentile among full-backs. This statistical marvel is a testament to his attacking verve and underscores his role as more than just a defender. His prowess in progressing the ball, reflected in his 97th percentile for progressive passes and his enviable pass completion rate, underlines his integral role in Liverpool's system.
Defending and Possession Metrics
While his attacking stats are spectacular, it's important to acknowledge the balance in his game. Alexander-Arnold shows a commendable percentile in interceptions, demonstrating his alertness to danger and his capacity to transition defence into attack. In terms of possession, his touches in the attacking penalty area and successful take-ons are indicative of a player comfortable with ball retention and capable of navigating tight spaces under pressure.
Overall Impact Assessed
In an era where full-backs are increasingly judged by their offensive output, Alexander-Arnold's performance data from Fbref provides an analytical backbone to the narrative of his season. While certain defensive metrics such as clearances and blocks may suggest room for growth, they do little to tarnish the image of a player whose stats confirm his status as a full-back redefining the role. His numbers are not just a collection of data points but a story of a player central to Liverpool's tactical ethos.