On Saturday, Arsenal became only the 2nd team next to Southampton to beat Liverpool in the league since February 11th this year. There will be varying opinions on the biggest attribute to these improvements, especially concerning which system of play will provide the most success. Many Liverpool FC associated writers and fans have spoken in recent months about the potential gains to be had by Brendan Rodgers through the utilisation of the 4-4-2 diamond formation. Rodgers has even mentioned it himself:
"We could vary it. We could play with a No 10 and a flat back four. We could also play with a diamond in midfield but I'd need all my players available for that. For me it's all about getting a numerical advantage centrally to try to dominate the opposition."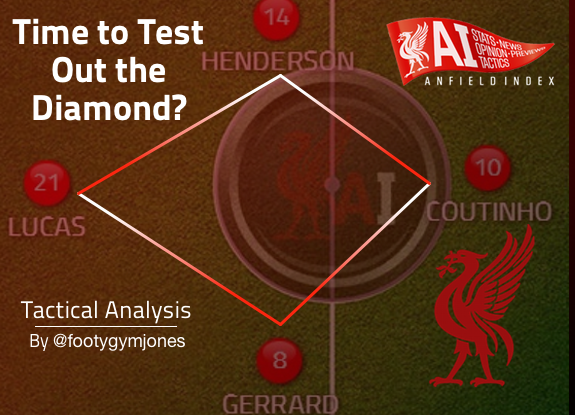 A critical factor Rodgers mentions here, has become an increasingly obvious problem as the season has progressed – Liverpool's dip in midfield dominance. While three at the back has provided strengths in some crucial areas, it has also affected the ability of the team to retain possession for the long spells we saw last season. However it is important to note, this hasn't prevented Liverpool from sitting in the top 3 for the entire first eleven games (the 'style vs. results' battle continues).

So Rodgers talks about needing all of his players available for the diamond system, but which players is he specifically referring to in order for everything to properly click? There are important members of the squad, players with ability and potential, who are simply not suited to this formation, and would consequently lose out in this situation. A good manager will choose their formation based on the players and attributes at his disposal, as opposed to crow barring  players into his desired formation – adaptability is crucial.
So how might it shape up?
Back Four
Personnel
For the back four, Kolo Toure and Daniel Agger both being available would be the easiest pair for Rodgers to experiment with. I have selected them here just out of personal preference. Mamadou Sakho has made a confident start to life at Liverpool, but has minimal experience playing in our back four, as his arrival coincided with the introduction of the 3-4-1-2.
Despite his good start, I also look at the pattern of our defensive record, and in particular the contrast since the three 1-0 victories at the beginning of the season, with the experienced partnership of Kolo Toure and Daniel Agger. It was incredibly solid. Since the introduction of Sakho (a player who certainly didn't come here to sit on the bench), the re-introduction of Skrtel, the switch to three at the back, Liverpool have conceded a total of 10 goals in 7 league games, failing to keep a clean sheet in all of these games.
It is an interesting point to determine which of these factors is the biggest contribution to the now leaky defence. It is also surprising that there has been less calls for Agger's immediate return to the squad, with many fans satisfied to see the vice-captain remain on the bench in place of Sakho. It would also be difficult to switch one of these centre-backs to full-back in this formation simply to accommodate them (ie. Toure to RB, Sakho or Agger to LB), as the demand for pure athleticism on the flanks from genuine full-backs is essential in this system.
Requirements
In a diamond formation, the lack of wingers high up the field means extra mobility is required from the full backs. This way they can provide width and support for each attack as a wide outlet. The general shape of the back four in possession is similar to the set-up for the 4-3-3, with the centre backs split wide, the full backs pushed high and wide, the defensive midfielder dropping into the hole to play triangles up the field. Liverpool players now have 'playing out from the back' ingrained into their game, and the transition into this system of play will be seamless for the back four.
Holding Midfield
The limitation for Rodgers is that he probably only has one player suitable for this role, and that is Lucas Leiva. Joe Allen fulfilled the responsibilities at the beginning of last season in Lucas' absence, however this is not Allen's natural position, and he thrives in a more attacking midfield role where he can be more influential. From Lucas' natural deep position, his defensive responsibilities remain, completing the tackles, interceptions and breaking up play where possible, then dictating the route of the possession. Offensively, his distribution is a priority. Lucas has always been a good distributor of the ball, and he can pick flat, vertical passes through the midfield lines into Coutinho, or safer, sensible passes into the wide areas, recycling back through the defence when required.
Left and Right Midfielders
Steven Gerrard and Jordan Henderson have been assuming similar roles here in the last two games against West Brom and Arsenal. Lucas patrolled behind them while they looked to play through to Suarez and Sturridge drifting from wide to central. Henderson is an ideal pressure player in the middle, and has the energy to occupy both the centre of the field and also shuttle out to the wide areas to link play with Enrique and provide extra pressing in the defensive phase.
With Henderson to his left, and Coutinho ahead of him in the hole, there is less onus on Steven Gerrard to be a driving force going forwards here. Of course he has licence to, but there is no pressure to. The position also suits him in the sense that he has experience in this 'half and half' central/wide position for England and Liverpool in the past.
Another benefit is that the pairs positioning sets a trap for the oppositions midfield. Playing passes laterally will attract a midfield two towards both players and opens up a brilliant area of space between the 'lines' for Philippe Coutinho to operate in. The nature of all three players also allows some scope for rotation, if Coutinho were to drop deep to collect the ball (as he tends to do), Henderson and Gerrard are both players capable of penetrative runs into this dangerous area just vacated.
Attacking Midfield and Strikers
"Philippe Coutinho is a No 10 and while he's been out injured Victor Moses has done really well there. Even though Victor is a wide player he can play that role as he will look for the pass."

"What I've said to our front two is that when we're defending in our half of the pitch, when we can't press and we are under pressure I am happy for them both to stay up there."
The above is Rodgers description of the use of Sturridge and Suarez in the 3-5-2. A potential problem has occurred with the midfield triangle flipping from a 2-1 into a 1-2 – it has required one of either strikers to drop to receive to feet in front of the centre backs, or both to split wide (at times a box of space can separate Sturridge, Suarez, Henderson and Gerrard). They can only do one of these two things, the first staying high and splitting wide to stretch the back line – this pins the oppositions full backs and occupies four players with the use of only two attackers. The second option being for one to drop into the 'hole' and the other to push the centre backs high up the field by going long – perhaps better for ball retention and developing possession, however less effective for working the otherwise liberated full backs.
With the use of the diamond, the strikers get to keep both options, with neither scenario compromising the other because of Philippe Coutinho in the middle. His presence in this box of space presents a genuine attacking threat, to add to the continuation of Suarez and Sturridge essentially operating 'as you were'.
"What I've found is that if I play one up top and one wide, I take a little bit away from them. They work better as a proper front two. The thing I have learned is that Suarez is not a No 10 for me. A No 10 is someone who is more of an offensive midfield player. In Suarez and Sturridge, I've got what I call two No 9 and a halves. They both like to move, they like to drift and they both like to go into the half positions in between the lines."
Other Considerations
If Rodgers was to experiment with this particular line up, there would be a number of important factors still to consider here:
Joe Allen
Where does Allen currently fit into Rodgers plans? A crucial player in Liverpool's ball retention philosophy, but one who is limited to perhaps only one or two positional variations within the central midfield. Not particularly suited to the diamond.
Raheem Sterling
The diamond would struggle to provide a place for Raheem Sterling in any situation, with no winger, wing back, or second striker positions available to him, Sterling would continue to suffer here.
Sakho and Skrtel
This scenario would also require a reshuffle of the defence. If you were to use this formation, which defenders would you keep for the back four?