Liverpool's Transfer Target: Rayan Ait-Nouri from Wolves
Liverpool's interest in securing Wolverhampton Wanderers' left-back Rayan Ait-Nouri has been increasingly evident. The club's search for a solid backup and potential long-term successor to their first-choice left-back, Andy Robertson, has led them to this young talent.
Liverpool's Left-Back Conundrum
Currently, Liverpool faces a dilemma in the left-back position due to Andy Robertson's absence. Kostas Tsimikas, stepping in for Robertson, has had a fluctuating performance. This situation has prompted Liverpool to consider reinforcing their squad, especially with the January transfer window approaching.
Ait-Nouri: A Rising Star in Liverpool's Radar
French media outlet le10sport has reported Liverpool's keen interest in Ait-Nouri. The 22-year-old has been on Liverpool's radar even before Robertson's injury. Liverpool's approach is not merely a reactive measure but a strategic move, considering Ait-Nouri's blend of youth and experience. The Algerian international, who joined Wolves permanently in 2021 for £9.5 million, presents an affordable yet valuable option for Liverpool.

Wolves' Stance on Ait-Nouri's Future
Wolves, however, are not inclined to part ways with Ait-Nouri, especially in the upcoming January transfer window. Despite potential offers, Wolves seem determined to retain the young left-back. This decision reflects their valuation of Ait-Nouri's contribution to the team and their stance against strengthening a direct league rival mid-season.
Liverpool's Strategic Approach
Liverpool's pursuit of Ait-Nouri is a testament to their forward-thinking transfer strategy. However, with Tsimikas showing signs of improvement and Robertson's return on the horizon, Liverpool might not be in a rush to secure Ait-Nouri's signature. The club could opt to reassess the situation towards the end of the season, especially as Ait-Nouri will then have only two years left on his contract, potentially making Wolves more receptive to negotiations.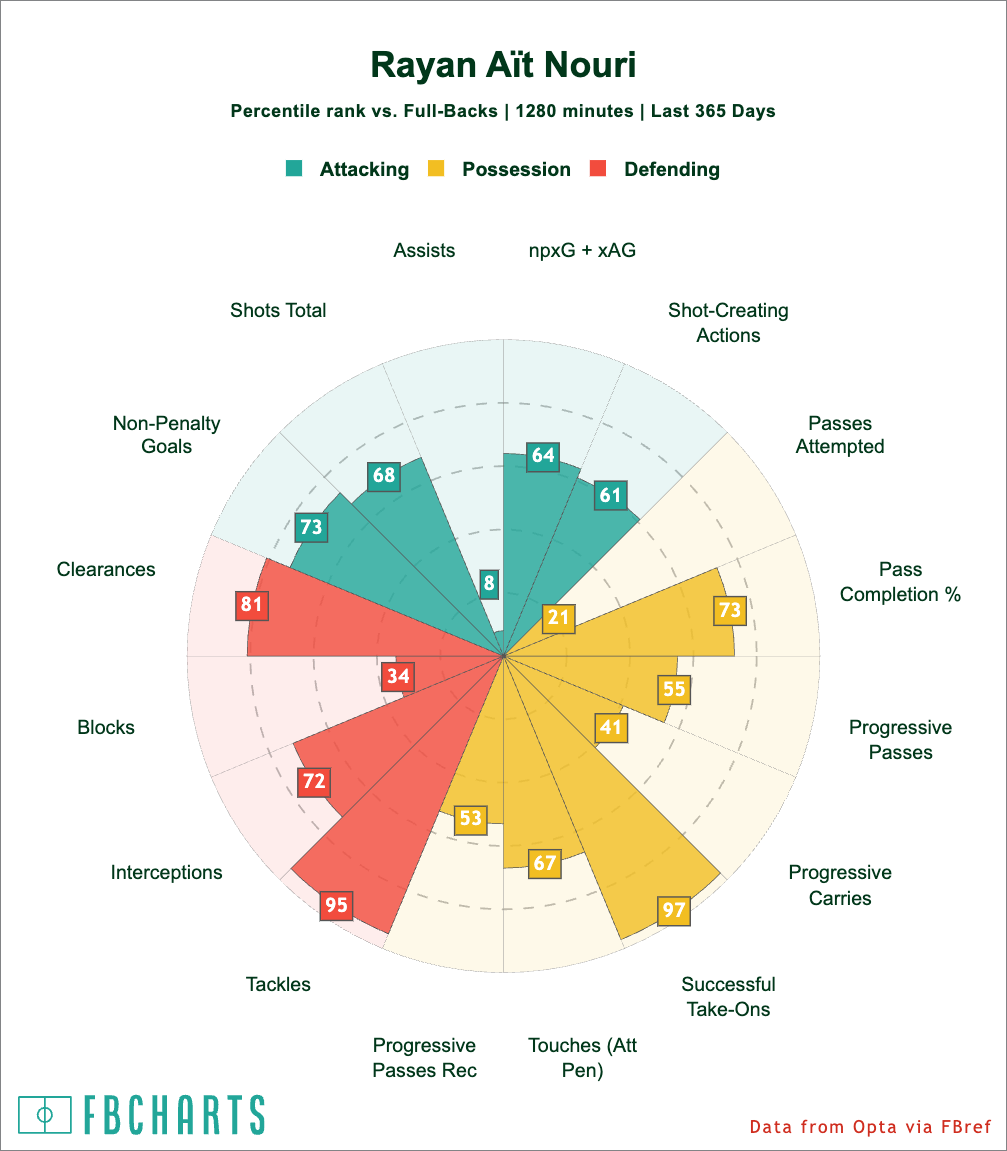 Statistical Analysis by Anfield Index: Unveiling Ait-Nouri's Impact
The comprehensive performance data provided by Fbref paints a vivid picture of Rayan Ait-Nouri's attributes as a full-back. With a percentile rank set against his peers over the last 365 days, it's evident that Ait-Nouri's defensive stats are particularly impressive. His prowess in clearances, interceptions, and tackles is charted in the higher echelons, with an outstanding 95th percentile for tackles and 81st for clearances. These figures highlight his reactive strength and his ability to read the game, intercepting play with remarkable efficiency.
Ait-Nouri's Possession and Attacking Skills
While his defensive capabilities are clear, Ait-Nouri's stats also suggest he possesses a balanced skill set. His percentile for progressive carries and successful take-ons sits in the 97th, illustrating his dynamism and confidence in driving the ball forward. However, his attacking contributions, such as assists and shot-creating actions, do not reach the same heights, suggesting that while Ait-Nouri can advance play, his final product could see enhancement.
Ait-Nouri's Overall Performance Data
Ait-Nouri's overall performance data presents a player with strong defensive qualities and the potential for further development in his attacking output. His pass completion percentage and progressive passes received show he's a reliable option in possession, essential for a modern full-back. His performance stats suggest that with the right coaching and team structure, Ait-Nouri's attacking metrics could experience significant growth, rounding out his profile as a full-back capable of influencing the game at both ends of the pitch.
Conclusion
Liverpool's interest in Rayan Ait-Nouri highlights their commitment to strengthening their squad and planning for the future. While the immediate transfer may be challenging due to Wolves' stance, Liverpool's strategic patience could pay off in the long run. Ait-Nouri represents a blend of youth, talent, and potential that aligns well with Liverpool's vision and requirements.