Liverpool's Midfield Reinforcement: Eyeing Genoa's Rising Star
Genoa's Gem in Liverpool's Sight
Liverpool's keen eye for emerging talent has once again made headlines, this time focusing on 22-year-old Danish midfielder Morten Frendrup from Genoa according to Get Italian Football News. Since joining the Italian club in early 2022, Frendrup has impressed with his solid midfield performances, playing a key role in Genoa's promotion to Serie A. His skill set has caught the attention of Liverpool, a club renowned for identifying and nurturing promising talents.
Frendrup's Versatile Midfield Mastery
In his 14 appearances across various competitions, Frendrup has demonstrated a remarkable versatility and an aptitude for playmaking, racking up four assists. This versatility extends to his ability to perform as a central or defensive midfielder, boasting 50 games in this role. Frendrup's youth, coupled with his impact in Serie B and now Serie A, aligns perfectly with Liverpool's philosophy of developing young talents into stars.
Liverpool's Strategic Scouting Under Klopp
Liverpool's interest in Frendrup is a testament to their strategic scouting and recruitment approach under Jurgen Klopp. The club has consistently sought out emerging talents, transforming them into key team players. This strategy has seen Liverpool evolve players who were not considered elite before joining, into top performers under Klopp's guidance.

Adding Depth to Liverpool's Midfield
While Liverpool already boast a strong midfield lineup, the demanding nature of modern football necessitates depth and versatility. Frendrup's ability to adapt to various midfield roles could be crucial in a grueling season. His potential addition to the squad offers a blend of youthfulness and experience, which is valuable for any top-tier team.
Statistical Analysis by EPL Index: Morten Frendrup's Metrics
Unveiling Frendrup's Performance Data
In an era where performance data and stats are as scrutinized as the action on the pitch, Morten Frendrup's recent statistical radar from Fbref reveals a player carving out a niche in the midfield battleground. As analytical tools like these become indispensable, they offer a transparent lens into a player's contributions beyond the glare of the spotlight.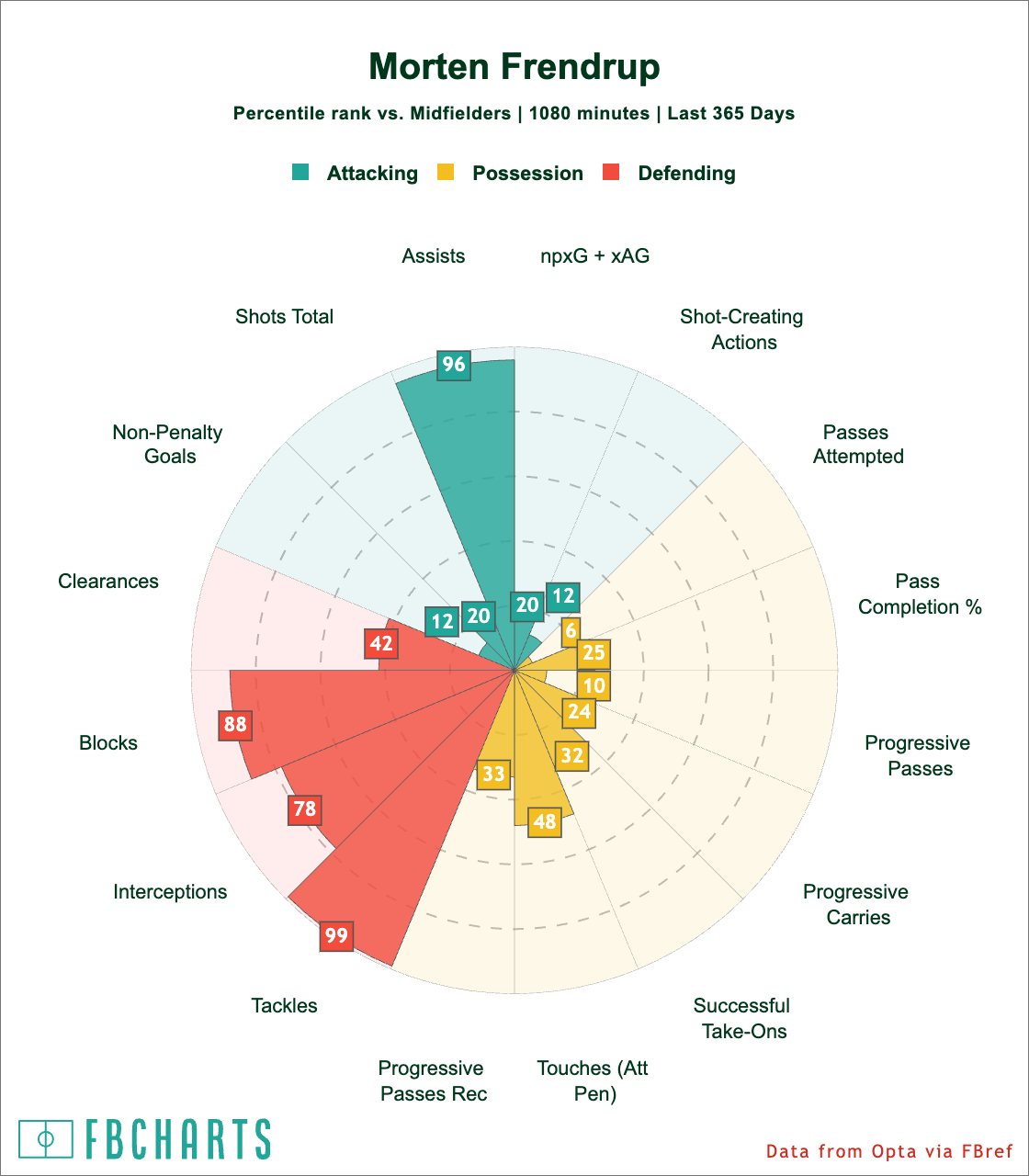 Defensive Prowess and Possession Stability
Frendrup's chart is a testament to his defensive tenacity. In the realms of interceptions and tackles, he ranks in the 99th and 88th percentile respectively, among midfielders. This suggests an aggressive approach to regaining possession, a trait that would undoubtedly resonate with the high-pressing style of the Premier League. His ability to read the game and disrupt opposition play is illustrated by the exceptional percentile rank in these defensive metrics.
Possession-wise, Frendrup's stats reflect a player who's comfortable on the ball, evidenced by his pass completion percentage and progressive passes. His decent percentile rank in touches (Att Pen) implies a midfielder not shy of venturing forward, integrating into attacks and looking to break lines with decisive movements.
Creative Contributions in the Final Third
The attacking aspect of Frendrup's game is highlighted by his percentile rank in assists and shot-creating actions, which outshine his more modest showing in non-penalty goals. This indicates a midfielder who's more of a facilitator than a finisher, an architect in the shadow, orchestrating plays rather than crowning them.
In a data-driven era, Morten Frendrup's performance stats offer a promising glimpse into his capabilities. With the right nurturing environment, these raw numbers hint at a player with the potential to evolve into a central figure in any top-tier side. Credits to Fbref for providing such comprehensive data, allowing for an analytical perspective on player performance that's both insightful and integral in today's game.