Alphonso Davies: A Coveted Gem in Football's Crown
Premier League Giants in the Race for Davies
In the world of football, few names resonate with the dynamic flair and awe-inspiring pace of Bayern Munich's Alphonso Davies. Recent reports from 90Min have stirred the football community, highlighting interest from Liverpool, Chelsea, and Manchester City in the Canadian superstar. Davies, whose contract with the Bavarian giants ends in 2025, has not yet committed to a new deal, sparking a flurry of speculation about his future.
Davies's Impact at Bayern
At just 23 years of age, Davies has already etched his name in the annals of football with an impressive haul of 13 trophies. His journey from the Vancouver Whitecaps to becoming one of the world's top left-backs is a testament to his relentless drive and exceptional talent. His lightning-fast pace and attacking prowess have redefined the role of a full-back, making him a deadly weapon in any team's arsenal.
The Real Madrid Connection
The intrigue deepens with reports suggesting Real Madrid as a potential destination for Davies. Sean Walsh and Graeme Bailey of 90Min have indicated that while Liverpool, Chelsea, and Manchester City show keen interest, Davies might have his heart set on the Spanish giants. However, this narrative encounters a twist with Davies's agent, Nedal Huoseh, downplaying the Real Madrid links and reaffirming Davies's commitment to Bayern.

Analysing Potential Moves
As the football world buzzes with the possibilities, it's crucial to ponder the impact of such a move. Davies's arrival at any of these top clubs would significantly bolster their left-sided attack, adding an electrifying dimension to their play. Yet, with his agent's recent comments, the saga takes on an air of mystery. Is a move imminent, or will Davies continue his storied journey at Bayern?
Alphonso Davies remains one of the most tantalising prospects in modern football. His future is a topic of widespread discussion and speculation, with some of Europe's biggest clubs vying for his signature. As the story unfolds, fans and pundits alike will be watching closely, eager to see where this footballing phenom will make his mark next.
Statistical Analysis by EPL Index: Alphonso Davies' Mastery
Alphonso Davies: Beyond Speed and Grit
The latest performance data from Fbref offers a captivating insight into the prowess of Alphonso Davies. Regarded as one of the finest full-backs in the game, Davies' stats are a testament to his multifaceted impact on the pitch.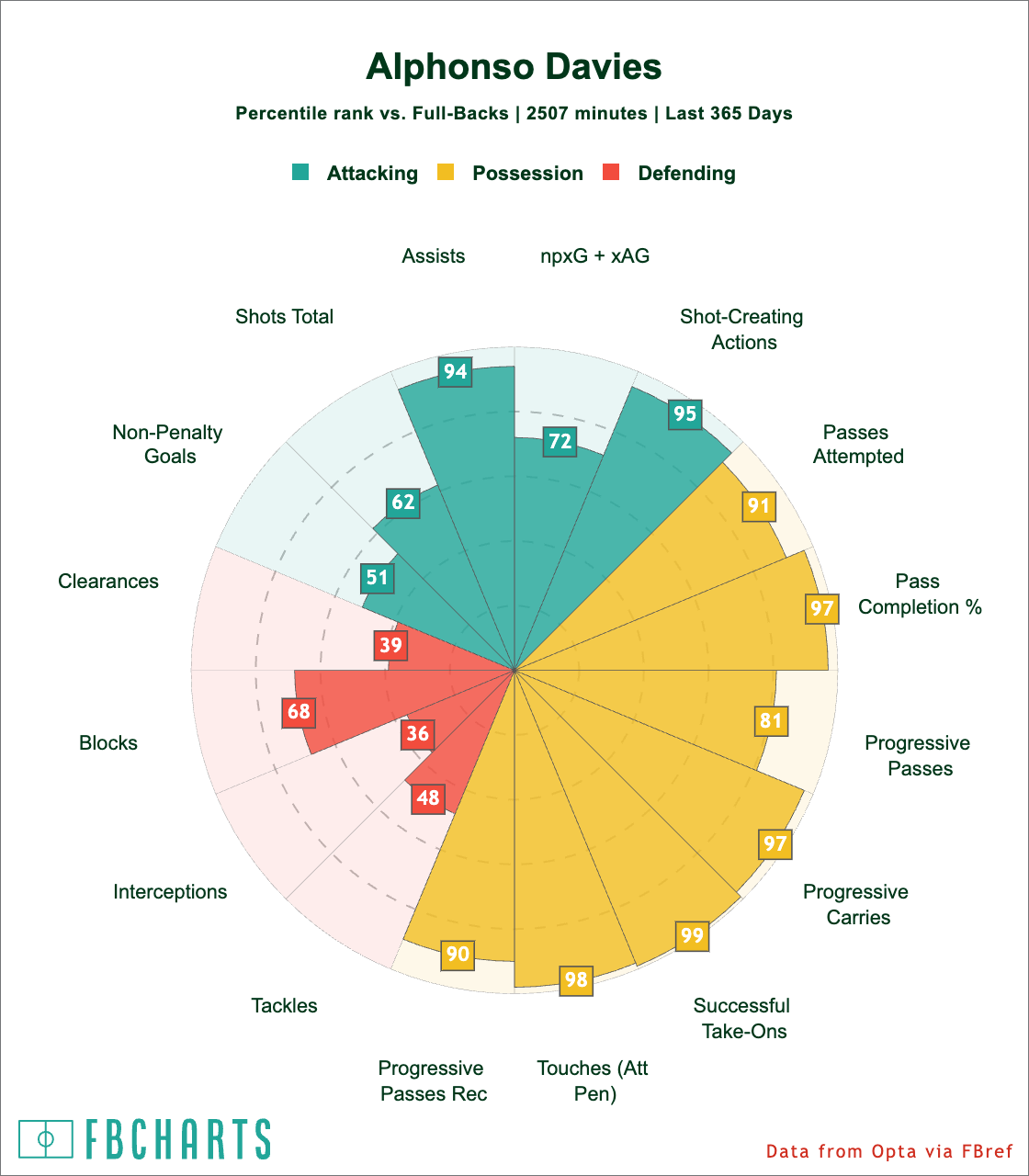 Metrics That Matter
Davies' percentile rank among full-backs across key metrics paints a vivid picture. In the realm of attacking, his numbers for assists and non-penalty goals are robust, with an impressive percentile in shot-creating actions. This indicates not just a player who finishes opportunities but one who is instrumental in orchestrating them.
In possession, the Bayern Munich star's stats showcase his technical excellence. His pass completion percentage is nearly unrivalled, sitting in the high 90s percentile, affirming his reliability and finesse in distribution. The data also highlights Davies' dynamism, with staggering figures for progressive carries and successful take-ons – a clear sign of his ability to drive forward and break lines.
Defensively, Davies holds his own with decent rankings in tackles and interceptions, although his percentile in clearances and blocks may suggest a more forward-leaning role in the team dynamics.
Davies' Tactical Flexibility
What the data underscores is Davies' tactical flexibility. His proficiency isn't pigeonholed into one aspect of play; he's as much a threat in the attacking third as he is a safeguard in his defensive duties. It's this balance of attributes that makes him a coveted asset in modern football. Also at Bayern defensive responsibility may be a secondary concern due to their dominance, thus meaning less defending to do.
Davies' stats are not just numbers on a chart – they are a narrative of a player who's revolutionising the full-back role. With such impressive performance data, it's clear why the world's top clubs are keeping a keen eye on this Canadian phenomenon.
Credit to Fbref for collating and providing this rich dataset, allowing for a deeper appreciation of talents like Davies. Through analytical lenses, we're able to quantify the artistry that fans witness on the pitch, offering a nuanced understanding of what makes a player truly stand out.