Leroy Sane: Liverpool's Next Big Signing?
In the ever-evolving football transfer saga, Liverpool's interest in Bayern Munich's Leroy Sane has taken a significant turn. Reports from Sky Sports Germany, as relayed by LFC Transferoom, suggest that the Reds are seriously considering a move for the 27-year-old forward. This development comes amid growing speculation about Mohamed Salah's future at Anfield, with his contract winding down to its final 18 months.
Sane's Impressive Track Record
Sane's credentials are undeniably impressive. With a tally of 47 goals in 151 appearances, coupled with his instrumental role in securing three consecutive Bundesliga titles, he emerges as a prime candidate to bolster Jurgen Klopp's attacking options. His goal-scoring flair and on-field dynamism make him a potentially seamless fit for Liverpool's high-octane style of play.
Contract Uncertainties Fuel Transfer Rumours
Adding to the intrigue, Sane, much like Salah, has only 18 months remaining on his contract with the German champions. This situation has sparked doubts about his long-term future at the Allianz Arena. Interestingly, Manchester City, Sane's former club, is also reportedly in the mix, eyeing a possible reunion.

🌕 𝗦𝗞𝗬 𝗚𝗘𝗥𝗠𝗔𝗡𝗬 — @SkySportDE: @FCBayern should be very worried about @LFC's latest interest in Leroy Sané (27) with Jürgen Klopp a big fan and looking out for a possible move for the German forward in the coming months 💣🔜 pic.twitter.com/qMDd7w0sB8

— LFC Transfer Room (@LFCTransferRoom) November 18, 2023
Sane's Perspective on Future Plans
In a recent interview, Sane addressed the speculation surrounding his future. He stated his current focus is on the season at hand, delaying any contract discussions with Bayern Munich. Emphasizing his growing role and responsibility at the club, he expressed contentment with his current situation under coach Julian Nagelsmann. However, he didn't rule out future possibilities, adding an element of suspense to the ongoing narrative.
Sane's Current Form and Impact
This season, Sane has been a constant presence in Bayern's lineup, featuring in all 11 league matches. His contributions have been pivotal in keeping the team just two points shy of league leaders Bayer Leverkusen. His performances not only highlight his individual prowess but also underscore his importance to the team's overall dynamics.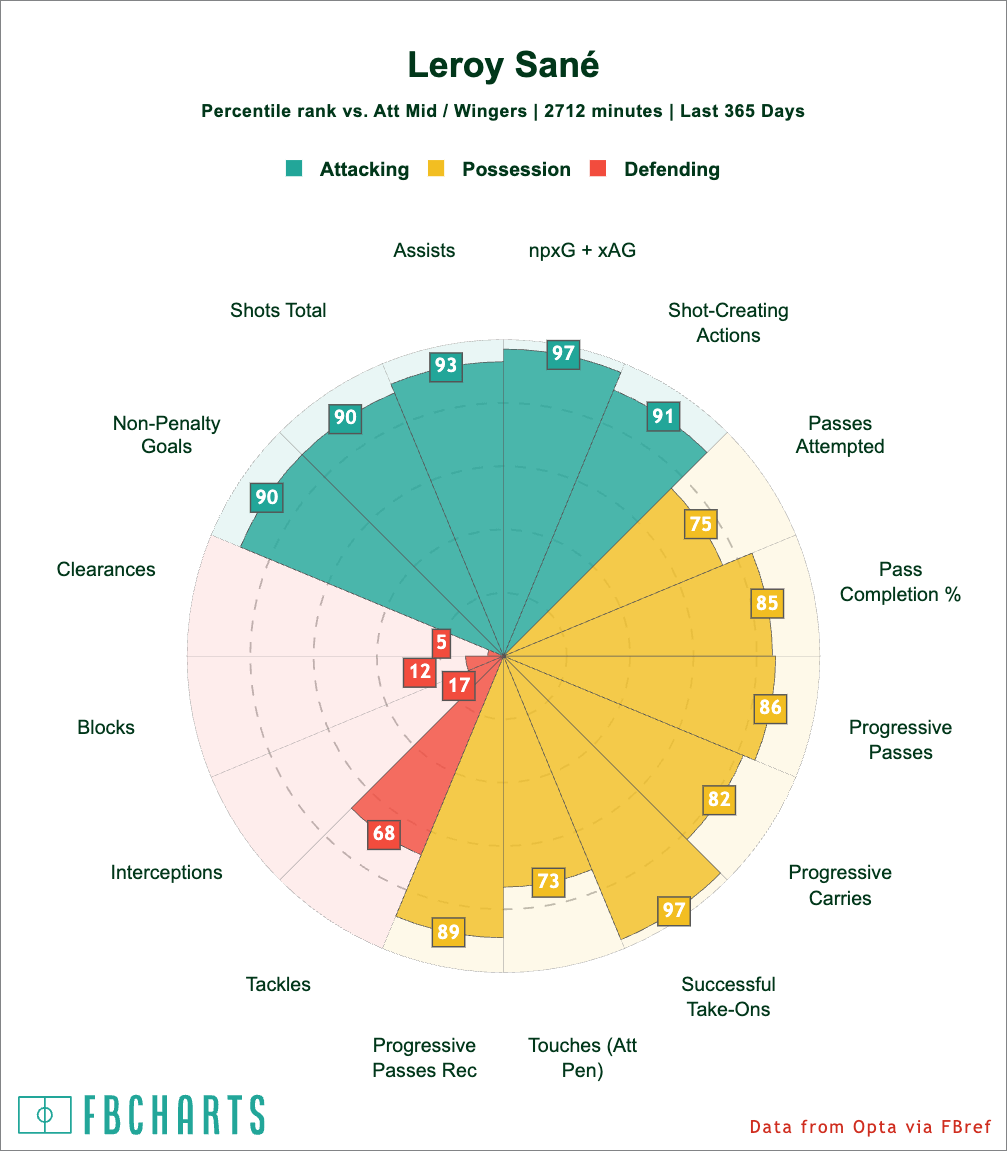 A Deep Dive into Statistics
Leroy Sané is a name that resonates with dynamism on the football field, and his recent statistical analysis from FBref highlights why. The chart illustrates Sané's percentile rank against attacking midfielders and wingers over the last 365 days, a period during which he clocked 2712 minutes of game time. This analysis aims to dissect his performance across various facets of his gameplay, revealing an athlete who is not just a winger but a multi-dimensional force on the pitch.
Attacking Prowess
The teal segments of the chart represent attacking metrics, where Sané's statistics are nothing short of impressive. His assists, non-penalty goals, and shots total all sit comfortably above the 90th percentile. It is a testament to his keen eye for goal and his ability to convert chances. His high percentile in non-penalty goals indicates a player who doesn't rely on set-pieces to inflate his numbers, an attribute that adds depth to his team's attacking options.
Ingenious Possession
Sané's possession stats, illustrated in yellow, speak volumes about his ball retention and distribution skills. With progressive passes and carries both in the high 80s, he is a player who not only holds onto the ball but actively pushes the play forward. His successful take-ons, at a staggering 97th percentile, and touches in the attacking penalty area place him as a constant threat to opposition defenses.
Credit to FBref
This data is sourced from FBref, a premier destination for football statistics. Their meticulous approach to data collection and presentation allows for insights like these, painting a complete picture of a player's influence on the field.