Liverpool's Search for Salah's Successor: Raphinha in the Frame
In the ever-evolving landscape of Premier League football, Liverpool's quest to find a worthy successor to Mohamed Salah's throne at Anfield has taken a new turn. The club, renowned for its strategic foresight in the transfer market, is reportedly setting its sights on Barcelona's winger, Raphinha, as a potential heir.
Salah's Stellar Season Amidst Transfer Rumours
Mohamed Salah, Liverpool's Egyptian maestro, continues to dazzle at Anfield, contributing significantly to the team's attacking prowess this season. With a tally of 12 goals and four assists, Salah remains a pivotal figure in Liverpool's offensive line-up. However, the winds of change are blowing, with rumours of Salah's departure gaining traction, particularly following substantial interest from Saudi Arabian club Al Ittihad.
Despite the likelihood of Salah remaining at Liverpool until at least January, the speculation surrounding his future is set to intensify as the summer transfer window approaches. This uncertainty has prompted Liverpool to proactively seek a successor for their number 11.

Raphinha: A Viable Candidate?
Among the various names linked with Liverpool, Raphinha, the former Leeds United winger now plying his trade at Barcelona, has emerged as a notable contender. The Brazilian's move to Catalonia in the summer of 2022 for a fee of £55 million was a statement of intent. His debut season with Barcelona was impressive, boasting ten goals and 12 assists. However, his role has diminished this season, leading to speculation about his future at the club.
Liverpool's interest in Raphinha is not new; they were linked with him before his move to Barcelona. The possibility of a transfer to Liverpool could be seen as an opportunity for Barcelona to alleviate their financial burdens, potentially paving the way for a cost-effective deal for the Reds.
Klopp's Vision for the Future
Jurgen Klopp, Liverpool's tactician and mastermind, might have different plans, though. Known for his forward-thinking approach, Klopp may prefer a younger talent to fill Salah's boots when the time comes. This perspective casts doubt on a move for Raphinha, despite his undeniable skill and impact on the field.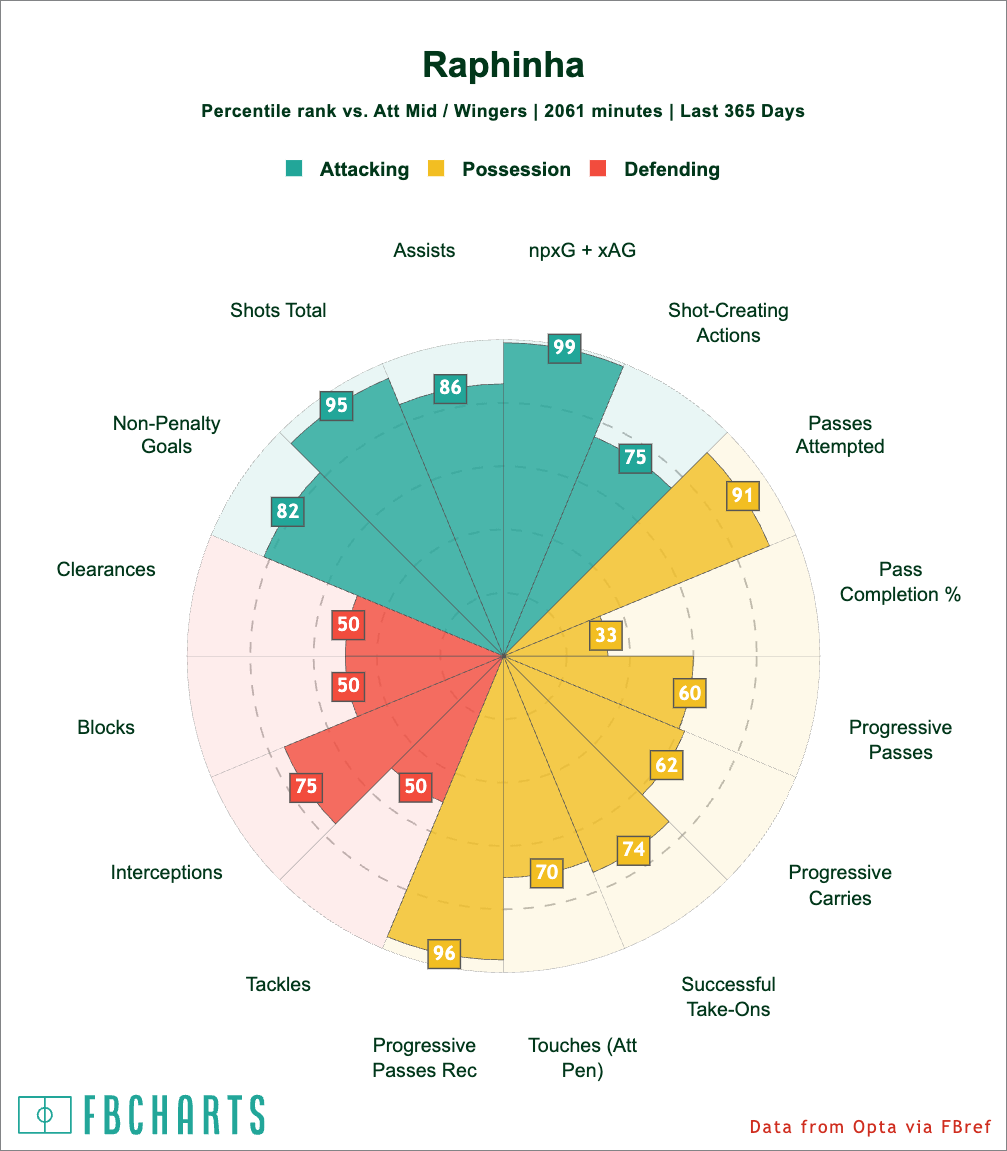 Raphinha: Stat Star Shines Bright
In the high-stakes arena of professional football, few players have made an impact as immediately recognizable as Raphinha. With a style that melds raw talent with a keen sense for the game, his stats, sourced from the analytical powerhouse Fbref, paint a picture of a player not only on the rise but dominating the field.
The chart is a spider graph that encapsulates Raphinha's percentile rank compared to other attacking midfielders and wingers over the last 365 days, based on a cumulative 2061 minutes on the pitch. Here, we dive deep into the statistics to understand the nuances of his game.
Chance Creation
At the heart of Raphinha's game is his ability to create opportunities. This is where his stats truly illuminate his value to his team, with a staggering 99th percentile in shot-creating actions. This metric is a testament to his vision and his penchant for setting up scoring chances, whether it's through a deft pass or a strategically placed cross.
His non-penalty goals and total shots also rank in the high 80s and 90s percentiles, underscoring a player who not only sets up plays but also finishes them with aplomb. Raphinha doesn't shy away from taking his chances, and more often than not, he capitalizes on them, which is a nightmare for defenders and a dream for the statisticians at Anfield Index who track every move on the field.
On The Ball
While his offensive prowess is apparent, Raphinha also holds his own when it comes to possession. His percentile for successful take-ons is in the 70s range, indicating his skill in retaining the ball and beating opponents in one-on-one situations.
It's in his defensive stats, however, where we see a more human side to Raphinha. His percentile for clearances, blocks, and interceptions hover around the mid-50s to 75s. Although not as stellar as his attacking metrics, these figures are respectable for a player whose primary role is not defensive.
The data also reveals an area for potential growth in pass completion percentage. Standing in the low 90s percentile, it suggests that while Raphinha is an excellent passer, there is still room for improvement in ensuring every ball finds its teammate, a small yet crucial aspect that can be the difference in the high-pressure moments.
Fbref's comprehensive analysis allows us to not only appreciate the nuances of Raphinha's game but also provides a blueprint for how he can evolve as a player. For fans and pundits, these stats are not just numbers; they are the quantifiable evidence of Raphinha's burgeoning legacy in the sport.