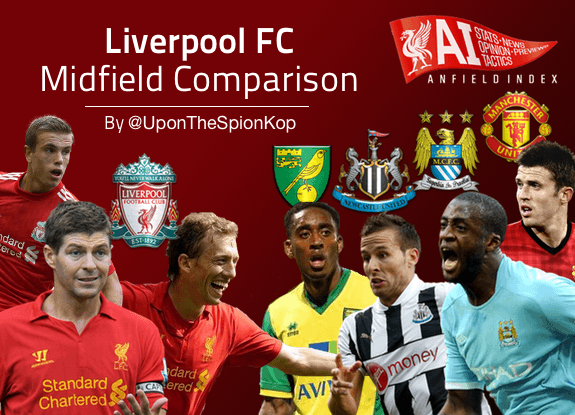 Liverpool Midfield Comparison | Vs MCFC, MUFC, NUFC and NCFC

Following Liverpool's defeat to Arsenal, and with their midfield being the decisive factor between the two sides, the Anfield Index team has put our own midfield under the microscope to see how they compare to our Premier League rivals using statistics from WhoScored.
Editors Note: Please note that this is the author's first attempt at using statistics in their articles.
The entire league has been split up into five groups:
Group 1: Aston Villa, Arsenal, Cardiff City & Chelsea (Article written by Jon Moore)
Group 2: Crystal Palace, Everton, Fulham & Hull City (Article written by Ashley Brewer)
Group 3: Manchester City, Manchester United, Newcastle United & Norwich City (This Article)
Group 4: Southampton, Stoke, Swansea & Sunderland
Group 5: West Ham United, West Bromwich Albion and Tottenham Hotspur
In this article the stats of Group 3 will be compared to Liverpool FC's midfield of Gerrard, Henderson and Lucas.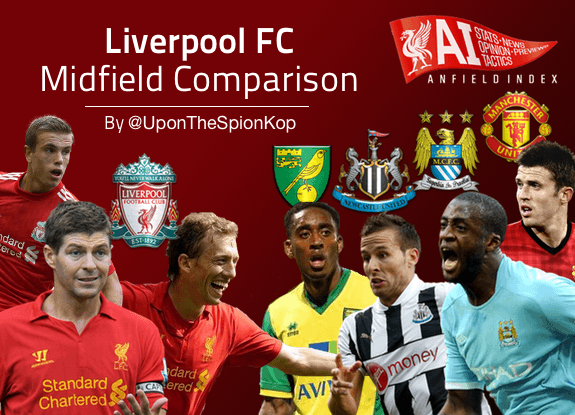 Much has been said about Liverpool's display during the sobering 2-0 loss to Arsenal, with much of the debate centring on Liverpool's lacklustre midfield. Podcasts, write-ups and analytical reviews have been a dime, a dozen – so, naturally, myself and the team at Anfield Index have decided it's our turn to try to shed some light on the positives and negatives of Liverpool's midfield. There is much to be discussed, questions such as, "what is our best formation?" and "who's the weak link?" spring to mind straight away. These simple questions have had analysts and stattos tearing their hair out all week (I assume) so here's my thinking on the subject of Liverpool's midfield and where I think we can improve. I'll be using statistics supplied by WhoScored.com and I will be comparing the Reds with a group of teams consisting of Manchester City, Manchester United, Newcastle United and Norwich City – a nice, mixed bag containing a top team, an efficient team, a mid table candidate and a relegation struggler.
Just to be clear, these are the players I've researched for each team: from Manchester City I've gone for David Silva, Yaya Touré and Fernandinho, for Manchester United I've gone for Michael Carrick, Marouane Fellaini and Tom Cleverley, from Newcastle United I've gone for Yohan Cabaye, Vernon Anita and Moussa Sissoko and from Norwich City I've gone for the trio of Leroy Fer, Jonny Howson and Bradley Johnson.
Is a settled midfield working for Liverpool?
First of all, I'd like to discuss what I found when I delved into the statistics regarding Liverpool's midfield efficiency. For Liverpool, the three midfielders I selected for comparison were Steven Gerrard, Jordan Henderson and Lucas Leiva because those are the three players who have played in midfield for Liverpool the most times this season (however, it must be mentioned that some of Jordan Henderson's appearances were made from positions such as right-wing back and left-wing so there is perhaps a need for caution when dealing with these statistics). The statistics I looked at were the following: appearances, goals scored, assists, pass completion percentages, average interceptions per game, average tackles per game, key passes per game and, finally, times dispossessed per game. These stats represent a wide spectrum of things midfielders need to do well with regards to both offensive and defensive play. Of these eight stats, Liverpool came top in three of them so there are good initial signs.
I think the easiest question to begin with is this: has the midfield been settled? Supposedly this gives the advantage of familiarity and consistency and also shows that, should Liverpool be a leader in this category, any poor stats thereafter mean Rodgers should consider changing either his system or his starting XI personnel. As it happens the Reds are the leaders in this category with a combined average of 9.3 appearances each in the first ten games of the season. This is a good initial sign for Liverpool as it shows they have a settled midfield, with Manchester City coming in second with an average of 8.7 appearances and Newcastle coming in third with a slightly lower average of 8.66 appearances each.
Now, this is a very easy stat to start us off with and it can tell us a number of different things. The first thing it can tell us is that Liverpool have had one of the most settled midfields in the league with Steven Gerrard and Lucas totting up a combined eighteen appearances in the first ten games of the season. This is great for Rodgers who has had a decent squad to select from with limited amounts of injuries in this section of the pitch. However, this positive can easily become a negative (although it is never my intention to be deliberately negative about Liverpool FC) with Liverpool seemingly needing a change in personnel or system as they have completely failed to regularly control games despite having a settled team in the most important part of the pitch. In short, something is wrong in this midfield despite the consistent nature of it's personnel, meaning either Rodgers is setting the team up wrong or the midfield is simply not good enough – personally, I think it's the latter.
Goals, Goals, Goals… Well not quite
Something everybody can relate to is the goals scored column. Attackers are always the most heralded players in a team and everybody knows how many goals this striker has scored and how many chances this striker has missed in the last six home games. You get it, we're all interested in goals and that's why we love football. However, this particular column is one where Liverpool have struggled. Of the five teams I have looked at, Liverpool are joint second – but with two other teams so don't be fooled, the level of goals from Liverpool's midfield is really, really poor.
From the trio of Steven Gerrard, Jordan Henderson and Lucas, Liverpool have benefitted from just two goals in the opening ten games of Premier League football. That's an average of 0.2 goals per game and this sees them level with Newcastle United and Norwich City – two teams the Reds would absolutely expect to finish above come May. In contrast, Manchester City have been spectacular in this department with the trio of midfielders contributing 0.8 goals per game – including five goals for Yaya Touré and three goals for David Silva.
In addition to this, both of Liverpool's midfield scored goals have been from the penalty spot meaning Liverpool have had next to no open play goal threat from the midfield for the first quarter of the season.
You'd have to say that Liverpool are really struggling in this department and that more goals must start coming from midfield if the Reds are to sustain a top four fight. If Manchester City are to continue the trend of goals scored from midfield, together with their strikers bagging bucket-loads themselves, you'd have to say the Sky Blues are heading for a title fight and should finish above Liverpool – of course,  there's a lot of football to be played but a team with goalscoring strikers and midfielders usually finishes in the top three.
The anomaly in my research was Manchester United who have scored zero goals from the three central midfielders I looked into. They could struggle, like Liverpool, if one of their key strikers picks up an injury, however, in contrast to Liverpool the Mancunians  have a very good back-up in the shape of Javier Hernández.
Unfortunately this means Liverpool must either wrap their star strikers in cotton wool or risk them getting an injury and disrupting a very good start to the season – Rodgers must either keep Sturridge and Suárez fit or coax some goals out of this midfield. I'd prefer it if Liverpool signed a box-to-box goalscoring midfielder to avoid the Reds becoming two predictable with goals coming from only one part of the team.
Pure Creation
The picture becomes even less bright for Liverpool fans when you look into the amount of assists the midfield has created for Liverpool this season. After ten games the midfield trio of Gerrard, Henderson and Lucas has supplied just two assists. This is a team scoring goals, yet the midfield have barely managed an assist between them. At current, the Reds central midfield is supplying just 0.2 assists per game – a grim outlook. Acknowledged, central midfielders are not always the kings when it comes to assists but for three players who should be consistently in the opponents half a return of two is poor. Both of these assists were supplied by Steven Gerrard which suggests others need to start pulling their weight with regards to supplying "key interventions" however, Gerrard is the main set piece taker for the team which allows him to regularly carve out chances and assists – in fact, he's is one of the top chance creators this season – so really, it's the midfield on the whole which isn't supplying enough of a threat, not just Lucas and Henderson.
In this category, Liverpool once again fall well short of Manchester City's midfield who have registered five assists between them at a rate of one assist every two games – a very real threat from midfield. The Reds also fall behind Newcastle United in this category, with the Magpies' midfield supplying a total of three assists in the first ten games – a slightly worrying sign, despite the season still being in it's infancy.
However, there is a glimmer of hope for Liverpool, since the 2-2 draw to Swansea City during match week four, Rodgers has been without his main focal point of creativity: Philippe Coutinho. Coutinho would have been part of this analysis had he been fit for more games as he'd almost certainly have been playing at the point of the central midfield triangle. The reason I'm mentioning this is to ensure the image doesn't look too bleak. The Reds would almost certainly have had more midfield goals AND assists had the diminutive Brazilian been fit all season – so, these statistics are possibly the victims of unfortunate circumstance. Another positive comes from the fact that Manchester United again supplied zero in this category – a team Liverpool should be rivalling for a top four finish, being above United's midfield in the goals scored and created columns could prove vital this season.
Next Page: Passing, Creativity and The Shield! Plus conclusions on where Liverpool rank.
Pass, Pass, Pass
Everyone's heard of Brendan Rodgers apparent "philosophy" – you know, "death by football" and visits to Anfield being the longest ninety minutes of a footballer's life. Well, the Reds don't seem to be keeping to this strategy very well with Liverpool placing third out of five when it comes to pass completion percentages. The midfield trio have clocked in with an average of 87.7% pass completion rate which sees them fall behind both Manchester clubs who lie deadlocked on 88.7% each.
Now there is some perspective required here; the Reds are only 1% behind the top two from last season in terms of completed passes which is no sin. So, I'm willing to put this statistic down as unimportant – although I'd obviously like to see the Reds improve this as keeping the ball means a lot of things. Firstly, the opposition cannot attack whilst you have the ball, secondly, the opposition become drained mentally and physically when asked to constantly chase the ball and thirdly, I want the Reds to play attractive, passing football as Rodgers alluded to a few weeks ago when he stated he wasn't simply interested in results but also the performances of the team.
The stats also look healthy when you compare Liverpool to my other two researched teams: Newcastle United registered an accuracy of just 83.6%, whereas Norwich City registered even lower with just 82.4%. These two teams are a lot weaker than the Mancunian clubs so perhaps Liverpool are exactly where they should be in this statistical table. Below the Manchester powerhouses but above the Newcastle's and Norwich's.
The worrying trend of Liverpool's midfield not getting forward enough does continue however. With the Reds midfield only averaging 1.4 key passes per game so far. This is enough for joint second in my mini league but the total is the same as the supposedly weaker Newcastle United midfield consisting of Sissoko, Anita and Cabaye. Again, it is Gerrard supplying the most in this area too, with an average of 2.5 key passes per game compared to the lowly, but understandable, 0.4 for Lucas – perhaps highlighting why he doesn't get many assists. The strongest player I looked at in this category was Manchester City's Silva. The Spaniard has clocked up an average of 3.9 key passes per game and has subsequently helped City boss this creative aspect of the game.
With regards to passing, I think Liverpool would have wholly benefitted with Philippe Coutinho being in the team as he'd almost certainly have provided more key passes than Jordan Henderson's average of 1.2 – Coutinho is also Liverpool's closest player to Silva, making Liverpool's midfield more attacking by a long way. Liverpool could really do with a decent back-up to Coutinho – although Henderson has done ok in the number ten role – because that would alleviate the pressure on the little Brazilian and ensure we don't suffer if and when he becomes injured. However, a stronger and more mobile defensive midfielder should be higher on the agenda come January.
A sign of great encouragement does appear for Liverpool's midfield when one delves into the statistics the amount of times each player is dispossessed per game. When combining the three Liverpool midfielders, the men from Anfield came joint top with the Reds being dispossessed, on average, less than once per game. This means Liverpool aren't losing the ball very often when it comes to dribbling. A high dribbling success rate is always encouraging for a midfielder and this allows for a bit of spontaneity in attack with passing often becoming predictable if not completed at the right speed. The down side to this is that Liverpool's midfield might not be attempting enough dribbles – hence, the team has a low dispossession rate.
The Shield
So far this season, I've been wholly unimpressed by Liverpool's inability to keep clean sheets. Not since Manchester United visited Anfield have the Reds managed a clean sheet. Even lowly Sunderland and the woeful Crystal Palace managed to breach Mignolet's goal. So, it might come as a surprise to many of you that Liverpool are actually the team with the highest tackles per game ratio from the teams I have researched. But, is it really surprising? Liverpool's lack of control in the central midfield area has seen the Reds concede possession and drop deep in-order to stem opposition attacks. Now, if a team has the lower share of possession, then surely that team should expect to have to defend more and therefore make more tackles. This is why I look upon Liverpool's average tackles per game statistic as a huge negative.
Liverpool, and particularly, Brendan Rodgers have championed the way football should be played – keep the ball, manipulate the opposition and then recycle the ball if it doesn't work – don't waste the ball by aimlessly throwing the ball into a crowded area. However, this is exactly what Liverpool haven't done and this has led to Liverpool needing to tackle the opposition a lot more than we would like. Backs to the wall jobs against Manchester United and Aston Villa spring to mind when last-ditch tackles were needed time and time again. With 3.6 tackles averaged per game, Liverpool are well clear of Norwich City (2.1) and Manchester City (2). Newcastle came out best here with just 1.3 tackles averaged per game. Do Liverpool really want to be averaging more tackles per game than the likes of Norwich City and Newcastle United? No they don't. They want more possession and more control. So far, these statistics show that this controlling aspect of Rodgers' midfield has not been good enough.
However, I always want to bring a positive note to the table and Liverpool's average interceptions per game statistic is very promising. Liverpool have averaged 1.7 interceptions per game between them which means Gerrard, Henderson and Lucas are working well mentally on their positioning when the opposition has the ball. Although this sounds low, professional footballers should not be allowing their passes to be regularly intercepted, so any interception is a good one. Only Manchester United can boast a better figure (2.3) which is mostly down to the stout work of Michael Carrick who averages an astounding 4.3 interceptions per game, on average.
Conclusions
Looking at all the statistics, I have to say what many of us are already thinking: Liverpool's midfield might not be good enough for a sustained top four push. The Reds lack mobility in the centre of the park, especially when the "Duracell Bunny" Jordan Henderson is forced to play out-wide. The Reds defence is also being bombarded by too much pressure because the midfield is failing to control the games as it is meant to – this would be a really big problem if either one of the SAS stopped scoring, meaning we were relying on defensive strength to grind out results. You would also have to conclude that Liverpool's midfield is well, well short of Manchester City's – although, the realistic among us probably knew this already what with City having spending powers beyond belief and genuinely spending the money well. However, positive signs suggest Liverpool's midfield is currently performing better than the Champions' midfield – Liverpool bettered United in all but one of the stats I analysed (percentage of passes completed).
Thankfully, I'm also glad to point out that Liverpool's midfield appears to be coping better than Newcastle's and Norwich's which means at the minute, Liverpool's midfield is performing exactly where we'd expect it to be at this point – above United, Newcastle and Norwich but below Manchester City. This raises the question then: perhaps the midfield is good enough after all? However, this study doesn't take into account stats from Arsenal, Tottenham, Chelsea or even Southampton – who I'd expect to better Liverpool in terms of midfield statistics.
I recently wrote that Liverpool are in desperate need of a more mobile central midfielder and that we will struggle until January because there is no way to fix this problem before the transfer market reopens. However, in Joe Allen, Liverpool have a midfielder who is much more mobile than both Lucas and Steven Gerrard and also highly motivated by the fact he failed to reach his full promise during an injury ravaged first season – he's out to make a point. I think bringing back Joe Allen could be a good call for Brendan Rodgers as he seeks better control over games by keeping possession and making passes tighter. I'm also a big believer that Liverpool should eventually revert to a 4-3-1-2 formation to allow the SAS partnership to remain in the same team, as well as allowing Rodgers to get Allen and Coutinho onto the pitch at the same time – this should allow for better control over games with our two best possession based players playing at the same time.
The Fulham game represents an ideal chance for Joe Allen to play, with the fixture taking place at Anfield against a team struggling in the bottom half of the Premier League. Don't rule the Welshman out too quickly – Reds fans should have the comeback stories of Lucas Leiva and Jordan Henderson fresh in their minds before they criticise Joe Allen. This is my personal solution to our midfield crisis until we can heavily reinforce in January, with Gerrard being relegated to a substitute role for difficult away games when high pressing and mobility is most needed.
In any case, if Liverpool finish fourth, and I've been completely wrong about what I have discussed here, I'll still be wearing a beaming smile come May.