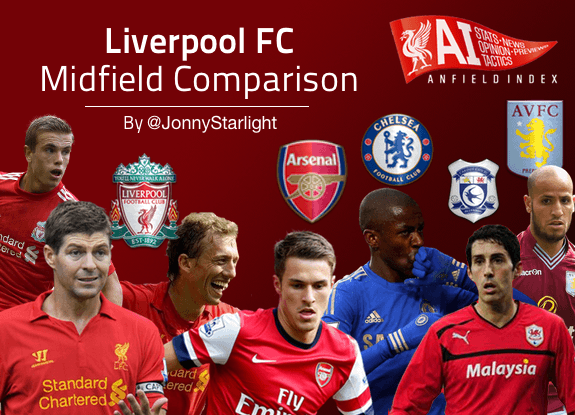 Liverpool Midfield Comparison | Vs Aston Villa, Arsenal, Cardiff, and Chelsea

Following Liverpool's defeat to Arsenal, and with their midfield being the decisive factor between the two sides, the Anfield Index team has put our own midfield under the microscope to see how they compare to our Premier League rivals using statistics from WhoScored.
Editors Note: Please note that this is the author's first attempt at using statistics in their articles.
The entire league has been split up into five groups:
Group 1: Aston Villa, Arsenal, Cardiff City & Chelsea (This Article)
Group 2: Crystal Palace, Everton, Fulham & Hull City (Article written by Ashley Brewer)
Group 3: Manchester City, Manchester United, Newcastle United & Norwich City (Article written by Zak Forster)
Group 4: Southampton, Stoke, Swansea & Sunderland
Group 5: West Ham United, West Bromwich Albion and Tottenham Hotspur
In this article the stats of Group 1 will be compared to Liverpool FC's midfield of Gerrard, Henderson and Lucas.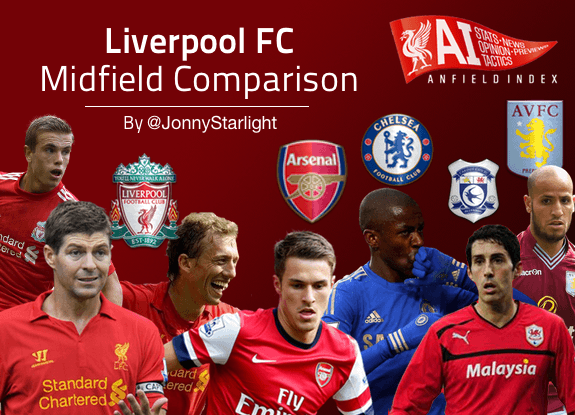 Liverpool's midfield in comparison to Aston Villa's
As the graphs shows all three of Liverpool's midfielders trump Villa's in terms of total passes, this is mostly to due with Brendan Rodgers pass and move system. What impressed me most was even though the total passing numbers were much higher than Villa's, Gerrard, Henderson, and Lucas all had a higher passing percentage as well. The three Liverpool midfielders combined for an average passing percentage of 87.7%, while Weimann, El Ahmadi, and Westwood only mustered an average of 80.7%. The system both respected  clubs use may differ in terms of the amount of passing but no matter what system accuracy is crucial,  the edge goes to Liverpool.
Breaking down passing even further you can see all three Liverpool midfielder players average more passes per game than their Villa counterparts, this again is due to the high passing emphasis implemented by Rodgers. The three Liverpool midfielders combined almost double Villa's passes per game average, again Liverpool gets the edge in this category.
Liverpool also have an advantage when looking at defensive numbers.  While Lucas and Gerrard are tops in the interceptions statistic, Westwood finds himself third while Weimann and Henderson are even for the fourth position. The thing that obviously stands out when you look at the interceptions graph is Lucas leading the way with 24, as you will see later in this post, no one even comes close to his numbers.
Winning the ball back is a huge part of Rodgers system and there is no one better in this group at doing that then Lucas.  When comparing the two midfields in terms of successful tackles again Lucas tops the group. El Ahmadi sits second in interceptions while Henderson and Gerrard have out tackled both Weimann and Westwood substantially . Liverpool also have a strangle hold on aerial duel wins with all three Liverpool midfielders above Villa's.
A midfield that can score goals and create goals goes a long way in football. Again Liverpool see an advantage in both chances created and goal scored. Steven Gerrard has the same amount of chances created as all three of Villa's midfielders combined. Gerrard's goal mark is also equal to that of El Ahmadi's and Weimann's goal sum.
Lucas is the weak link for Liverpool in these categories only creating three chances thus far, but as seen in the defensive categories his focus is deflating chances and not creating. Liverpool supporters will hopefully see more production from Henderson in terms of goals scored as he's yet to find the net this season, but his 12 chances created are good enough for second in this pairing. Gerrard's production in these category lifts the Reds over the club from England's second city.
To quickly summarise after looking at seven different categories, and Liverpool topping all seven it's easy to deduce that Liverpool have the more productive midfield over Aston Villa.
Liverpool's midfield in comparison to Arsenal's
Most of you may have read in Jonny Mullins tactical analysis of Liverpool's recent defeat to the Gunners by now (if not give it a look). Mullin's goes into great detail of how the Red's were outperformed rather than outplayed, but how does Liverpool's midfield compare in terms of stats stacked up against Arsenal?
Again we will compare total passes and average passes per game. Aaron Ramsey tops the group with a total of 733 passes, but Liverpool's midfield makes up the next three slots, though one shouldn't get carried away as injuries have limited both Wilshere's and Flamini's total appearances.
Average passes per game are similar with the only change in order being Lucas over Henderson. The Gunners have the advantage in terms of passing percentage with an average of 88.5% versus 87.7%. With the statistics as tight as they are, it's hard to chose which clubs holds the advantage, but with a higher passing percentage I'm going to give the nod to Arsenal.
The only player who trumps Lucas in total tackles from the four clubs being compared is Aaron Ramsey. Flamini and Wilshere again finish last in this category being no where close to Gerrard and Henderson's numbers. In terms of interceptions again Lucas tops the chart with 24 and Gerrard below him with 13. Ramsey's great season offensively has also translated well into his defensive game as he grabs the third slot with 12 total interceptions. Flamini slightly has the edge on Henderson with two more total tackles than Liverpool's midfielder.
When analysing aerial duels again you see Lucas at the top, Gerrard follows, and Ramsey third. Flamini and Henderson are only separated by one successful duel and Wilshere has been unsuccessful in three duels.  If you average interceptions, tackle wins, and duel wins from both teams, Liverpool's midfield is better defensively according to these stats than Arsenal.
Now on to where Arsenal currently hold their biggest advantage. Offensively the midfield of Arsenal's has an 8-2 advantage in goals scored thus far this season. Ramsey who has started this season in a form most didn't see coming and his six early season goals are the main difference when comparing the two clubs.
Liverpool have Steven Gerrard to thank again for topping the chances created his 25 are 12 better than leading goal score Ramsey. I found it interesting that both Henderson and Wilshere have created 12 chances a piece. With the two players being similar in age they will most likely be compared to one another for the rest of their careers. Wilshere's two goals is the only thing that can currently separate him from Henderson if looking at statistics. Liverpool have the slight edge when you average the three players from their respected clubs at 13-9 but that advantage isn't enough for me to say Liverpool are better offensively than Arsenal, the edge belongs to the Gunners. In a brief summary both of these midfields are flushed with talent, but early on it appears the better midfield belongs to Arsenal.
Next Page: Liverpool's Midfield compared to Cardiff and Chelsea's!
Liverpool's midfield in comparison to Cardiff's
The newly promoted Cardiff City FC are still adjusting to life in the Premier League, but are currently 4 points clear of the dreaded relegation zone. Let's see how the Welsh club's midfield stacks up with Liverpool's.
Gerrard regains his top spot for total passes while Gary Medel sits second at 550, impressively his pass accuracy percentage is also the highest at 91.1%. Unfortunately Cardiff's Peter Whittingham has the lowest passing accuracy of all the midfielders in this group at 76.1%. Gerrard and Lucas again have the highest average of passes per game with Medel breaking up the clean sweep for Liverpool averaging 3 more passes a game than Henderson. Again this one is a no brainer, with more passes attempted,  a higher passing accuracy %, and averaging more passes per game, Liverpool have the edge.
No surprise to see Lucas top all three defensive categories once again. Doing this post has made me realise just how much Lucas influences a match even though he may not be scoring goals or creating chances. Medel and Gunnarrson have better interceptions numbers than both Gerrard and Henderson, probably partly because Cardiff isn't a team that will be dominate in possession and their midfielders are constantly trying to win the ball back. Liverpool again dominate in tackle wins, and have a slight edge in duel wins with Lucas and Henderson leading the way. Numbers don't lie and I can say with confidence Liverpool have the better defensive midfield.
Even though Liverpool's midfield has only managed two goals and both of those belonging to Steven Gerrard, Cardiff's midfield hasn't done much more. Gerrard's 25 chances created are ten better than Whittingham who tops the chart for Cardiff. Even if Cardiff hope to stay up this season they will have to find more production from their midfield. Easy enough to say that Liverpool's midfield gets the edge again. In summary with Liverpool topping every category analysed it's an easy pick to choose Liverpool's midfield trio over Cardiff's.
Liverpool's midfield in comparison to Chelsea's

With the return of Jose Mourinho many picked Chelsea as title contenders, and why not "The Special One" won the league in back to back fashion in his first stint at the head of the London based club. Currently Chelsea are one point better than Liverpool in the league table, let's see how their midfield stacks up against Liverpool's.
Total passing numbers are extremely tight between the two clubs, with every player attempting over 400 passes early on. Yet again though Captain Fantastic is atop of the group while Ramires  has the second highest amount. Those two players also top the average passes per game which shouldn't be surprising. Liverpool's trio does have a higher passing accuracy percentage at 87.7% vs Chelsea's 84.4%. Even though it's close I'm going to have to say Liverpool have the slight advantage in the passing game.
As you've seen Lucas has had little competition in the tackles category. Ramires comes closest to dethroning Lucas from the top of the tackling graphic, but still falls nine tackle wins short of doing so. I found it surprising the Brazilian youngster Oscar has more successful tackles than his teammate Frank Lampard who makes up the bottom of the graph. Liverpool's trio top Chelsea in interceptions, Ramires's 8 is equal to Henderson, but not enough to make a dent in the advantage. I give Chelsea the slight advantage in duel wins with Gerrard seeing the bottom of the graph. Again these clubs are very tight, and Big Phil has a hard choice to make when selecting a defensive midfielder for the Brazilian national team for next years World Cup with Lucas and Ramires going first and second in two defensive categories.
Much like Arsenal, Chelsea see an advantage in goals scored and chances created. Oscar's four goals are the main reason for the advantage. Lampard's lone goal came from a beautiful free kick and should be expected to score more throughout the season. Much-like Lucas, Ramires will not be expected to score goals, but the fellow Brazilian has the same amount of chances created as Chelsea captain Lampard. All of the other categories have been fairly close but Chelsea easily takes this one. But it's not enough for me to say Chelsea's trio is better than Liverpool's. With better passing and dominate defensive numbers, I will say Liverpool have the better midfield even though it could really go either way.
Brief Summary
So in summary, Liverpool's midfield easily trump Aston Villa and Cardiff as most probably expected. While I've given the slight edge to Liverpool over Chelsea, the Arsenal trio have the edge over the trio from Merseyside. This is my first time really looking deep into stats to rank players, I tried to let the graphs do most of the explaining. My opinion is also a factor to consider, I'm sure there are plenty of you reading this that would give Liverpool the nod over Arsenal or even rate Chelsea's midfield higher than Liverpool's, everyone is entitled to their opinion I just chose to try and write mine down.
Arsenal
Liverpool
Chelsea
Aston Villa
Cardiff