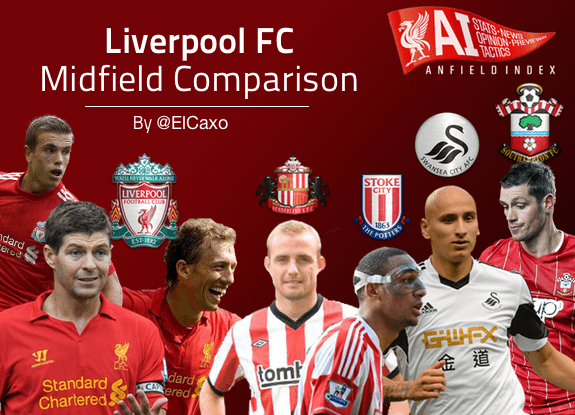 Liverpool FC - Midfield Comparison | Vs Stoke, Swansea, Saints, Sunderland
Following Liverpool's defeat to Arsenal, and with their midfield being the decisive factor between the two sides, the Anfield Index team has put our own midfield under the microscope to see how they compare to our Premier League rivals using statistics from WhoScored.
Editors Note: Please note that this is the author's first attempt at using statistics in their articles.
The entire league has been split up into five groups:
Group 1: Aston Villa, Arsenal, Cardiff City & Chelsea (Article written by Jon Moore)
Group 2: Crystal Palace, Everton, Fulham & Hull City (Article written by Ashley Brewer)
Group 3: Manchester City, Manchester United, Newcastle United & Norwich City (Article written by Zak Forster)
Group 4: Southampton, Stoke, Swansea & Sunderland (This Article)
Group 5: West Ham United, West Bromwich Albion and Tottenham Hotspur

In this article the stats of Group 1 will be compared to Liverpool FC's midfield of Gerrard, Henderson and Lucas.
A comparison between our midfield and that of Southampton, Stoke, Sunderland and Swansea.
Please note these stats were collected before the Fulham game was played.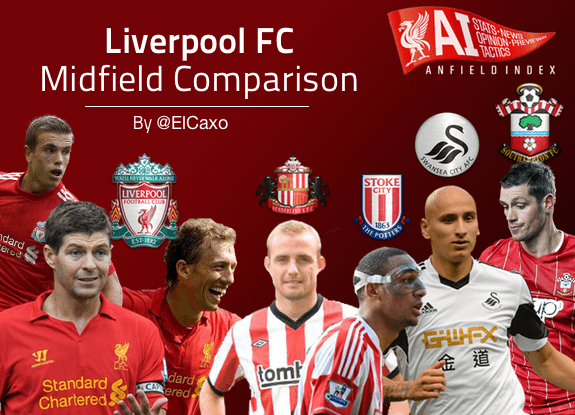 Liverpool vs Southampton
One of only two teams to beat us in the league this year is Southampton and although they frustrated us by pressing high, Morgan Schneiderlin and Victor Wanyama were both key to their victory.
As the defensive minded midfielders in Pochettino's preferred 4-2-3-1, they both have worse but still comparable passing accuracies to Gerrard, Henderson and Lucas. This says more about Gerrard and Henderson though as they both get forward but still maintained respectable percentages. Schneiderlin's tackle stats and Wanyama's aerial duel wins clearly show how they work well as partners to defend on the ground and balls over the top. Gerrard and Lucas play quite differently as a partnership. Instead of sharing the load Gerrard will move forward and create more whereas Lucas is happy to sit back and play the defensive role.
Clearly where the Liverpool three excel is creativity-wise. Even our most defensive midfielder, Lucas, has played more key passes than Wanyama and Schneiderlin combined. The area where all players are lacking is definitely goals scored. This isn't so much of a problem for Liverpool as SAS have been on fire so far this season.
All in all Southampton are a team with some underrated players but are definitely more than the sum of their parts and this is why they're so high up the table. I would say Liverpool have a better all-round midfield in terms of possession and creativity but the Saints' specialised holding midfielders are definitely outplaying Lucas and Gerrard in these positions this season. (Editors Note: Sometimes you have to go against the stats as they don't tell the full story – personally I feel Southampton's midfield is better than Liverpool's.)
Liverpool Vs Stoke
Stoke are languishing one point above the bottom three and Mark Hughes has apparently been charged with bringing them into the 21st century. His first step towards this was to go for a pretty average 4-2-3-1. Steven N'Zonzi and Marc Wilson have played the two holding roles for the majority of the first ten games but I've included Charlie Adam out of some weird sense of nepotism and because, of course, variety is the spice of life!
N'zonzi is the only player that is in and around the amount of passes that our midfield three have played but this is down to the fact that he is Stoke's most active player and that Adam and Wilson have played less games. It's still a reasonably impressive stat that says more about the player than the team. Passing Accuracy is pretty much the same story however Charlie Adam's atrocious 75% cannot be defended with a lack of games. Once more N'Zonzi is in and around our middle three.
Liverpool as a midfield are clearly more of a creative force with a lot more chances created overall; Lucas lets us down a little but as he plays so deep it's forgivable.
I'd have to say that Liverpool have the better midfield throughout. N'zonzi appears to be carrying Stoke more than a little and I think he could be a good fit at a better team with better players around him.
Liverpool vs Sunderland
It's hard to argue against Sunderland being in the bottom three at this point of the season. Altidore hasn't really shown any class so far and Fletcher has only scored 2 in 5 appearances. The manner in which Di Canio was dismissed seemed almost childish but Gus Poyet is a solid appointment and will try to get them playing football again.
Sunderland's midfield has been a mixed bag this season due to poor performances, managerial changes and it'll probably be a fresh combination again after yet another Lee Cattermole red card.
Due to their lower appearances across the board I'm going to more or less ignore the total passes stat. Pass accuracy is probably more revealing anyway and as you can see, Sunderland's midfield are pretty far away from us when it comes to hitting their mark and retaining possession. Apart from Larsson – who has also played out wide a few times this season – their creativity from deep/through the middle is dire. Gerrard has made over 20 times the key passes of both Cattermole and Gardner.
When we played them at the end of September their fighting spirit was admirable but there was no cohesion, leadership or focal point. They threw the kitchen sink at us and we won 3 – 1. Gus Poyet will have get them playing as a team if they want to stay up. Our midfield is better in every area than Sunderland as stats and results show.
Liverpool vs Swansea
Swansea are perhaps a little lower than where they'd expect to be at the start of November. Their Europa League campaign will probably have come as a bit of a shock and Michael Laudrup will do well to adequately rotate this season if they make it through the group stages. The loss at Cardiff will also have been a bitter blow.
When I saw the transfer had gone through I was a little worried that Shelvey would suddenly come into his own and start dictating games left, right and centre. So far I've been able to sleep soundly. He's been, in equal parts, awful and great which has culminated into pretty average stats that show it was probably best he moved on. His main partner in crime, Jose Canas, has the best pass accuracy in this article as well as playing plenty of passes for only 6 appearances. He also has 21 interceptions which I would put down to good positioning more than anything.
Canas appears to be more of a sitter while Shelvey pushes forward. I think this would be a good fit for Liverpool if Gerrard was given a rest in order to facilitate a more aggressive playing style. Our captain's chance creation is fantastic he just can't be expected to do everything anymore.
I would say our midfield is better than Swansea's as we have a wider range of player type available in Henderson, Lucas and Gerrard which leaves us more options.
Conclusion
What it comes down to appears to be if Brendan Rodgers can find the best formation to suit the players we have and then 3-5-2 can be more of a backup in order to mix things up. Gerrard clearly needs a rest. His defensive stats are pretty poor as he doesn't have the energy to track back late in games and at Arsenal he was the weak link.