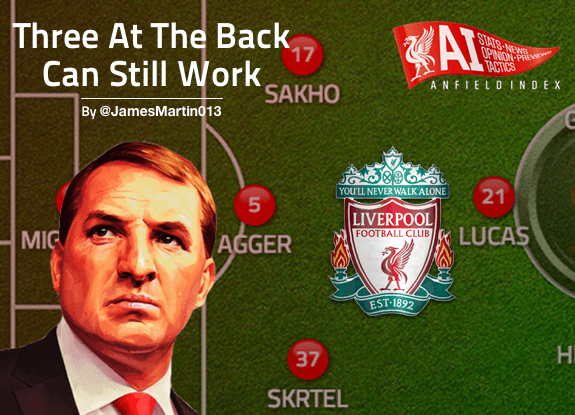 Three At The Back Can Still Work for Liverpool
Against Arsenal last week we attempted to employ the same system we used so successfully against West Brom: 3 central defenders, with two wing-backs. Clearly it didn't go well, and it led to a very poor first half performance from Liverpool. This prompted Rodgers to revert to four at the back for the second half, which brought about a marginally better (though still wholly underwhelming) performance. Thanks to this one poor game, a lot of reactionary fans have started shouting about how we need to switch to 4 at the back immediately; however, I don't think this is necessarily the case.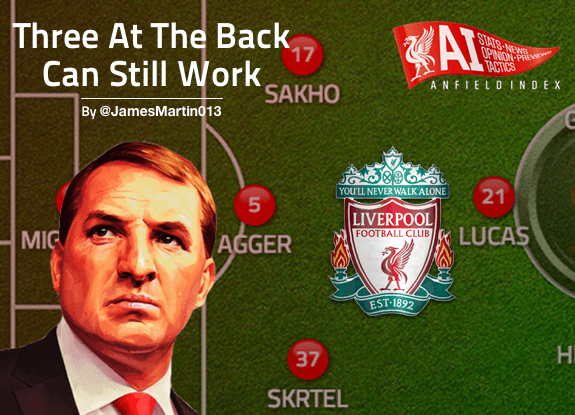 Playing 3 at the back gives the team a much more attacking emphasis. It gives Johnson and Enrique (or Cissokho) a lot more freedom to attack, which leads to more chances being created. Against big teams like Arsenal this also results in scrappy defending, but when against 'smaller' teams (the game against West Brom for instance) it gives us a much greater chance of scoring. Glen Johnson is a naturally attacking player, so by playing him in a more advanced role he is given the freedom to go forward without constantly having to worry about tracking back.
However, though Johnson clearly benefits from it, and the team as a whole are encouraged to get forward more, there is an issue on the left side. Enrique has been getting a barrage of abuse recently from a lot of fans due to his lacklustre performances, but the replacement Rodgers brought in this summer, Aly Cissokho, is so far proving to be a lot worse! Against Arsenal he was positively woeful. Personally, I think that the criticism Enrique has received has been somewhat harsh, and that when played as a wing-back he is able to make a positive contribution to the team. That said, he is still far from ideal, so come January it will be important for Rodgers to strengthen in this area.
As I have already touched upon, though it is good against weaker teams, playing 3 at the back isn't really viable against strong opposition. It would be easy at this point to dwell on the Arsenal game as a case in point, but everyone knows what happened so I'll skip over it! The fact that two of the five midfielders are in wide positions means that our three central midfielders are often over-run, and once that happens the smaller-than-usual number of defenders leads to exceptional vulnerability at the back. Also, the benefits going forward are lessened against classy defences, as the full-backs are able to prevent the wing-backs from getting properly into the game. For the next game against a top four club, Rodgers would probably be well-served setting up with a more conventional formation.
To summarise, against weaker opposition, the system of playing three at the back has the potential to be extremely effective. It allows us to become more attacking, and brings the best out of Johnson and, to some extent, Enrique. That said, when up against tough opponents the formation falls down, and we would be better off starting with four at the back.