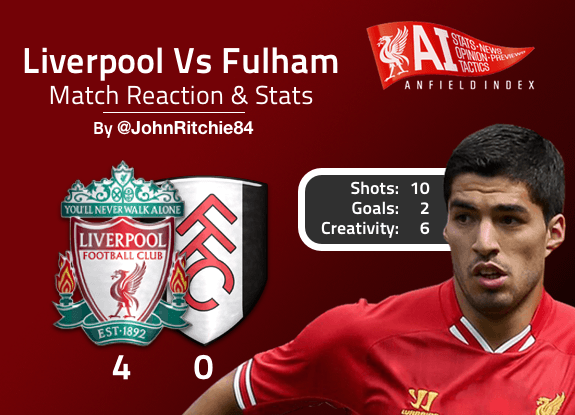 Liverpool 4 Fulham 0 | Match Reaction & Stats
When Brendan Rodgers first arrived at Anfield, he did something that few managers have done before him; he met with the fans and in every interview he tried to explain his vision for Liverpool and hoped it would stick. He did this in order to educate us, to bring us on the journey as we all tried to pick ourselves up from the false dawn of Kenny Dalglish returning as the club manager.
Rodgers used words like transition, pressing, tempo and expressions such as flipped triangles, false nines and our low, mid and high pressing. What on earth half of it meant, most of us were not so sure, but now finally we're beginning to see the fruits of Rodgers' labour.

"When you've got the ball 65-70% of the time, it's a football death for the other team. We're not at that stage yet, but that's what we will get to. It's death by football. You just suck the life out of them."
That's what happened today as Liverpool emerged like a pack of wolves looking to avenge their defeat against Arsenal last Saturday; with only one ninety minute performance so far in the season, many questioned what would happen when a beleaguered Fulham  visited the Reds at Anfield; would we fold or would Rodgers' men put yet another team to the sword?
From the start Liverpool made life difficult for Fulham; Rodgers lined his men up in a transitional 4-4-2 which at times became 4-2-2-2 or 4-1-2-1-2. The tempo was quick, but not reckless and the Red's patiently probed and pressed high from the off.
Overall Liverpool Team Dashboard
Suarez and Philippe Coutinho both had their chances before the breakthrough before Suarez headed a Steven Gerrard free kick, which Fulham's Ferndando Amorebieta helped home into the near post of his own goal.
The red's pushed higher and higher and within three minutes Martin Skrtel headed home a superb Gerrard delivery and then in the thirty fifth minute, Henderson played a magical through-ball to Suarez who dispatched by dragging the keeper wide and slotting home to make it three nil.
The first half was a masterful display as Suarez and Sturridge continued to stretch the Fulham defence and with another vintage Glen Johnston performance the Fulham fullbacks were left on their backsides more than once as they struggled to get a look at the ball.
The second half was more controlled but again Liverpool created a series of chances with Suarez, Sturridge and then Suarez again, who peppered the Fulham keeper. However, Henderson moved the ball to Gerrard and with a run reminiscent of his days alongside Fernando Torres, he burst forward and put the ball through to El Pistolero who netted home his second of the day.
Whilst the headlines will no doubt go to Suarez, the game was controlled by an impressive Jordan Henderson and the Brazilian maestro Philippe Coutinho who both created chances; Coutinho having nine shots on goal and one being stopped by what was a world class save.
Steven Gerrard gave everything he had for the best part of sixty minutes, only to be replaced by Joe Allen who showed his usual subtle class with Enrique impressing on his return from injury. It may have been a different story if Liverpool had struggled, but Brendan Rodgers take note: when Steven Gerrard gives his all he's magnificent, and if that's for sixty minutes then so be it. Joe Allen created the majority of his passes in the attacking third and he controlled and probed whilst also stamping out two potential Fulham attacks in his brief spell back for the Reds.
Attacking third passes:
Whilst the Reds were magnificent, Fulham were abysmal and one could be forgiven for thinking that Martin Jol and his centre-backs may well need counselling after their trip to Anfield. The only saving grace was that whilst Liverpool were plentiful in shots on goal (32) however with only a handful on target.
The only players to disappoint for the Reds were Aly Cissokho and Victor Moses; Cissokho looked nervous at times and whilst he was solid when called upon, he seemed to hold back; Moses never really got involved and was ineffective despite the efforts by the team to get the team into attack. It was refreshing to see the captain giving his all and the midfield continuing to function with Joe Allen continuing to impress; take note Brendan Rodgers, you now have a capable bench, it would be great to use it more often.
The win now puts the Reds into second in the Premier League and high on confidence before the Merseyside Derby. Whilst Liverpool can say so far they've been able to deal with most of their demons they still have a long way to go, but today was magnificent, the question is can they maintain this level until the opportunity to do so in January? One thing for sure is that the confidence and expectation is rising, let's hope we continue to surprise in the Premier League this season. Are we now going to see more death by football? Here's hoping…
Man of the Match: Steven Gerrard
Match Stats: