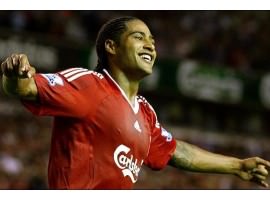 Liverpool's full back conundrum
It's been all change at left back for several seasons now. Emiliano Insua, Fabio Aurelio and Paul Konchesky have all tried to fill the slot over the last two seasons, with fairly mixed results. Aurelio is a very good consistent performer, but cannot seem to stay fit. Paul Konchesky was seen by Roy Hodgson as the solution, having established a decent reputation as a premier league full back during his time at Fulham, but he signally failed to convince at Anfield. Which leaves Insua, who despite struggling in his first full season had shown – I thought – more than enough potential to merit better than being unceremoniously shipped out on loan this season. Full back is a difficult position for youngsters to get right – you need to have good position and decision making skills (you need to know when to press the winger tight and when to drop back, when to cover your centre back etc) and you also need to combine attacking and defensive roles. Given Insua's age and experience, I thought there was a lot more to come from him. But alas, it wasn't meant to be, this season at least.
The lack of a convincing option for the position has seen left back identified by most as a key priority for strengthening in the summer. We have already been linked with a plethora of names, at home and abroad. But have we already found a solution, from a very unlikely source? Namely, Glen Johnson, England's first choice right back.
A bit of background first. When he joined Liverpool, Glen Johnson was believed by many to be just what we needed. An attacking fullback is often a pre-requisite for sides committed to dominating opponents – see Evra at Manchester United, Cole at Chelsea, Alves at Barcelona for just a few examples. When faced with a park the bus tactic, an attacking fullback can make all the difference, given they can run from deeper, be harder to anticipate and track, and get into a lot of passing and crossing situations. So if they can contribute going forward, you should be much more threatening, fluid and dynamic than you would be with two stay at home fullbacks. In the wake of a season where our title challenge was undermined by a series of home draws, Johnson was seen as providing the valuable extra attacking flair that could help turn some of those draws into wins.

And initially, it seemed as if things would work out in exactly this fashion. A series of exciting attacking performances was ended too quickly by injury. Upon his return he struggled to capture that early momentum, a lack of form which carried over to this season. Roy Hodgson was moved to single him out for criticism, but regardless still picked him for most games.
Things all changed when Kenny Dalglish came back. For the game against Blackpool, Johnson surprisingly lined up as left back, with youngster Martin Kelly taking his right back slot. Now personally, I think Johnson has looked assured and comfortable at left back right from that first game. A look at the stats however shows that maybe my eyes have been playing tricks, with Johnson performing similar on both sides on most metrics. For example, he has played more passes at right back than at left back (an average of 61 per game opposed to 45 at left back) and completed slightly more (74 per cent against 73 per cent). But the frequency and success rate of tackles is better at left back (tackle completion of 60 per cent at right back vs 69 per cent at left back). So, swings and roundabouts you might say.
But on Johnson's future prospects at left back, I think two things might stand him in good stead. First, I don't have any statistics to back this up, but to my eyes he seems to position himself closer to his centre back when playing on the left, which leaves less space for opposition wingers to exploit. Second, and probably more importantly for the future, one of his favoured attacking moves is to cut inside and shoot and cross. He does this often on the right side, but when playing on the right he has the advantage of coming onto his stronger foot. As one of the best attacking full backs of our era has been the right footed Phillip Lahm, who is equally assured on either side, I see no reason why Johnson cannot make the position his own.
But what of right back? Martin Kelly has slotted in at right back like he has been playing there for years. In terms of tackles won, he wins a slightly higher percentage than Glen Johnson did at right back (59 per cent versus 60 per cent) and he is performing better on clearances (70 per cent successful versus 64 per cent). Attacking wise, his pass completion rate is lower than Glen Johnson, but Kelly has regardless added the odd stampeding run down the right which bodes well for his attacking prowess. If Kelly can stay fit (which given injuries on debut against Lyon and against Sparta and West Ham), then his combination of assured defending and the odd rampaging run and cross could cement the right back slot as his own. After all, I don't know if Kelly will continue his excellent progress to date, but he has been thrown in the deep end on a couple of occasions, starting with a debut against Lyon in the Champions league and always looked completely at home.
Long may it continue.