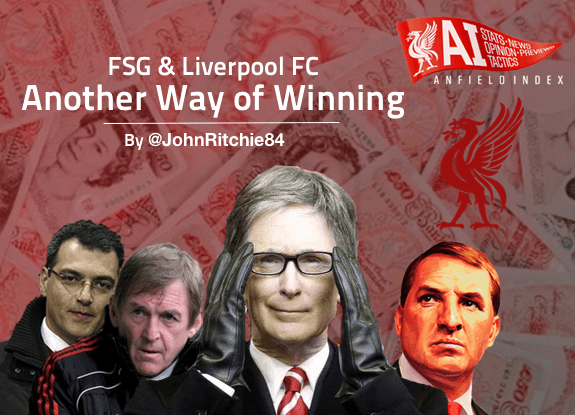 Another Way of Winning | FSG & Liverpool FC
'The measure of intelligence is the ability to change'
Those words by Albert Einstein are oft quoted to soften the blow of being proved wrong or having to change your mind; nobody likes the thought of either, but at times it's necessary. Adapting, changing your views and broadening your horizons are courageous actions as one steps out of their comfort zone, you try and adapt and grow whilst reaching for the horizon.
Since FSG arrived on Merseyside, many fans have greeted our American owners with suspicion; considering the pain that Hicks and Gillett inflicted on Liverpool Football club, it's no wonder a lot of us are wary of our American friends in Boston. The smart suits, the big sunglasses and the arm length gloves are all still the same, but there's something different about FSG, they're winners.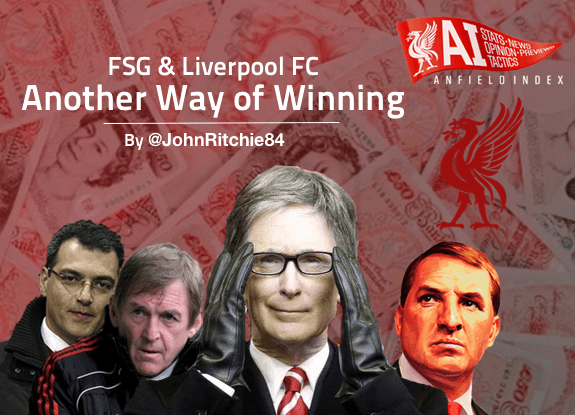 Yes, John W Henry and his entourage of Linda Puzziti and Tom Werner certainly have a knack of getting to the top, they've just clinched their third World Series in ten years; the breath-taking rebound from finishing last place the season before, they finally won their title at Fenway park which sparked scenes of joy in Boston, widespread praise from the US and world media, and the usual twitter divide of opinion from Liverpool fans.
Yes, Liverpool fans love a good rant; some praised FSG and felt this showed signs that our beloved club is in good hands, others felt it was wrong to suggest that because you win in one sport, then you'll win in another. Both balanced points, both needing caveats, but more importantly both important views that need to be aired.
When Henry first arrived in Liverpool he said:
It's too early to say what we are going to do but we are here to win. We have a history of winning. We'll do whatever it takes.
But is it possible to transfer knowledge of success in one sport to the next? Well first of all you need to look at major business for clues.
If you take the case of a typical private equity business, i.e. a business which invests it's shareholders money in great companies, but that have fallen foul of failing to evolve and subsequently finding themselves under performing against their industry peers. In other cases private equity invest in new companies with potential that just need that major injection of cash to grow.
Hertz, previously owned by Ford was a company known for innovation, always trying to offer it's customers more than the average Car Rental experience, started to fall behind and profits, whilst not flat-lining, started to shrink amid ever rising costs and a volatile market for its parent company Ford. Ford decided to cash out and sold them for $14bn to three private equity firms.
These firms basically evaluate the company and try to bring it in line with modern practices; yes some do strip them down and sell various component parts off, however most look to improve and then look to succeed. Three years later, the firms had floated Hertz on the stock market for $17.1bn dollars and a year later the firms cashed in their remaining shares for an additional £1.4bn dollars after their shares had increased by 61% due to strong performance and investors seeing a return to the old ways of innovation, differentiation and success.
Computerlinks is another success story, bought for £89m and five years on floating it at a total value of £192m; in that time they'd doubled revenue, posted attractive EBITDA returns, employing an additional one hundred and fifty new staff and it opened ten new offices around the world. They'd turned the business around and made it an industry leading company that was open for business and able to deliver.
There are many examples of success in private equity and In both of the examples I've listed, success was achieved through smart management, great business leadership and no doubt many long hours in the office trying to turn around the fortunes of these once struggling companies. For every success story, there are failures; however if you look at companies with good track records, then you'll see how their success rate starts to become a constant and that success becomes a habit.
Great business also start to share best practice; they make the best out of the knowledge of the industry they get involved in and they bring in new expertise in order to give them an edge. Even Sir Alex Ferguson realised he had to take a step back from the coaching at times in order to see the bigger picture, if you stay insular, you get tunnel vision and you can't deal with what's happening around you. That's the last piece of praise I'll give old whiskey nose, love him or hate him, what he did was remarkable.
Indeed acting in an insular manner is something fans of Liverpool know only two well, after dominating European and English football over two decades, they failed to react to what the Premier League would mean. They failed to expand their stadium, outspent their direct rivals and never delivered domestic league success since; twenty-three years on from our last league trophy, we still have a stadium badly needing renovation/expansion, and in the process flirted with administration.
It would be wrong to suggest FSG came along like a knight in shining armour, but they did come in order to deliver something they saw was possible because they'd done it in baseball. The Red Sox hadn't won a World Series since 1918. They had become the forgotten man in baseball but the romance of the club and the appeal of Fenway Park drew FSG in to try to win a different way. Do you see any parallels with Liverpool here? You should.
We all know the story, FSG came in, sacked Hodgson, appointed Kenny and Commolli and it all went pear-shaped despite a promising start; Henry admitted at the time that he was 'talking a calculated gamble' when they invested over £100m in new players, the only trouble was only two players have proved to be good enough for what Liverpool need, and we had an ageing squad on massive sums of money, whilst not delivering the goods.
So plan A didn't work, time to switch to plan B; here Henry proved that he's a great leader, he adapted and changed and went back to methods he's used elsewhere. You see momentarily, Henry put his principles to one side and went for the major jackpot which at the time was an eye watering additional £30m worth of revenue for getting into the Champions League. This was the stock trader in him, and it turned out to be the right bet, just badly executed.
Ever since the famous open letter Henry and co have been clearer in what they want to do at Liverpool; under-performing high cost players will be moved on, talent will be developed in-house through the academy and transfers will handled by a carefully selected panel which tries to identify the best players available to help Liverpool reach it's goals, not to shore up mediocre league finishes. There's been no success yet, but things have improved.
Liverpool are averaging over 2 points per game right now, we currently sit second in the Premier League and have the countries media falling over themselves to praise the attacking, dominant football that is starting to tear up defences up and down the country. We've not achieved anything yet, however on the other side of the coin we've not seen form this good for years.
Ah, but we've been here before haven't we?  False dawns and walking into sinking sand thinking it was our path to glory; we all remember Henry's tweets regarding two famous Anfield flops in Acquilani and David Ngog:
'Put the ball anywhere near Ngog and it's going in'
Yeah right John, maybe into the roof of the Kop or hitting a steward's backside, anything but the goal for our good friend David. That's no disrespect to Ngog or indeed John W Henry, it's just a fact that Ngog was poor for Liverpool, and the writing was always on the wall from day one. Most fans knew it, our owners didn't.
Recently Henry's been back tweeting again
Daniel & Luis – most dangerous tandem in football. Could dominate PL playing as brothers. Extraordinary fun to watch with Philippe & Co.
Now there's a tweet we all agree with John, but football's not just about goals, although I'm sure after three years in the game he's come to appreciate that by now.
Henry's tweets give us a clue to his learning curve; he's learning that football's a weird game. You need luck but you also need to be shrewd. Financially FSG are slowly turning Liverpool around, our debt was once £190k per day, that's the UK average house price; we're reducing the wage bill, offering performance based contracts and shifting out the deadwood that had become KOP hero's yet who let us down in recent years. This caused outrage recently with the departure of Pepe Reina, however any good club knows when to let their former hero's go. Remember Ian St. John, Rodger Hunt, Aldridge, Hughes, Clemence and more; all great of Liverpool, all moved on in order to keep the steady flow of progress and evolution needed in order to win titles.
Commercial revenues are starting to soar once more, whilst we all hope we don't get the president of Standard Charted pressing the button to play You'll Never Walk Alone before the game, we do want investment and since FSG have arrived it's started to arrive thick and fast.
If by Christmas, and we find ourselves in our current form, we'll be able to see clearer whether the kind of success seen in Baseball can be repeated in Football. A good January transfer window and who knows what can happen in what is proving to be a crazy year in the Barclays Premier League. It's wide open at the moment, with both Southampton and Liverpool the real surprise packages so far.
In regards to Football, it is no doubt a different game to Baseball. Whilst it's a sport there's also a lot of luck, decisions, moments of genius and madness that frankly predictive models sometimes cannot account for. We all hope Luis Suarez doesn't sink his teeth into Ivanovic – or anyone else for that matter, we all hope Sturridge continues to prove the doubters wrong, we all hope that our youngsters progress and we hope Rodgers doesn't let us down.
But what we do know is there is a strategy and so far this season it's paying off, we're trying to find a different way of winning and so far it looks to be a good one, but it's all because Henry and co learning that Football is different, but not alien to his involvement Baseball where the challenge was similar.
Henry and co are showing that they have the ability to change, they're showing the core competencies of any great leadership, they're using the experts, but bringing in external minds in order to expand our own thinking; but what's important is that they're facilitating not necessarily dictating how things are done. That's the beauty of someone of the ilk of John W Henry, he knows he's not the expert, but he needs to seek out the right people in order to help the club succeed.
No, we're not the finished article; as much as I admire the smiling face and enquiring mind of Linda Puzziti coupled with the cheeky humour of our principle owner, I'd love to see someone actually in charge on Merseyside. I've written about these issues before, but if recent Henry involvement in the club suggests anything it's that Ian Ayre isn't John Henry, and that's an issue. We need FSG on Merseyside, whatever the delay for a permanent representative is, it's something that needs to be sorted sooner, rather than later.
It may yet take more time to deliver the Premier League trophy to Anfield, but progress to the Champion's League next year, and then anything becomes possible. Put in a real challenge this year and suddenly the game has changed again. We'll wait and see if it's another way of winning, but according to Einstein's logic, Henry's showing that he's smart enough to do it.