The question of who has been Liverpool's most influential player so far this season would be a tough one to answer with many players stepping up to the mark and keeping us in the top four. The most influential player doesn't necessarily have to be the one who scores the most goals or who has the most assists, but who contributes 100% to the team and gives them a kick when times are down and here is my analysis of who, in my opinion, that player is.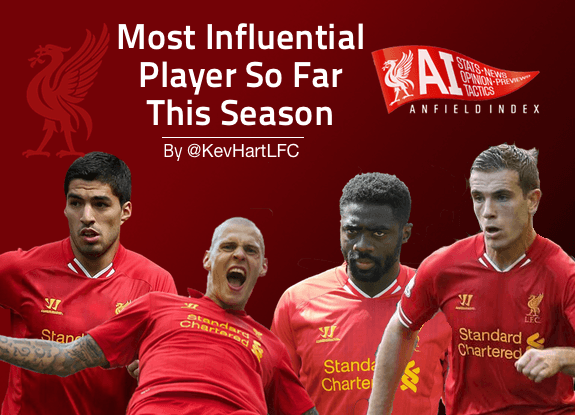 I have a list of players who I believe are deserving of the title; first of all, there is Jordan Henderson, who has shown a massive improvement after a poor start to his Anfield career. Jordan has contributed a lot to our season so far, giving us creative runs not only down the middle but on the right flank. The midfielder has started using his strength as an advantage on opponents and bullying them off the ball as well as making inch-perfect passes in all areas of the pitch. Henderson is finally showing the leadership qualities expected of him when signed during the second era of Kenny Dalglish.

Another individual I think has been one of our most influential players so far is Luis Suarez and I'm sure you'll all agree. The reason I chose Suarez as an influential player is quite obvious to us all, since returning to the squad after missing the first 5 Premier League games Suarez has been a crucial lift to the squad. He's helped us pick up 13 points out of a possible 18 and stay second in the league, working his magic on the entire squad. Suarez has the ability to turn a game on its head and create a chance out of nothing, which is exactly what he's done since returning to the squad following his five game (this season) ban by scoring an impressive 8 goals in 7 league games.
One player who has had an immense impact on the Liverpool squad since signing on a free in the summer is veteran Kolo Toure. Since the loss of local legend Jamie Carragher, Liverpool needed a strong, experienced defender and Liverpool got exactly that in Kolo Toure. Toure has proved to be one of, if not the best signing of the summer by showing his heart of a lion, fighting spirit and determination to help the squad. Kolo had an immediate impact on the squad and showed it during his first few games for the club in pre-season and carried on his magnificent form into the season. If a player or the team is not playing up to standard, Toure will let them know about it and give them an earful, this is why he is the perfect replacement and why he has influenced our season greatly.
Here it is, who in my opinion has had the biggest influence on our season so far. I believe the most influencial player so far is Martin Skrtel, some may see it as a controversial choice as players like Gerrard, Sturridge, Coutinho spring to mind when talking about influence but I have looked no further than the big Slovak himself. Ever since being rushed back from injury for the Manchester United game Martin Skrtel has proven to us and Brendan Rodgers why he deserves another chance in the Liverpool defence since being dropped by the manager after a poor performance against Oldham in last seasons Capital One Cup defeat in the campaign.
Martin has saved Liverpool time and time again putting his body on the line since his return, for example multiple times during the draw against Newcastle he made dangerous and vital tackles that even the bravest of defenders wouldn't make, and once again against Arsenal he made his presence known controlling the pace of the game from the back and making many tackles that stopped Arsenal making a breakthrough and possibly scoring more.
However, the league game against Fulham marked the return of his once so famous pairing with Daniel Agger, which won defensive partnership of the season in 2011/12 and the two certainly had a great understanding in the game. Martin helped mark and restrict Dimitar Berbatov from having opportunities on goal and had a big hand in the clean sheet. Martin has given his all for the club since being called back, and with all speculation of a future move to either Zenit St. Petersburg or Napoli on the line being dropped as of late, it seems Skrtel can be vital in our fight for top 4. Although Kolo Toure, Jordan Henderson and Luis Suarez were all strong candidates, in my mind only Martin Skrtel can be given the title of the most influential player for Liverpool so far this season.