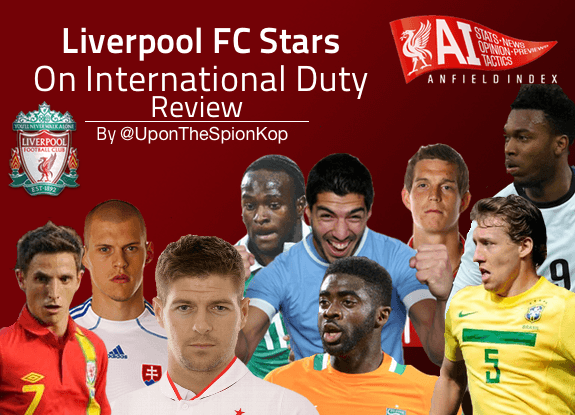 Liverpool Stars On International Duty | Round-Up
Seventeen Liverpool players were selected for international football this week, with fifteen of them involved in the action, one gaining valuable international experience and one teenager on the Wales standby list. The men from Anfield have been spread over five continents this week with five of them involved in competitive action.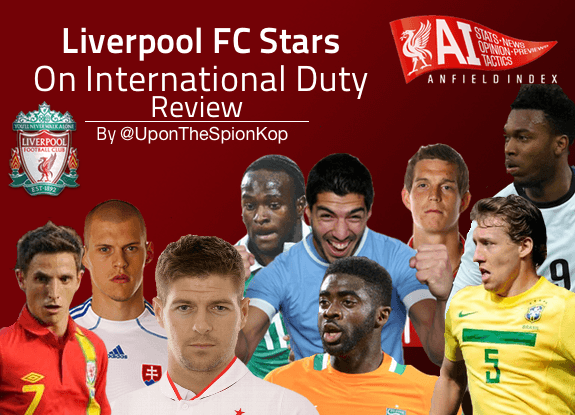 We'll start with England shall we? The most exciting of international teams. Liverpool were not as strongly represented for England as they might like to have been with captain Steven Gerrard and top goalscorer Daniel Sturridge both sidelined with knocks; however, both will be fit for the Germany game in midweek, much to the annoyance of several Liverpool supporters as the news came through of Gerrard's painkilling injections being his only way of actually making the game. There were still two Liverpool players in the England squad, with Glen Johnson starting and finishing the game and Jordan Henderson appearing after 70 minutes when Frank Lampard had run his race. The former had a much quieter game than usual as he feels his way back into form after overcoming a month long injury in recent weeks. With Chile starving England of possession it was obvious that Johnson was suffering more than most as he was starved of the ball and unable to go on any of those long mazy runs into the opposition penalty area. Johnson may have been slightly culpable for the first Chilean goal as the cross came from his side of the pitch and could have been closed down a lot quicker than it was.

Henderson appeared to enjoy his 20 minute cameo and the midfielder displayed some good touches and passing – as well as his standard hard work and determination to try and get into the box on every occasion. His cameo certainly earned him a little more time for the game against Germany this coming week.
Liverpool's third talisman was involved in more serious action in Jordan, as Suárez looked to book his place at the World Cup Finals in the first leg of the World Cup Qualifying Play-Off. The Uruguayan's dispatched Jordan easily enough with a convincing 5-0 rout despite being under considerable pressure. The diminutive South American looked lively throughout and, as per usual, displayed some fine dribbling skills to bamboozle the Jordanian defence. He did however, look to con the referee with a dive midway through the first half which was spotted by the official and his protests were waved away emphatically – although a booking was not forthcoming. In all, it was quite a quiet night for Suárez in terms of actual goal-getting and creation but his overall performance was solid and bodes well for Uruguay's second leg and Liverpool's upcoming Merseyside derby.
Staying with the competitive edge, Nigeria booked their flights to the World Cup Finals as Victor Moses slotted home a calm penalty midway through the first half to give the Nigerian's a 3-1 aggregate lead in this Play-Off second leg. The first leg in October was something of a shock, in that Nigeria could only build up a 2-1 advantage over Ethiopia but Moses' truly calm penalty settled any nerves. The Liverpool winger, waiting for the keeper to go to ground before sweeping his penalty low to the goalie's left; Moses was booked for his efforts when he lifted his top off to celebrate. With the tie pretty much a formality, Moses tended to stay anonymous but popped up now and again to test the Ethiopian goalkeeper from range – whilst he also appeared on either side of the attack, which seemed to highlight his importance to Nigeria's team as he was clearly playing in a "free" role.
Liverpool's other resident African was also in competitive World Cup Qualifying action as Ivory Coast booked their passage to Brazil with a 1-1 draw with Senegal (the aggregate score was 4-2 to Ivory Coast). Kolo Touré started and finished the game as the Ivorians looked to defend what was already a useful first leg lead. Touré's cool head helping to keep Papiss Cissé under lock and key for most of the game, although the Senegalese did have chances throughout the game but lacked the killer instincts. I'm sure we are all looking forward to the Toure song being chanted in Brazil.
The only negative of the World Cup Qualifiers came from Sakho and his French team's inability to carve out any kind of positive result in Ukraine – perhaps underlining that Hodgson was right to go defensive when England travelled there a few months ago. France went down 2-0 thanks to a close range finish from Zozulya and a Yarmolenko penalty. Although, none of this can be attributed to Sakho as he didn't even get off the bench. However, Sakho could be next in line to start for France in the second leg of this tie as Koscielny was sent off in stoppage time – leaving a centre-back berth open for the towering Frenchman. We wish Sakho well in the second leg.
The friendlies took more of a backseat role than usual but Liverpool's internationals fared well. Liverpool's vice-captain captained Denmark to a decent 2-1 victory over Norway. The centre-back played the whole 90 minutes as the Danes stole the bragging rights in the 90th minute – although they will be thankful for some awry Norway shooting. Anything Agger can do Škrtel can do better, the Slovakian captain lead his national side to a 2-0 victory over England's qualifying opponents Poland in a surprise result which will boost Slovak morale after missing out on the World Cup Finals. The clean sheet will be of particular value to Škrtel after Slovakia shipped ten goals in a weak Group G.
The interesting debate on whether Joe Allen should be given a chance in Liverpool's starting XI took another turn on Saturday night as the Welsh midfielder turned in a Man of the Match display as Wales thrashed out a 1-1 draw with Finland in front of the Sky Sports cameras. The display will please Rodgers as Allen looked to complete the task that the Liverpool manager would ask of him should he be in the starting XI. Allen anticipated well and often controlled the tempo well – he even put himself about in a very physical manner which bodes well for his career in general, as that was a serious gap in his game which he seems to be working on – apparently completing a weight gaining routine to add muscle. His pressing was excellent and this was emphasised as Allen tackled on the halfway line to set up a devastating Welsh counter attack, which resulted in King heading home – exactly the kind of thing Rodgers would look for in a mobile midfielder: win the ball as high up the pitch as possible and attack quickly. Infuriating for all who were watching – including myself, an England supporter through and through – Wales conceded late on just after Joe Allen was substituted. The Finland equaliser originated from Allen's area of the pitch and one does wonder if the goal would have been scored had Allen been on the pitch. Interestingly, Liverpool youth goalkeeper Danny Ward was called up to the Wales squad as a back-up to Wayne Hennessey. The experience will put Ward in good stead and the call-up emphasises Ward's growing stature and potential. Another Liverpool youngster, teenager Harry Wilson, was placed on the Welsh standby list – aged 16.
In the other two relevant friendlies, Brazil beat Honduras 5-0 as Scolari's side continue to warm-up for their home World Cup. Lucas started as a sub but will be happy to have played the final 20 minutes as he came off the bench for PSG's Maxwell. However, Simon Mignolet's Belgium fared worst as they were put to the sword by an in-form Colombian side containing the class of Falcao. Mignolet played the full 90 minutes but wasn't at fault for either goal. The goalkeeper came close to stopping the first as Falcao attempted to round the Reds' keeper but a strong hand was only enough to divert the forward slightly wider and the Colombian slotted home into an empty net.
In other news, Raheem Sterling and Jordan Ibe were called up to the England U21 and England U19 sides respectively. The U21s trumphed 3-0 against Finland's U21s in their European U21 Championship Qualifier in Group 1. Sterling played the majority of the game but was subbed off for former Liverpool winger Thomas Ince after what appeared to be a rather frustrating game as the youngster tried to impose himself. Observations were made about players such as Ince and Berahino looking sharper than Sterling due to their involvement in first team football. However, Jordan Ibe fared much stronger. The U19s beat Hungary 4-1 in their friendly and Ibe was impressive throughout his 63 minute appearance.
Overall, a pretty positive week for Liverpool's international players. Touré and Moses booked their places in Brazil with Suárez sure to follow in midweek. Only Sakho will be disappointed from the week's competitive games. In total, there were seven wins for Liverpool players, two draws and three defeats – although those three defeats represented six Anfield regulars.
You can follow me on Twitter for up to date news on the midweek internationals: @UponTheSpionKop