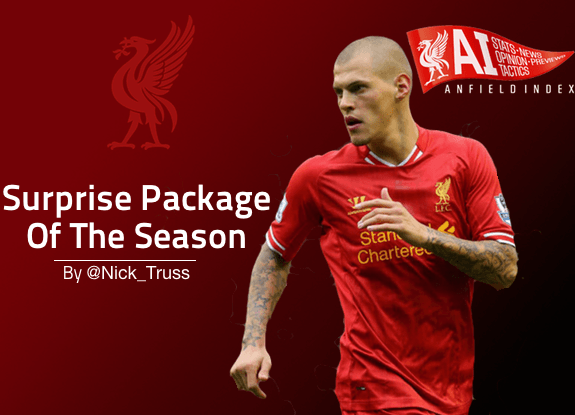 Liverpool's surprise package of the season so far
In the midst of the latest in a seemingly never ending series of International breaks, the Anfield Index staff got together and decided to take a look at Liverpool's season so far. The highs, the lows, the surprise packages and the disappointments. In this article I have chosen to highlight the form of a player who has surprised me this season and I'm quietly confident he will have surprised you too.
This player was widely expected to leave Liverpool in the summer after enduring a torrid 12/13 season but, following a string of solid performances, he has managed to force his way back into the Liverpool starting 11. This player is Martin Skrtel.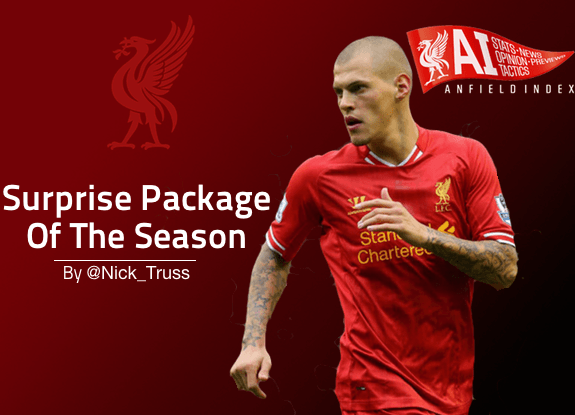 The 2011/2012 season saw the Slovakian International stake a claim to be considered one of the best in the world in his position, forming a formidable partnership with Daniel Agger at the heart of Liverpool's back line. Skrtel finished the 11/12 season by winning Liverpool's Player of the Season award and both he and Agger were on the radar of several clubs during the summer of 2012, including Manchester City.
The 2012/2013 season was a completely different story. Skrtel only started two games following a terrible performance in a defeat to Oldham in January, which saw 2012 FA cup finalists crash out of the 2013 competition in the 4th round. Skrtel had a torrid time trying to cope with Oldham's 6ft 6 inch forward Matt Smith.
Smith highlighted a key weakness in Liverpool's defence and many fans were shocked by how easily a League One centre-forward dominated a defender who, on his day, is as good as any in England. The two games Skrtel started after this defeat, were the 3-1 loss away to Southampton and the 1-0 home victory over QPR on the final day.
Skrtel's demise came as a great shock to all. What had happened to Liverpool's star defender? Did the bid from then champions City unsettle him? Was it the curse of the Player of the Season award (Lucas suffered a year of terrible injuries after winning the award in 2011) or was he just struggling to adapt to the new manager and his tactics? The latter was the reason on many lips during his bad spell.
Many fans also started to wonder whether keeping hold of Skrtel was the wrong decision. Would the reported £20 million offered by Manchester City have been better for the club at that period in time? And would the club be able to demand a reasonable transfer fee for Skrtel in the summer of 2013? Skrtel was constantly linked with a move away from Anfield during the summer with former club Zenit and the man who brought him to Liverpool, Rafael Benitez, now manager of Napoli, said to be interested in obtaining his services.
September 1st provided Skrtel with a fantastic opportunity. Manchester United travelled to Anfield for one of the biggest games in the football calendar. Kolo Toure had suffered an injury in the Capital One Cup game against Notts County midweek, which in turn thrust Skrtel back into the team. The Slovak grasped the opportunity with both hands winning 100 % of the ground 50/50's and 100% of the aerial 50/50's he contested. Skrtel also managed a defensive third pass completion rate of 97% and a total pass completion rate of 82%.
The deadline day signings of Mamadou Sakho and Tiago Ilori cast further doubt upon Skrtel's future, with many people assuming that he would be Liverpool's 4th choice centre back behind Agger, Sakho and Toure. The transfer window slammed shut at 11pm on the September 2nd and Skrtel remained a Liverpool player, seemingly destined to warm the bench unless an injury crisis hit Liverpool's back 4.
But Brendan Rodgers kept faith in Skrtel after his performance against United and has handed him a starting place in every game since. Liverpool utilized a 3-5-2 formation in many of these games, and Skrtel appears to have thrived in this formation. The return of Philippe Coutinho threatened a change to the formation, a threat which came to fruition in the 4-0 victory over Fulham when Brendan Rodgers chose to field a 4-2-2-2 formation. However, Martin Skrtel kept his place in the side ahead of fan favourite Toure and £18 million summer signing Sakho and although Fulham did not pose any real threat to the Liverpool goal, there were signs that Skrtel and Agger could remain in that centre-back partnership and potentially regain the form that made them one of the league's best pairings under Dalglish.
As the table above shows, Martin Skrtel has come a long way towards regaining his form from the 2011/2012 season. Although the sample size for the 13/14 season is still relatively small, he has thus far improved in four of the statistical areas (defensive and passing) from the previous  two seasons and matched his previous numbers in one other.
His passing accuracy this season is 91.32%, this suggests that Skrtel has become more comfortable with the ball at this feet, something which many fans had pinned his drop in form on. He has also won more of his ground 50/50's than in the previous 2 seasons with 65%. Skrtel's aerial 50/50's won is the worst it has been over 3 seasons but aerial dominance is still seen as a key problem for Brendan Rodgers' side. Skrtel is winning possession back every 15 minutes for Liverpool this season, down 4 minutes from every 19 minutes in 12/13 and down 3 minutes from 18 in 11/12; Skrtel has also reduced his minutes per tackle down to the same level it was in 2011/2012, making a tackle every 53 minutes. Some people put his poor form down to a lack of confidence but this stat suggests that he has regained his confidence and is more willing to throw himself into a challenge rather than backing off, providing the attacking player with a chance to shoot.
So is Martin Skrtel Liverpool's most improved player this season? Has he been the clubs surprise package?
Personally I don't think Martin Skrtel has improved as player overall. Yes, he has improved his form from last season but he has only returned to the form that saw him win that Player of the Season award in 11/12.  I do, however, feel that Skrtel has surprised many people this year. If you asked Liverpool fans in August who their central defensive partnership would be this season, it's unlikely that many fans would have included Skrtel in their selections; most would have assumed he would be joining up with Benitez at Napoli or heading back to Zenit.
Therefore, in my view, Liverpool's surprise package of the season so far has to be the return to form of Martin Skrtel.