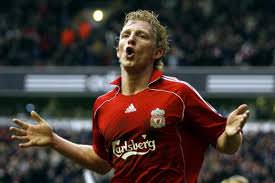 Hodgson Era: Dirk Kuyt
A statistical analysis of Kuyt's contribution to the Liverpool team in the first half of the 2010/11 Premier League season.
Dirk Kuyt played 16 games for Liverpool in the worst start to a season in living memory. This article will look in detail at how he performed during those 16 games in relation to the rest of the team. Did he prevent the team from slipping further down the table, or was he a primary contributor to the downfall?
Kuyt's primary role is to get into positions to either create chances or score goals. Across the 16 games, Kuyt has had a total of 11 shots. During the same period, Liverpool have had  a total of 163 shots, meaning that Kuyt has had just 6.7% of the team's total shots in the first half of the season.

Looking at this in isolation, Kuyt's attacking contribution can be seriously questioned. A closer analysis of his performance is needed to uncover his true value to the team.
Of Kuyt's 11 shots, 7 were on target. This shows that when he gets into position he is very accurate in front of goal. An on-target percentage of 64% is significantly higher than the total Liverpool team average of 42%. A typical example of Kuyt's accuracy came in the game against Blackpool, where 3 out of his 4 shots were on target whilst his other effort was blocked:
Kuyt has scored 3 goals from his 7 shots on target, a conversion rate of 42%. When you factor in his 2 assists during this period, he has been directly responsible for 5 of our 19 goals (26%).
More importantly, these goals and assists have made a key contribution to Liverpool's points total. We stuttered to a total of 18 points from these 16 games (5 wins and 3 draws), and Kuyt's contribution helped towards 10 of these points, 56% of the team's total. This shows that whilst Kuyt is not prolific in terms of the quantity of chances created, he is absolutely deadly when it comes to the quality of his delivery in the penalty area.
Against the very top teams, chances can be few and far between. Having an attacking player who converts so many chances in high pressure situations can make or break an entire season.
Whilst he is not prolific in attempting shots, Kuyt is not shy when it comes to attempting tackles. Looking at a game by game analysis of Kuyt's tackling, a strong argument can be made that he is a big-game player. In the games against Chelsea and Arsenal he was responsible for 20% of the team's total tackles and had a tackle success rate in excess of 40%. When you look at the points taken from these games, 4 out of 6 proves once more that he is a key contributor when it really matters.
Against Arsenal, Kuyt consistently made successful tackles high up the pitch, putting the defence under a significant amount of pressure:
As well as winning tackles in key areas, his pass success rate from these areas was also exceptional:
The blue lines show successful passes, and it is clear that Kuyt was a constant menace to the Arsenal defence in and around the penalty area.
There is no doubt that Kuyt is a true workhorse who always gives 100% for the team. For example, of the 999 tackles attempted by Liverpool in this period, Kuyt has been responsible for 125, above average for the total team. This demonstrates that Kuyt is more than willing to track back, press and harry the opposition. Of the 536 successful tackles made by the team, however, Kuyt only makes 43. A success rate on tackles of 34% against the team's average of 54% is well below par and adds weight to the argument that Kuyt runs around like a 'headless chicken' for large periods of the game.
The Verdict
Dirk Kuyt delivered significantly more than the average Liverpool player during the first half of the season, and our points total would have been a lot worse had it not been for his goals and assists. He certainly needs to work on his tackling and it would be good to see him attempting more shots on goal given how high his conversion rate is. His touch is not covered in this analysis but most observers would agree that this too needs improvement. Overall, the Liverpool team would have been weaker without Dirk Kuyt and he can put forward a strong case for why he should be in Kenny's first team for the rest of the season. I would still put him behind Suarez, Carroll, Meireles and Gerrard in the pecking order, but if Kenny goes with five attacking players Kuyt must surely keep his place.