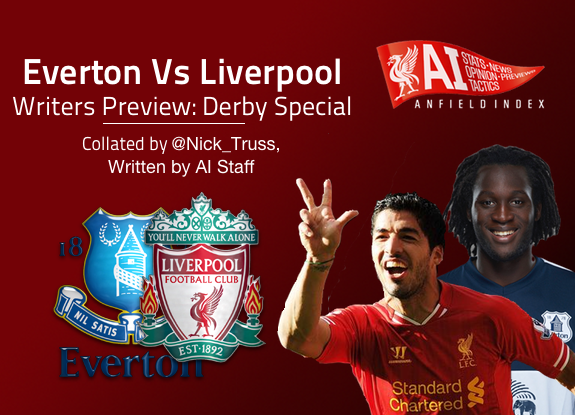 Anfield Index Writers | Merseyside Derby Special
It's almost derby day! And as part of  Anfield Index's countdown to Liverpool's trip to Goodison Park on Saturday, I have teamed up with 4 of the sites writers to bring you a special build up to the game. Be sure to follow all of the writers on twitter by clicking the links in the subheadings
I've chosen the 3-5-2 formation specifically with Lukaku in mind. With Sakho playing centrally he should show some strength against Lukaku especially with Sakho's excellent aerial ability.

I'd advise one of the other two centre backs to support the midfield (Agger) when in possession of the ball or if Everton try to outnumber Liverpool in midfield (like Arsenal did). I'd also ask Johnson (can play left back & is our best choice as we have Toure) and Toure to tuck in when out of possession unless attacks are originating from wide areas although after speaking to Ped and Eric from Followtonians, Everton haven't had as much width this season therefore blocking the central areas will be the tactic to go for. Unfortunately Jordan Henderson misses out because we need Coutinho to play and Gerrard will never be dropped for this game and Lucas the most defensive of midfielder's that we have.
The front two pick themselves!
Key Player: Suarez
Danger Man: Barkley – watch out for his long range efforts as Liverpool have not defended long range shots well – we've suffered from two of these already.
Score Prediction: 2-1 to Liverpool
Favourite Derby Memory: FA Cup Final wins over them in 86 and 89. If I had to choose it would be Ian Rush's headed winner from Barnes assist! What a cross – crazy defending but one of my favourite childhood moments!
My formation is a narrow 4-2-3-1 to ensure that although he's positioned wider, Suarez still gets sufficiently involved. Johnson and Cissokho can provide enough width to stretch the play in place of natural wingers. I think this game calls for a deeper line than we're used to as Lukaku is most dangerous with room to run into however Agger and Skrtel should together be able to handle the physical side of his game. I've chosen to leave Gerrard out of the starting 11 but I really feel he could have an impact as a substitute. A tired Gerrard in midfield will leave too many gaps and with the front four I've chosen he's not needed as an attacking fulcrum so Joe Allen will do a better job of controlling possession.
Key Player: Jordan Henderson – His energy will be invaluable against Leighton Baines and hopefully he can drift around to create space for Coutinho, Sturridge and Suarez.
Danger Man: Romelu Lukaku – Left us in tatters last year with West Brom and has been brought into the Everton squad to take points away from Chelsea's rivals. If he features at all he'll be a huge threat.
Score Prediction: 3-1 Liverpool win
Favourite Derby Memory: Would have to be Steven Gerrard's hat trick on his 400th appearance in March 2012. This is exactly the kind of impact he can have as a sub in the upcoming game.
When it comes to the formation I feel it will be the same as how we lined up against Fulham, however, it will be how we actually play that will be different.
There will be a touch of pragmatism in our general game with Brendan Rodgers knowing that Everton won't be as easy to dominate as the Cottagers but when we attack we will retain the natural creative flair you get when you have the likes of Philippe Coutinho and Luis Suarez in the side. I wouldn't be surprised to see Jordan Henderson drifting into the middle to plug any holes Everton may see in our midfield and so we can flood that area of the pitch with red shirts.
One change that I feel could happen is the reintroduction of Kolo Toure, Mamadou Sakho or both. The reason for this is that in Romelo Lukaku, we saw in the Aston Villa game earlier this season that Toure was able to keep Christian Benteke from dominating our back four, and hopefully the inclusion of one or both of them will have the same effect with Everton's Belgian striker. I had originally picked Jose Enrique at left back but slotted Aly Cissokho in his place after news broke that Enrique was to undergo surgery for a knee problem and would be out of action.
Key Player: Luis Suarez has scored twice in his previous two derbies at Goodison Park, and I feel in the form he is in you couldn't bet against him to make it three in three visits to the other side of Stanley Park.
Danger Man: You can't help but feel that Barkley will come into this game fired up, raring to make his mark in his side's biggest game of the season. With most of our attentions being on Lukaku, he will be a danger to leave unattended, especially if he is given an opportunity to run at our centre backs.
Score Prediction: 2-2
Favourite Derby Moment: Luis Suarez diving in front of David Moyes following the first goal of the game after the ex-Everton manager's comments in the pre-game press conference about the Uruguayans tendency to go down too easily had me smiling for a good bit of time after that game.
The reason behind my line-up is that Suarez is likely to be unfit due to arriving back in Liverpool less than 48 hours before the game. With this in mind I feel Rodgers will revert back to the 3-5-2 formation with Coutinho playing just behind Sturridge.
Key Player: It has to be none other than Daniel Sturridge. He will constantly cause problems in the Everton defence and I'd be surprised if he doesn't score.
Danger Man: It has to be Lukaku doesn't it? He's in great form (although not better than the SAS) and he will prove a real test for Mignolet and the Liverpool defence.
Score Prediction: 2-2
Favourite Derby Moment: It's split between the Gerrard hat-trick on my birthday last year and Gary McAlister's 44 yard free-kick in the 94 minute at Goodison Park. Two of the best moments in Merseyside derby history.
Very tough to pick a line-up for this game, I wouldn't want to be in Brendan Rodgers shoes on Saturday. With Lukaku in mind I wouldn't mind Liverpool going back to a 3-5-2. However I feel midfield domination is key to winning this game and since the midfield did so well against Fulham (albeit Everton will be a tougher test) I think we should stick with the 4-2-2-2.
I have chosen Sakho to replace Skrtel for this game because despite being very impressive so far this season Skrtel has been poor in the air only winning 64% of aerial duels which could be a weakness against Lukaku. As a result I have chosen to field 2 left footed centre-halves in my line-up something many people are completely against but I think it could work quite well. I'd be equally happy to see Toure replace Skrtel or even for Skrtel to keep his place as the rest of his game this season have been very impressive. I've gone a little arrow mad with Henderson too, this is purely to emphasise his energy and that I'm sure he cover every blade of grass on that Goodison pitch. On Thursday Jose Enrique was ruled out of action as a result of a long term knee problem. Although Cissokho hasn't made the best of starts to his Liverpool career, I have chosen him as my replacement as I feel it is a better option to play a player in their natural position.
Key Player: This is his game. No-one on that pitch on Saturday will understand how much the derby means more than this man. That man is Steven Gerrard
Danger Man: Lukaku is the most obvious one. However I'm going to look at this from a different perspective and select Phil Jagielka as my danger man. Yes he's not dangerous in the conventional way but he has been in fine form so far this season and I believe there's a danger he could make life difficult for Liverpool strikers.
Score Prediction: 1-1
Favourite Derby Memory: All time has to be beating them at Wembley in the FA cup semi-final in 2012 was a great day out rounded off with a Liverpool victory after an Andy Carroll header. Favourite premier league derby moment is Kuyt scoring a last minute pen at Goodison to take all 3 points back to Anfield after Phil Neville pulled of a fantastic save from a Lucas Leiva shot.
Thanks for reading. I hope you have enjoyed this special derby article. Agree or disagree with any of our predictions or if you would like to let us know your favourite derby memory leave those thoughts in the comments below tweet @AnfieldIndex using the hash-tag #AIDerby you can also get me and the other writers on twitter by using the links in the article.
This week also see's the release of the Anfield Index Podcast You can also get it on iTunes here. As mentioned earlier in the article @AnfieldIndex has been speaking to Followtonians this week as they will be appearing on the very first addition of the podcast. It's not to be missed.
YNWA
Listen to this podcast episode | Download this podcast episode (right click and save)