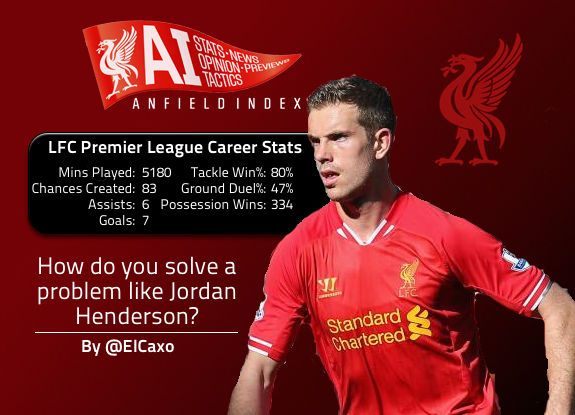 How do you solve a problem like Jordan Henderson?
On Liverpool blogs across the web many paragraphs have been devoted to discussing the player that Jordan Henderson has blossomed into this season but regardless of how much everyone agrees on his improvement, his best position for the team is still a matter that needs to be discussed. This season he's played as a shuttling wide midfielder, a right attacking midfielder and in the centre of the park but it remains to be seen where he's most effective.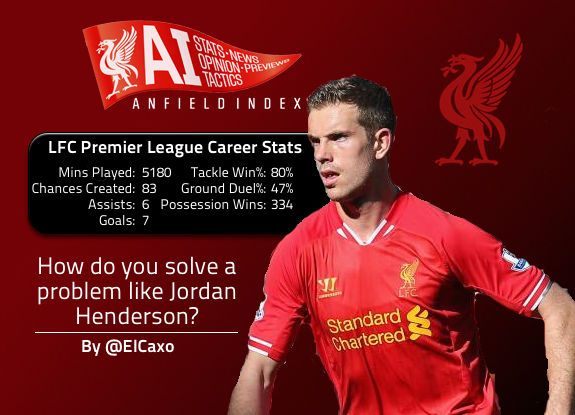 Henderson's most obvious positive attribute is clearly his enormous engine and tirelessness. This is a talent that will be at home anywhere on the field but what else does he have that he can use to make any one role his own? As mentioned by Brendan Rodgers in a recent interview on the LFC website, Henderson has worked hard to develop the mental side of his game and this quote from Rodgers would suggest he has the faith in Henderson to play him in a more attacking role and utilise him as more than just a ball chaser.

 "Tactically he is aware now of the game. He can participate in the game; he knows when to move inside and outside."
AS AN ATTACKING MIDFIELDER
Jordan Henderson has a lot to offer as an attacking midfielder that you wouldn't necessarily look for as prime attributes in a position dominated the world over by silky, guileful players like our very own Coutinho. His stamina allows him to track back and keep threatening opposition full backs in check while still being able to burst forward on the counter as well as chasing down every ball. It's not unreasonable to suggest he can play on either wing especially since he's not a true winger or inside forward but has the ability to do both. This diversity is another positive trait. A lot has been made recently of Andros Townsend's bursts down the wing but it does get very predictable and easy to defend against.
Please don't crucify me for this next comment but Henderson's selflessness is much akin to Mesut Ozil. He may not have the ability to truly occupy defenders without the ball like Ozil does but he can drag players out of position and create gaps for the players like Suarez, Sturridge and Coutinho to exploit and this is an invaluable yet underappreciated trait in the modern game. Henderson has played 18 chance creating balls this season but his only return has been one gorgeous assist for Suarez at Fulham. The upside to this however is that it proves he can spot and play reverse passes like that.
AS A CENTRAL MIDFIELDER
Henderson's pass completion is 87.4 this season which is not bad for a player who is averaging around 55 balls a game this season and switching up his position regularly but is it good enough to cement a place in the centre of Brendan Rodgers possession based midfield? In the modern game the centre of midfield is an area now dominated by specialists. Double Pivots like Alonso and Khedira utilise great passers alongside more direct players. Masters of multiple disciplines like Bastian Schweinsteiger and Daniele De Rossi are pretty few and far between nowadays and although I admire Henderson I don't think he is a world-beating midfielder for the ages.
It's difficult to imagine Henderson as either a defensive stalwart or an attacking fulcrum and this is wherein the problem lies. I hate to belabour a point but I think Henderson's engine will serve him best in midfield as a box to box menace. Rodgers doesn't seem to have laid out any exact midfield roles so far this season especially amongst multiple formation changes and the only player who seems to play the same way every week is Lucas (Gerrard seems to be allowed to what he wants but that's another article entirely!).
TO CONCLUDE
Henderson has done and will continue to do a good job as an attacking midfielder and it could be argued that the best thing for his development would be to tie him down to one position. Until Rodgers settles on his own system it is going to be hard to picture Jordan Henderson as a first choice in the middle. The other option is that maybe Henderson's 'best position' is that he doesn't have one. He brings more to the table as a footballer who is good but doesn't excel in any one area and this might be the best thing for Liverpool at the moment.