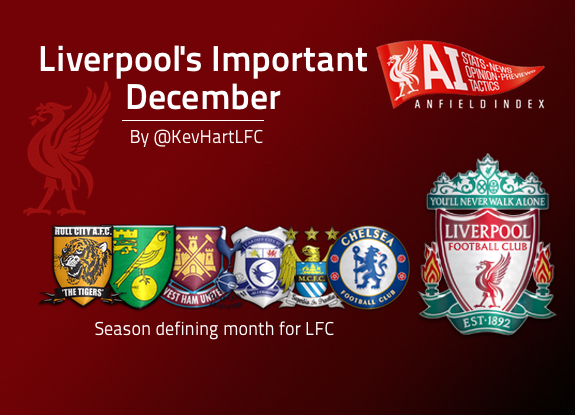 Why December is important to Liverpool's season
Next month is by far the most important month of Liverpool's 2013/14 campaign on a whole. December is the month when players get tired from the past few months of football and see themselves pushed to the limit with a rush to get all of our remaining 7 games played and out the way before we can make any signings in January and freshen the squad up, and here is just why December is crucial to Liverpool's season.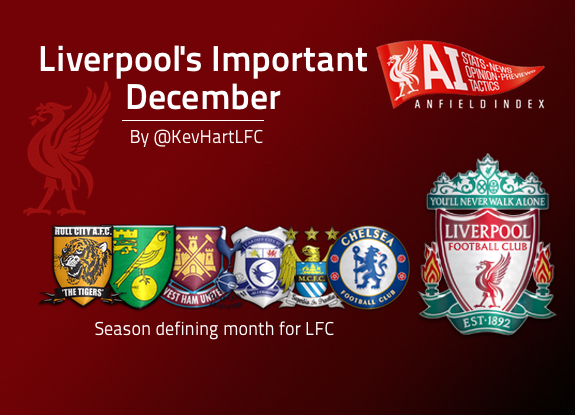 The first point to consider is the players' fitness. After playing non-stop football for the previous 4 months most players will be getting weary and begin to tire out, so with important games coming up and the contest for top 4 being so tight this is when key players will need to step up and any sloppiness should be eradicated to ensure maximum points. Players will be getting little knocks here and there as the physicality of the game increases, so injuries become more likely. This is where the fitness and medical experts need to step up and play a major part in keeping players fit and injury free.

Another issue is the congested fixture list, which sees Liverpool play 7 games in 29 days, 3 of which in the next week. After that Liverpool will play Tottenham, Manchester City and Chelsea away within a 14 day stretch. This will present a big challenge for Brendan Rodgers and his squad but coming out of this run of fixtures still in the top 4 will be a great achievement for the players and everyone at the club. It would also give them strong confidence going into the second half of the season and give Liverpool the opportunity to be up there at the end of the season.
My final reasoning for why December will be Liverpool's most crucial month of the season is that with the transfer window coming up in January players will be fighting to stay at the club and avoid being sold at all costs. Players like Martin Skrtel who have uncertain futures at the club will be giving their all to show Brendan Rodgers and his back-room staff that he still has something to offer to the team. In addition to players trying to stay in the side, the team will also be trying to impress any possible future signings and show that the club has the credentials to give them European football.
In conclusion, I am sure that you will all agree that December will be a vital month for Liverpool, proving a test for everybody at the club. Every player and staff member will have to play a huge part in ensuring that the Reds are still in contention for top 4 and even possibly the title come January 1st. Should Liverpool come out of December in a good position, with 2 or 3 signings in January and holding on to key players like Luis Suarez, this could turn out to be a much better season than most would have predicted back in August.